This long-vacant Dublin city site has the green light to be turned into a hotel
The former Outlet Store on George's Street has been empty for decades.
A LONG-VACANT site on George's Street has been cleared for redevelopment as a hotel and retail complex.
Dublin City Council has granted planning permission for a new 100-room hotel in the building that formerly housed the Dockrell's hardware store until the 80s and an outlet shoe shop until the early 90s.
The site, on 41-46 South Great George's Street, is located on the corner of Stephen's Street, directly across from the Dunnes Stores head office.
The plans were submitted earlier this year by Grosam Properties Limited and consist of a five-story redevelopment, retaining the original facade of the building on George's Street.
In addition to the hotel, there will be three retail units on the ground level and a restaurant in the corner unit that was formerly Jaipur Indian restaurant.
This is not the first plan for the building, which has been shuttered for nearly three decades. Planning permission was granted for a six-storey retail space in 2005, while a scaled-back plan was approved in 2013.
In 2015, the Irish Times reported that the building had been sold for just over €6 million after being purchased for €17 million at the tail end of the boom.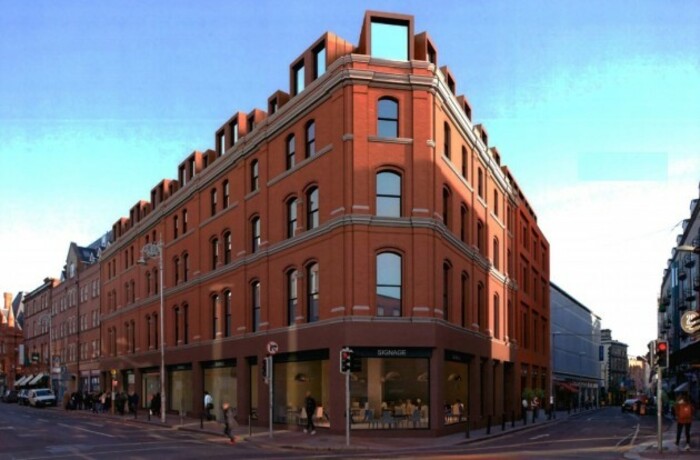 Source: Grosam Properties
Redevelopment
Permission for the redevelopment was granted under a number of conditions from the council.
It said that the plans should be revised to retain the original chimneys following third-party observations saying that they are of "significant architectural merit".
One objection raised concerns that the development would "demean the character of the building and the entire surrounding area of unique late-Victorian red brick buildings".
However, the council said that only the facade of the building would need to be retained, given that it is not a protected structure, has undergone "significant interventions" in the past and was vacant for "a number of years".
The planner's report stated that the development would "contribute positively" to the area and "animate a presently under-functioning part of the street".
Fáilte Ireland submitted an observation in support of the development. The tourism body said that Dublin is experiencing "unprecedented hotel occupancy rates" at the moment and so a new hotel on George's Street would be a "valuable addition" to the city.
A recent hotel industry survey by Crowe found that both occupancy levels and profitability hit new highs in Ireland last year, as a record number of tourists travelled to the country.
Sign up to our newsletter to receive a regular digest of Fora's top articles delivered to your inbox.