Why Galway's push to lure fintech startups out west is starting to pay off
Local and foreign companies in the fintech and blockchain space are looking outside Dublin.
GALWAY IS GRADUALLY positioning itself as a home for fintech startups looking beyond Dublin.
Last week, New York-based blockchain firm Blockdaemon chose Galway as its first European location over Dublin.
Blockdaemon's move follows the acquisition of Galway fintech security solutions company AmaTech by France's ParagonID, which will give it a fresh presence in Ireland.
The city already has some tech pedigree with one of its banner startups, Altocloud, acquired by US firm Genesys earlier this year. Meanwhile tech firms HP, IBM and German software giant SAP have some operations in the city.
But Galway Chamber wants to extend this ecosystem to the burgeoning fintech sector even further by presenting the west as an alternative to the hubs of Dublin and Cork.
To date, Galway's fintech roster includes Priviti, which makes data sharing solutions for financial services, as well as payments software startup PiP iT, which is in the middle of fundraising.
Last year, Galway Chamber met with the Department of Public Expenditure and Reform and then-Minister of State Eoghan Murphy who oversaw financial services, to promote Galway as a fintech destination.
The group wanted the State to promote Galway as a post-Brexit destination for fintech startups that are already looking at Ireland as a potential base. The big push might be starting to pay off.
New arrival, Blockdaemon, is a relatively young company that has attracted investment from the venture arm of US media giant Comcast.
It provides infrastructure for developers to build and deploy services on blockchain, a technology that has particularly gained steam in the finance sector as a way to store data and transfer payments.
Talent was the main driver for the decision, Blockdaemon chief executive Konstantin Richter told Fora.
"People who have experience and work with large cloud infrastructure and data centres are probably the most qualified to evolve into blockchain engineers," he said.
"(Ireland has) great engineers who've worked with Amazon and Facebook and all the other big guys and spent time setting up their data centres."
Blockdaemon's general manager for Ireland was hired from HP in Galway and made the case for the Tribesmen county over the capital.
Richter added that Galway has the right mix of engineers in the city coupled with the lower costs of living compared to Dublin.
Source: Blockdaemon
Going west
The IDA has pushed recently for more blockchain-related companies to come to the country, while Enterprise Ireland established a new fund for fintech startups in the hopes of nurturing the sector.
Aonghus O'hEocha, an entrepreneur that has been living in Galway for 18 years echoed the sentiments around talent as a force for growing the scene.
O'hEocha heads up Bitcub, a native Galway startup that creates blockchain solutions for credit unions and building societies that has stayed put.
"(Talent) was one of the main drivers for me, the fact that you had GMIT and NUIG, a lot of people coming out college, youthful and enthusiastic, a potential workforce," he said.
As previously reported by Fora, there has been an increase in tech talent seeking roles outside of Dublin, but the capital still holds the lion's share of talent and opportunities.
"I know other employers in Galway and they're getting CVs from people that are currently in Deloitte and PwC and other big companies in Dublin. They're willing to take a paycut to move west," O'hEocha countered, citing a lower cost of living.
Dublin's well-documented housing crisis and cost of living are major factors, but Galway is not immune to challenges either.
A report from real estate group Cushman & Wakefield found that office space was in poor supply, but despite growing costs, it was still much cheaper than Dublin. Prime rents in Galway come in at €296 per sq m compared with €646 per sq m in Dublin.
"It can be quite expensive (to rent office space) but there are bargains to be had," O'hEocha said, pointing to co-working spaces like Bank of Ireland's Workbench – which Bitcub uses – and the AIB-backed Portershed.
"I'm from New York so it's ridiculous to see affordable (rents)," Richter said.
As a result, the company has less competition trying to hire engineers compared to Dublin, he added.
"We're an underdog in this space," he said.
"We wanted to go somewhere where we're a great proposition and we can find great people without having to spend too much money trying to figure out how to explain to people why we're more exciting than the potential competitors."
On the other hand, regional and rural locations throw up their own unique hurdles like access to broadband infrastructure.
O'hEocha said it's not an issue in the city though in rural parts of the county it may be a problem, but Blockdaemon plans to allow some people to work remotely if they choose.
Brexit effect
The outcomes of the UK leaving the EU will be another determining factor for a lot of fintech companies and influence their decision to either stay or leave the UK.
Most recently, US fintech company Circle, which has an office in Dublin, applied for an e-money licence in Ireland to shield itself from Brexit nastiness.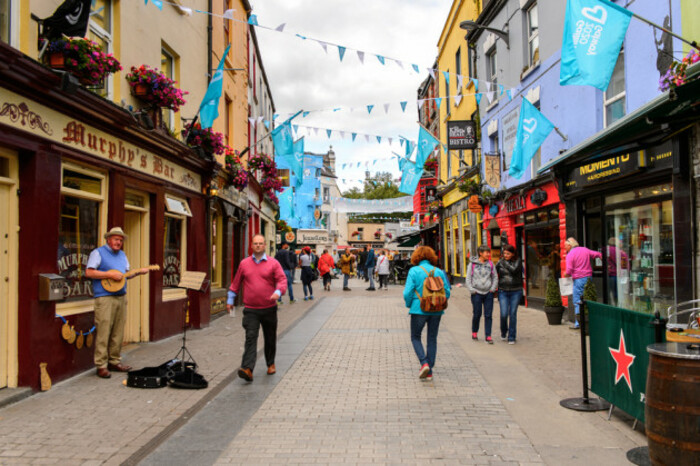 Source: Shutterstock
Ireland has been regularly touted as a new EU location for finance and tech firms but most of the attention has been on Dublin.
"Galway is a great little hub to take advantage of that (opportunity)", Richter added.
Blockdaemon will run all of its European business out of Galway where it will need to adapt some of its services to fall in line with stricter EU data laws.
Richter anticipates its office will staff up to 20 by 2019, which will eventually include sales and support as well as engineers.
"It's kind of the last European country that has English as a first language now that Brexit is looming. That's a huge factor for us," he said. "We're an American company, we speak English, we want people to be able to blend in very easily."
Sign up to our newsletter to receive a regular digest of Fora's top articles delivered to your inbox.