A lack of desirable office space in Galway is 'severely hampering' the city
Property firm Cushman & Wakefield said poor supply in the region is now at a 'critical stage'.
A SHORTAGE OF large, high-quality office space in Galway is "severely hampering" the city's commercial property market.
That's according to Cushman & Wakefield, the commercial partner in Ireland for the Sherry FitzGerald real estate group.
The firm's Galway boss, Patricia Staunton, said the limited supply of desirable office space is hurting the market "both in terms of new office entrants and existing occupiers seeking to expand".
"Galway is at a critical stage and if we do not address our supply levels in the short-term we will lose our attractiveness to occupiers due to lack of product," she said.
It's expected that a €100 million development in the city's docks will help alleviate the problem. The proposed 'Bonham Docks' would provide enough space to accommodate 2,600 workers across four office blocks.
Galway City Council granted planning approval for the project last year, but the decision was later appealed to An Bord Pleanála by four appellants including State-funded built heritage charity An Taisce.
If it's ultimately given the green light, Bonham Docks will "assist in alleviating our supply issues", Patricia Staunton said.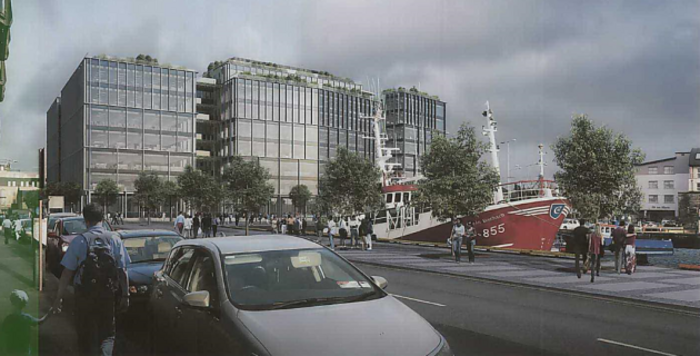 Source: Galway City Council
Low supply
According to Cushman & Wakefield, Galway has the lowest supply of office space of any other major regional area in the country.
Availability in Galway declined by almost a third during the first three months of this year with just over 17,800 sq m of space available by the end of March.
At the end of the quarter, there were only three grade-A – or best in class – units up for grabs. Just one exceeded 1,000 sq m in size.
During the first three months of this year, a combined 950 sq m of office space in Galway was taken up in three separate deals, the largest of which was a 450 sq m unit now occupied by the Galway 2020 European Capital of Culture project.
Two office projects are currently under construction in Galway, measuring a combined 10,800 sq m.
Both are located in the suburbs which means "delivery of these will do little to address the dearth of large office space in the city centre", according to Cushman & Wakefield.
The ongoing shortage of office stock resulted in rental inflation last year, with prime rents in Galway standing at €296 per sq m as of the end of 2017.
However office space in the city still represents a relative bargain compared to Dublin, where prime offices in the central business district cost €646 per sq m at the start of this year, according to the firm.
Although there is a scarcity of high-quality stock in other regional areas like Cork and Limerick, Cushman & Wakefield is "optimistic" that enough supply will come on stream to satisfy demand with a number of schemes either in the planning pipeline or under construction.
Sign up to our newsletter to receive a regular digest of Fora's top articles delivered to your inbox.