'Making great food is not enough - you need to be a hustler, an accountant, a toilet cleaner'
Running a food truck brings plenty of challenges – from costs to weather – but that hasn't stopped vendors.
IN 2012, FRED Peretti decided to start his own food truck selling rotisserie chicken. It was something that had been popular in his native France – but the concept flopped in Ireland.
After a couple more years of trial and error, he hit on Lala Poutine – a food truck selling the Canadian delicacy of chips, cheese curds and gravy. The idea behind the food choice was that it was simple, unique and would catch people's attention.
"It was something different but not too different – it's like gourmet chips. It's more of a party food and nobody else in Ireland was doing it," Peretti says.
"And we painted our truck bright yellow, so people will see it from far away," he adds, laughing.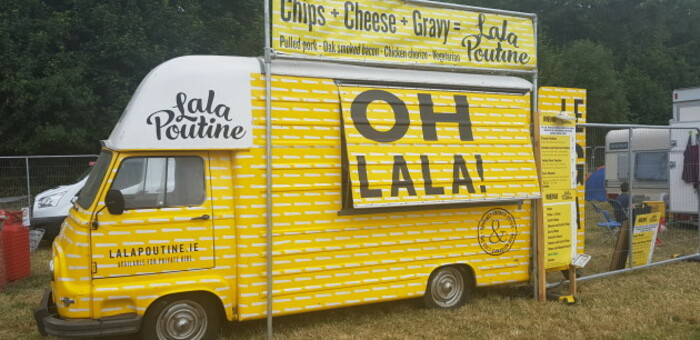 Source: Lala Poutine
According to market research provider Euromonitor, Ireland's inclement weather has historically made it difficult for street vendors to establish a permanent presence here.
It notes that wet conditions "meant that the business model was unviable" for a lot of traders.
However, with the increase in popularity of farmers markets and other outdoor events, this has started to change in recent years – making food trucks a much cheaper alternative to setting up a fully fledged restaurant or retail food business.
Peretti is now based in Dublin, but he travels around the country to trade at markets, festivals and private events.
Even though he's on the right track with his food now, he says that there's still challenges due to the unpredictable nature of the business.
"We have to plan everything in advance and every day can be different," he says.
"Before you start making money there's lots to invest – you need insurance, electricity, gas, equipment, rent, food.
"We did a festival a few weeks ago and the place was completely empty. It was beautiful weather but they just hadn't sold the tickets, so we lost a lot of money that day."
He admits that there's plenty of ups and downs in the industry, but it hasn't put him off the food-truck life yet.
"Before I started and I was going to markets I could see stalls were very busy and making money, but it's not as easy as it looks. I'm used to it now though and I'm planning to just keep going."
'All guns blazing'
Euromonitor says that as the economy in Ireland has recovered in recent years, "busy lifestyles" have created a greater demand for street food here.
In Dublin, there are now weekday food markets at office hot spots across the city, as well as weekend markets in Temple Bar, Dún Laoghaire, Herbert Park and Marlay Park.
Trevor O'Shea, founder of Bodytonic – the group behind Dublin street-food market Eatyard and The Big Grill food festival - says that although there's a demand, it's still a tough industry for vendors to survive and thrive in.
"Making great food is often not enough, you need to be a hustler, a promoter, an accountant, a cook, a therapist, a toilet cleaner," he says.
"Some people come in all guns blazing and only last two weeks. But you need to be willing to do it all and understand that if it doesn't work it's your problem, no one else's."
Eatyard was established in 2016, growing out of Bodytonic's Beatyard music festival. It hosts a rotation of food vendors in a dedicated space beside the Bernard Shaw pub on South Richmond Street.
Even though it has become an established feature in the area, O'Shea says that there are still challenges – weather in particular is a "massive" factor in how businesses perform.
"It does really well in spring and summer but tanks in the winter. So this year we're running one-off events and experiences to counter that and hopefully it helps.
"For the next market we open, it will be entirely covered. So that will work well in winter and in the rain, and not so well in the summer."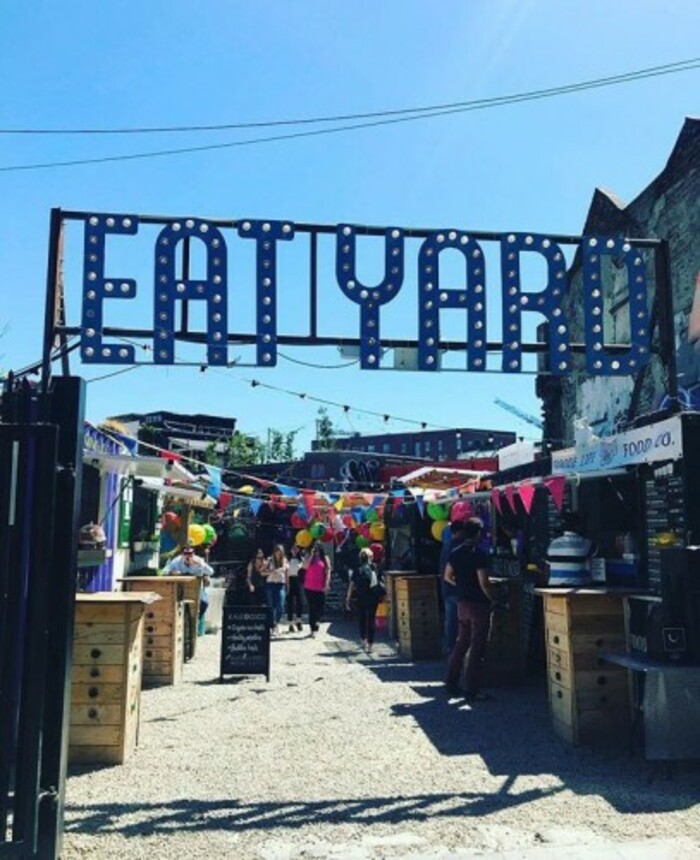 Source: Bodytonic
He says that it was easy to set up Eatyard because of his previous experience running outdoor events, but it's more difficult to keep business going.
"It's a lot more complicated than it looks. Like anything we do, you can't sit still on it. We have to keep continuously coming up with new ideas to keep it fresh," he says.
"The street food business is the same as the bar business, the restaurant business, the music business. It looks glam and great on Instagram, but if you're not willing to put in the effort you won't last running your own ship."
'A bit of a disaster'
As food trucks have become more prevalent in the Ireland, the selection of food on offer has moved past the humble chip van.
The current lineup at Eatyard includes gourmet burgers, wings, spit roast, smoothie bowls, Pakistani cuisine and vegan fish and chips.
Like Peretti with Lala Poutine, Liam Prendiville of the Gourmet Kitchen said it took him a while to figure out what food would work best on the street food scene.
"When I started in 2011 I didn't know what I was doing to be honest," he says.
"I started off doing soup and sausage rolls and it was a bit of a disaster. Nobody wanted to buy that at a market so I was losing loads of money.
"Then my uncle had a cafe that shut down and he gave me a barbecue and we started doing steak sandwiches. Luckily it went from there and got really busy really quickly."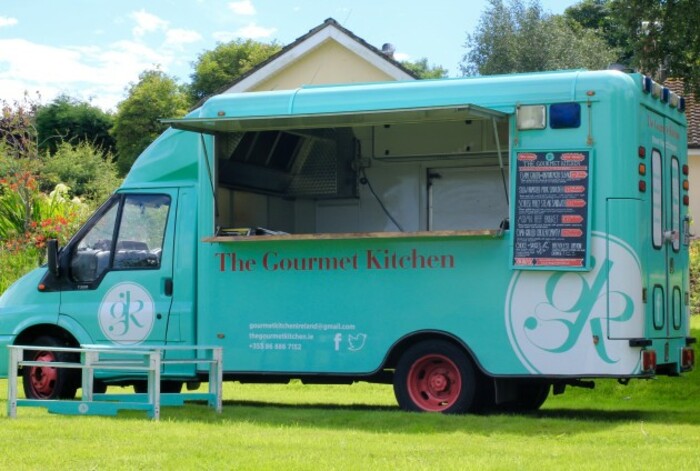 Source: The Gourmet Kitchen
Having worked as a chef at Avoca and L'Ecrivain, Prendiville knew how to cook but running a food truck was a different kettle of fish.
He was a frequent trader in Dublin's market scene for around six years, but decided to give up that side of the business last year.
"Markets are tough, especially in Dublin. They're overcrowded with too many traders and the rent is too high – it's gone crazy now.
"I could still be doing markets, but I was sick of the overheads and the weather and slaving away making the same stuff all the time."
Although he still trades at big annual festivals such as Body & Soul, Bloom and Electric Picnic, Prendiville says that weddings and private hires are now the main part of his business.
He says that there's more predictability with these events – knowing how many people you'll need to feed and how much you'll earn for a day's trading.
"It's more work because everything has to be absolutely perfect. You get there early and you're serving for longer, but generally it's better.
"You can do better food too. The markets are fine but you're making the same stuff every day – I had steak sandwiches coming out of my ears."
Prendiville's plan is to keep developing this side of the business and trying to create more extensive menus for customers to choose from.
"It's hectic work but it's nice to be your own boss as well," he says.
Sign up to our newsletter to receive a regular digest of Fora's top articles delivered to your inbox.