Flipdish is teaming up with drone outfit Manna to deliver grub in Dublin
The pair claim they will carry out their first deliveries by automated aircraft later this year.
MANNA, THE DRONE food delivery startup led by Bobby Healy, plans to launch its hamburger-toting aircraft by the end of the year through a partnership with Flipdish.
Healy's new venture, which he unveiled earlier this year, has ambitious plans to operate food deliveries using custom-built autonomous drones in Dublin.
The first major leap in those plans is taking shape through a partnership with food ordering software company Flipdish to carry out its first deliveries with "selected restaurants" in the capital, by the last quarter of 2019.
Manna claims that deliveries will be carried out within three minutes, from restaurant to destination, travelling at 80 km/hr.
The drone will carry the payload to the delivery address and rather than land in the location, it will lower the food from a height of about 10 or 15 metres using a biodegradable thread.
Flipdish, which raised €4.8 million last year, provides software tools for restaurants to run their online food ordering services, rather than using third parties like Deliveroo.
Conor McCarthy, chief executive of Flipdish, told Fora that through the Manna partnership, its restaurants will be able to add drone delivery options to their services.
A drone service will be quicker and more efficient than delivery drivers, McCarthy said.
"It is a safer thing overall to have drones than people on mopeds and bikes in and around traffic, producing pollution. Based on that it seems likely that it definitely should happen."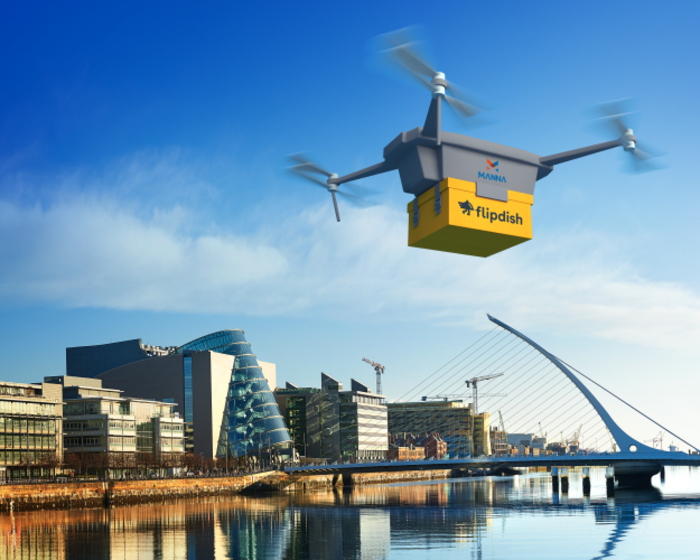 Source: Manna
Drone delivery is still fraught with regulatory hurdles. Healy previously told Fora that it was engaging with Irish aviation regulators to secure appropriate approvals for its plans.
Fora was unable to reach Healy for further comment in time for publication.
Flipdish's McCarthy said that he's confident that the regulation will be welcoming in the end.
"If the regulations don't go through, it can't happen but my understanding is that there's a clear path to allow that to happen and it makes a lot of sense for it to happen," he said.
"I definitely think it will happen but it's just a matter of making sure that it's safe and that the regulations are followed."
Flipdish and Manna also plan to roll out services in the UK in the future. Manna has raised around €10 million so far from VCs including Elkstone Capital and Frontline Ventures.
Get our Daily Briefing with the morning's most important headlines for innovative Irish businesses.