Bobby Healy's Manna plans to bring the drone food delivery service live in Ireland this year
The autonomous drone startup is getting ready to come out of 'dark mode'.
BOBBY HEALY, THE former CarTrawler chief technology officer, is gearing up to launch his drone delivery startup by the end of year.
His new startup Manna is a food delivery service that's using autonomous drones but its plans still hinge on regulatory approval.
Healy, who is still a non-executive director at CarTrawler, said Manna plans to secure the go-head from officials this year.
"We've been building it for a couple of years now in dark mode, I haven't been saying much about it," he told Fora. "We'll be ready to launch towards the end of this year in Ireland."
Drone delivery has held a lot of promise ever since Amazon first announced its ambitions in 2013.
However technical and regulatory bumps have held up Silicon Valley's big dreams to put drones in the skies.
This week though, Google's drone home delivery company Wing secured approval from the US Federal Aviation Authority.
In Ireland, Healy hopes to make similar progress with Manna and its "aviation grade drone" following a series of tests in recent years.
"Your off-the-shelf drone, they're not safe enough to fly over people," he explained.
"You have to be at the same safety levels of an aircraft to be able to get a licence to operate over populated areas in autonomous mode."
Manna's drones would fly at around 100 metres height, make deliveries within a two to three kilometre radius and operate at a low noise level.
Here's how the delivery process plans to work: the drone takes off at the restaurant, flies at 100 metres height to its destination and then descends to about 10 or 15 metres and lowers the food down with a biodegradable linen thread.
"It never lands at the customer, it will always be a pretty safe distance overhead," Healy explained.
The team of 15 – split between Ireland and Wales – has carried out tests in three locations in the country.
"All going well, by Q4 this year we'll be live. I cannot say where we're going live, it won't be in Dublin," he said.
The success of online food ordering has changed what consumers expect from delivery and how fast it can arrive. Drones can make deliveries in around three minutes, Healy added.
"People would order much more food on-demand, local restaurants would be much more busy and the consumer experience would be far better as well."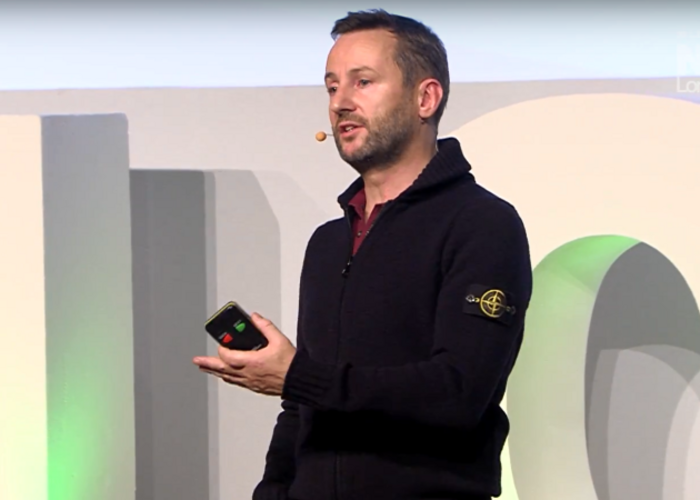 Source: YouTube/NOAH Conference
Healy said that Manna has been backed by five international VCs but did not disclose any numbers or names.
Licensing
All of these big ideas are still dependent on a friendly regulatory environment.
Rules for commercial drones are dictated by the Irish Aviation Authority (IAA), European Union Aviation Safety Agency (EASA) and Joint Authorities for Rulemaking on Unmanned Systems (JARUS), a body of international regulators.
"While it's still illegal now to do what we plan to do without a licence, the regulation is moving very quickly forward," Healy said.
"We anticipate that we will be looking for – and we hope to be granted – a licence to conduct our operation. That would be under the standard JARUS guidelines of operating a drone beyond the line of sight."
Approvals would enable Manna to move forward with further testing and development of its service.
Regulators have taken a cautious approach, Healy said, but now see the opportunities.
He pointed to Switzerland, where there was a drone programme for transporting medical lab samples from hospital to hospital. The success of pilots like these are paving the way for commercial startups like Manna.
Healy added that he's confident that the drone Manna has built and its years of testing will pass regulatory scrutiny.
"It's not like you're attaching a hamburger to your drone you got for Christmas and flying it around," he said.
"It's not as simple as wrap a drone in a piece of software and off you go."
Get our NEW Daily Briefing with the morning's most important headlines for innovative Irish businesses.