'When you're working on a laptop and bees are swarming around you, it gets kind of difficult'
The ApisProtect CEO talks bee paraphernalia, being a sci-fi nerd and time management.
FIONA EDWARDS MURPHY spends a lot of time around bees, but what the ApisProtect founder and CEO wants more than anything is a cat. A strict no-pets policy in her apartment gets in the way of that – not to mention the frequent travel and growing business. 
The tech startup specialises in hive monitoring and uses Internet of Things (IoT) technology to help boost honey bee health. Its software platform collects raw data from in-hive sensors and converts it to easy-to-understand information for beekeepers.
ApisProtect – which currently employs 10 people - last year scooped up €1.5 million in seed funding to set up a Californian office.
In our weekly question-and-answer series, we talked to Edwards Murphy about why she loves her Kindle, using beehives as desks and the importance of collaborative working. 
Here's what she had to say: 
How would you describe your work/management style?
I think our style is really collaborative. We've got engineers, we've got software developers, we've got data scientists, ecologists, and we're all working together and learning together as the company grows.
That really helps us develop our technology much faster, so we're doing a lot of science and research based work. It feels sometimes like a lab more than an office. 
If you weren't doing your current job, what do you think you would be doing instead?
I'm an electronic engineer and my specialisation is in the area of Internet of Things, so I would definitely still be working in that. I absolutely love that technology.
What's the toughest work-related decision you've ever had to make?
The toughest decisions that I make regularly enough are all about building out our team. We're trying to get exactly the right people into the team and build a really good culture.
The other thing I spend a lot of time doing is managing time. Do I go to an event and what am I going to get out of that, versus could I spend that time developing the business? Trying to make those decisions gets very tough. 
What would you like to own that you don't currently possess?
Since I spend all day thinking about technology the number one thing that I don't have that I would like to have is a pet.
I live in an apartment right now with a very strict no pets policy and I'd love to have a cat – I always had animals around me growing up. 
What detail about yourself would surprise your staff?
I'm a massive nerd. I love sci-fi and fantasy.
All the other CEOs I know read 'how to build your team' and 'how to be a really great CEO' – and I'll just read Lord of the Rings.
It's a good hobby to have because it means I can have my kindle in my bag and I have 200 books on the kindle that I can read regardless of where I am.
What's your favourite possession?
My kit bag – my bag that I carry around all my tools in to site with me.
It has this really cool 'V' pattern on it and it's always up on my desk in work – and it spends a lot of time in a prominent place in my apartment when I'm getting ready to go out.
I've used it all the way through from my PhD and now I'm using it in the business – it's gone all over the world with me. 
The weirdest place you have used as a work desk?
Beehives of every description have been my desk. I've had my laptop on top of beehives – that involves cleaning the laptop a lot more regularly than I think other people do.
The last time I was out in Arizona on one of our sites they got me a mosquito tent to keep the bees off myself and my engineer while we were working on the technology. 
When you're trying to work on a laptop and there's bees swarming around you it gets kind of difficult.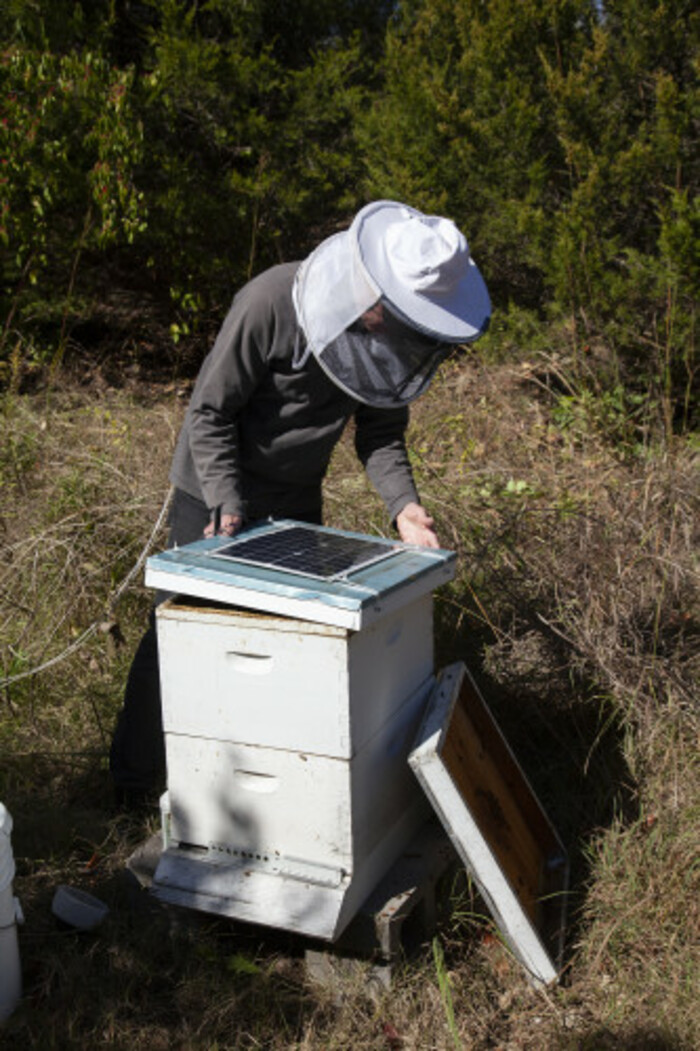 Source: Shannon M. Carroll
Is there one job/task you would never delegate to anyone?
When you're trying to build a startup you're trying to build a team where everybody is 100% into the business. I don't think it's possible to say 'oh no I wouldn't trust them with one aspect of what I do.'
But definitely if anyone was allergic to bees I would not allow them to take bee-related tasks. 
In our initial roll-out last October, we were rolling out hives in Ireland, in the USA and in the UK almost within the space of a couple of days. So every single person on the team did every single job.
I think that really helped us because now every single one of our host beekeepers knows almost everyone on the ApisProtect team. 
What's the best piece of advice you ever received, and who did it come from?
The best piece of advice I ever got was from my dad. When I was finishing up my PhD I had the idea for Apis Protect in my head. I was humming and hawing about whether I should do this.
I didn't really know anything about business and I was thinking should I just go and get a real job and be an engineer somewhere.
What he said to me was 'I know the kind of person you are, regardless of what job you're doing you're going to give it 100% of what you've got.' Why not use that energy and use that work that I'm going to do either way towards my own vision rather than someone else's vision? 
That's the moment it became clear to me that I should do this, and even if it doesn't work out I won't regret going out there and trying to start my own business. 
What have you found is the best way to motivate staff?
Everybody is really in control of their own area; they've got a lot of autonomy.
As a startup, I'm hiring a lot of people to do things that I don't know technically an awful lot about so when they come on board it's 'you're going to be the only person in the business working on 'X' problem'.
The freedom you have then is you get to decide how we're going to approach that – what kind of technologies you want to use to solve the problem that we're working on.
The whole idea of being able to do that really motivates the lads – there's nobody looking over your shoulder going 'why are you doing this?' 
What's the oddest item in your office / workplace?
Obviously we have an awful lot of bee paraphernalia hanging about which isn't unusual for us but is unusual for 99% of offices.
There are bee suits, there are parts of bee hives, there's an observation hive – which is a hive made out of glass so you can see the bees inside it.
For pretty much everyone on the team, the minute they start working with ApisProtect, everyone in their lives gets this challenge to buy them bee themed items.
We've got so many bee mugs, bee bird feeders, bee pictures – the office is full of bee related things. We've also got an awful lot of different flavours of honey. 
Correction: an earlier version of this article said that ApisProtect employs "psychologists". This has been corrected to "ecologists". 
Get our NEW Daily Briefing with the morning's most important headlines for innovative Irish businesses.