The two Irish teenagers selling supplements for Middle Eastern racing camels
Meath's Madden sisters are already selling in 12 countries – and they're still in secondary school.
WHEN THEY WERE testing a theory that Mars Bars could make ponies faster, Annie and Kate Madden never thought it would turn into a company selling supplements for racing camels.
The test was a project Kate, now 15, entered in the 2014 Young Scientist competition to debunk the notion that chocolate improved the animals' performance. It turns out she was right.
Last year, the Meath sisters decided to pair up for the competition with a product, Fenugreek, used as a supplement to encourage horses to eat their feed.
The ingredient would become the key component in all the supplements the pair began selling through their company, FenuHealth.
Co-founder Annie Madden, 14, said the company, a finalist at the Student Enterprise Awards, has already developed four products that are manufactured in the UK, packaged in Ireland and then exported to 12 countries. Which is where camels come into the story.
"After the Young Scientist last year, we went to the horse trade fair Equitana in Germany and we met with distributors from all over the world, like Qatar and Saudi Arabia, and got big orders from them," she said.
"Within a few months they got back in contact to say they were adding our product to their camels' water a few days before they left for a race, and they started adding it to the water before the race as well to encourage them to drink water.
"Camels are very sensitive to the mineral content in water and they won't drink a different type of water in a different area. Our clients out there asked us to design a product for camels. So we went about getting the right ingredients and now we have a FenuCamel."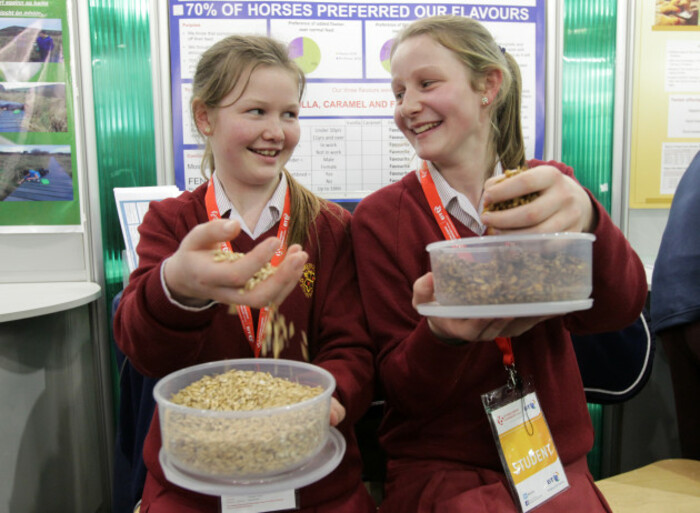 Source: RollingNews.ie
Gastric ulcers
Annie said the trip to Germany last year was a real "kick off" for the company and meeting clients at similar events has helped shape the direction of the company.
She said when she and her sister spoke to trainers at a race meeting in Leopardstown last July, they learned that gastric ulcers were a big problem in the racing industry and decided to focus on preventing and curing this problem in horses.
"Around 70% of horses have gastric ulcers and the way they are treated at the moment would be through a syringe in the mouth, which is a stressful experience for the horse and stress causes ulcers," she said.
"We are trying to decrease the stress element for the horse by providing a solution that is a supplement that can be added to the food."
[embed id="embed_3"]
Helping hands
Since setting up the company, Annie said she and her sister have been fortunate to get advice from key people in the equine and nutrition industries.
"We phoned Pearse Lyons from Alltech one time and he said, 'If you can trust me, I can cut your production costs by 90%'.  We trusted him and he completely cut the costs and kept the products the same quality and up to standard."
She added that a "very well-known figure in Irish racing" has taken a 10% stake in the company, but she could not reveal their name.
Looking ahead, Annie said both she and her sister were taking their success so far in their strides – while planning new products to launch on the market.
FenuHealth is a finalist at the National Student Enterprise Awards being held in Croke Park today.
read more on