Fenergo has doubled its Dublin workforce as it marches toward a long-awaited IPO
The fintech firm is eyeing up a flotation by 2021 but is focused on new market opportunities for now.
FENERGO DOUBLED ITS Dublin workforce and opened an engineering base in Madrid in 2018 as it prepares for a year of growth ahead of its long-touted IPO.
The Dublin-based fintech company builds software for the financial services sector to help firms manage their regulatory compliance and client checks.
Over the last year, the firm moved into a second Dublin office, bringing its headcount in the capital to nearly 400.
Meanwhile, it opened another European office in Madrid as well as a presence in Hong Kong to get closer to the Asian market. That was part of a recent recruitment drive that will bring its staff numbers to 700 by early 2019.
"Madrid has a new pool of talent for our engineering organisation," chief operating officer Colm Heffernan told Fora. The Spanish capital has proven to be a popular location for tech talent of late.
"Hong Kong is next from a South East Asia perspective, that's the next market that we're going to be building out from," he said.
The company has also been adding staff in London and Toronto and will soon be moving into a new office in Sydney.
"Globally we're kind of present now everywhere where we need to be present. It's just a question of continuing to grow those locations," Heffernan said.
The company is eyeing an initial public offering by 2021 but Heffernan said the company wants to focus on building a "runway" of new products and services first.
In 2018, it launched divisions to target its products at sectors like asset management and private banking. It has about 70 clients overall.
"We've built a business today on a trajectory to be a €100 million business in the next 12 to 18 months," Heffernan said.
For the year ended March 2018, the company doubled its sales to €57.7 million with profits of €2.3 million – a notable turnaround on the losses of €2.3 million for the previous year.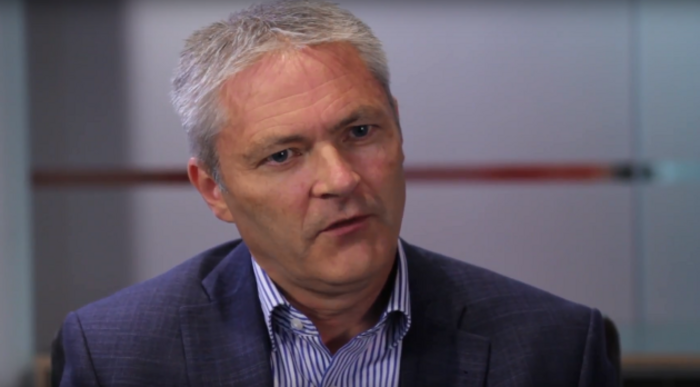 Source: YouTube/Fenergo
But Heffernan said that the company isn't guided by profits right now.
"Where we land on a net profit, EBITDA (earnings before interest, tax, depreciation and amortisation) perspective is not one we're particularly focused on, rather it's making the right investments to set us up for the growth trajectory."
Public listing
Heffernan added that company may seek external funding – it has raised over $80 million to date – in the interim to help with its growth strategy but a public listing remains the goal.
"Certainly IPO is the outcome we're aiming towards as a business. Timing wise 2020, 2021 is probably what we're looking at," he said.
He explained that Fenergo was in a position to pursue an IPO now but the company feels there is a significant opportunity for further growth in advance of a listing.
"You'd want to give that (new business) a bit of runway before you'd start racing towards an IPO but definitely that continues to be the focus. That's the outcome that we're working towards."
Such a flotation will more than likely be in New York when it happens.
"We're backed by Insight Venture Partners in New York. They've got a track record of bringing multiple software companies to the market, whether that's Nasdaq or the New York stock exchange, less so London," Heffernan said.
"I think that's a call we would have to make when the time comes."
Get our NEW Daily Briefing with the morning's most important headlines for innovative Irish businesses.