Fenergo is bulking up with product development and acquisitions after securing more capital
The fast-growing fintech company has raised another tranche of cash, this time from Dutch bank ABN AMRO.
FENERGO, THE FAST-GROWING Irish fintech business, is looking at acquisitions and more product development as it added to its latest funding round, on top of the €66 million it raised last year.
The investment arm of Dutch bank ABN AMRO has backed the company, following the €66 million it raised from US IT software multinational DXC Technology, taking its investment round to $80 million (€73 million).
Fenergo develops compliance and regulatory software for firms to monitor operations such as anti-money laundering and know-your-customer checks.
The Dublin-based company is the latest fintech outfit to join ABN AMRO's portfolio, which includes open banking startup Tink and Germany financial services platform Solarisbank. The Dutch bank is also a client of the Irish company.
Director of ABN AMRO Ventures Hugo Bongers said Fenergo's technology will "contribute to ABN AMRO's strategic priority to build a future proof bank and fight financial crime".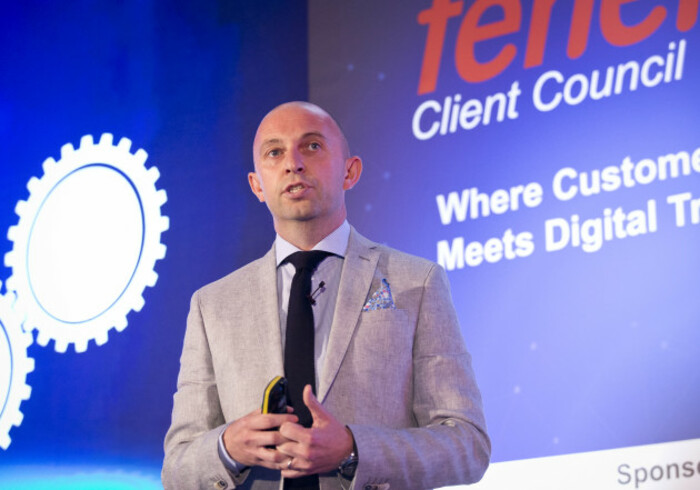 Source: Colm Mahady/Fennells
Fenergo chief executive Marc Murphy said that ABN AMRO Ventures and DXC Technology's "pedigrees, deep experience and industry knowledge make them both ideal investment partners for Fenergo".
According to Fenergo, the money will be used for further product development but also acquisitions that are "strategically important".
The company's latest accounts showed that its revenues were €70.1 million for the year ended March 2019, up from €57.8 million but with an operating loss of €5.4 million.
It attributed the losses to the doubling of its research and development spending to €20 million, which Murphy said at the time would lead to "consistent profitability down the line".
The company has spoken in the past of pursuing an initial public offering but this has been pushed out, though the company said it's still possible at some point in the long-term future.
Fenergo is based in Dublin but with offices dotted around the world. It said it now has more than 70 clients globally, including Royal Bank of Canada, First Abu Dhabi Bank and Japan's Mizuho.
Get our Daily Briefing with the morning's most important headlines for innovative Irish businesses.
Note: This article was updated to correct currency and investment numbers