Fenergo is deploying a blockchain network in Bahrain to help banks with verification tasks
The Dublin company has designed the platform for an alliance of banks in the Kingdom.
FINTECH COMPANY FENERGO has signed a five-year deal with an alliance of Bahraini banks to use blockchain technology to streamline customer background checks.
Sean Moore, head of Middle East and North Africa at Fenergo, told Fora that the initiative was aimed at improving the "onerous" know-your-customer (KYC) processes currently in place.
"It's very slow and there are multiple rounds of verification between clients and financial institutions," he said.
The Dublin firm is working with Bahrain's Electronic Network for Financial Transaction (BENEFIT), an organisation licensed by the Central Bank of Bahrain, with shareholders that include HSBC, Citibank and National Bank of Bahrain.
Fenergo's platform, dubbed eKYC, handles data for know-your-customer checks and allows for the secure sharing of that information between banks that sign up to the platform.
For the on-boarding of new customers at a bank, the platform will collect and verify all of the authentication documents, per the central bank's requirements, and write that data to a blockchain ledger.
Blockchain provides a distributed database of information that, in this case, can allow for the sharing of data with other banks.
Moore explained that after a customer has gone through the KYC process with one bank, it won't need to do so again.
"I could be sitting on my couch three months later in Bahrain and I want to get a personal loan through a different bank, I'll start the application on the bank's website," he explained.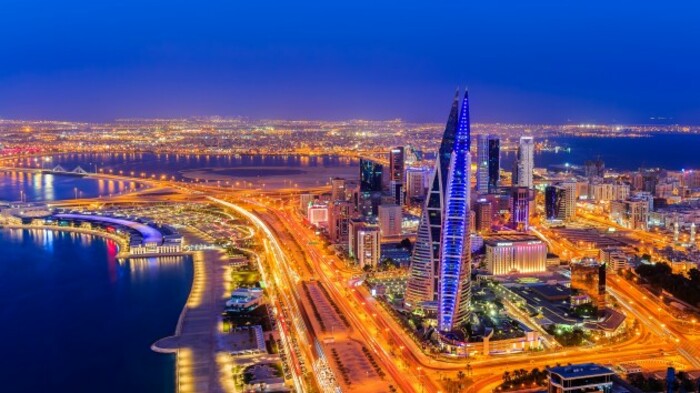 Source: Shutterstock/PREJU SURESH
"We're searching the blockchain and the blockchain will bring back a set of results to say I already exist and Bank B will be able to benefit from the documentation and the aspects that were already done by Bank A," he said.
"It means that I don't need to go through the whole onerous process of supplying a different bank with the same information in close proximity," he said.
"The bank can benefit from the previous information that was given."
The system also tracks details on documents, such as expiry dates, to ensure data remains up to date on the network.
Other projects
Fenergo built the platform in collaboration with Dubai-based tech firm Avanza Innovations using Hyperledger Fabric, a blockchain framework by the Linux Foundation.
Moore added that Fenergo is in the process of hammering out, or bidding for, deals similar to Bahrain in UAE, Saudi Arabia and Jordan.
He said the potential for the technology can spread into other sectors like telecoms that require KYC to take on new customers.
The company, which builds software for managing compliance in various sectors, is based in Dublin and opened a second office in the capital recently.
In its most recent set of accounts, it had annual sales of €57.7 million with a profit of €2.3 million.
Get our NEW Daily Briefing with the morning's most important headlines for innovative Irish businesses.