Why All-Ireland winner Enda McNulty makes CEOs climb mountains
'There are only 10 teams that can win the All-Ireland. In the business world the opposition is on a global pitch.'
MANAGERS AND COACHES should look to the boardroom for inspiration when it comes to running a team, according to All-Ireland winner Enda McNulty.
The former Armagh full back, who bagged an All-Star when he helped the Orchard County overcome Kerry in the 2002 football final, now spends most of his time working with some of the country's best and brightest business leaders after founding performance coaching company Motiv8.
The firm focuses on 'high performance' – that is, helping people perform their jobs to the best of their abilities through measures like focussing on their priorities or improving their mental toughness.
Since 2005, the firm has grown to employ 30 people with McNulty saying it will likely add another 10 staff over the next three years.
The company is probably best known for the work that McNulty did as a psychologist with star athletes such as Brian O'Driscoll and the rest of Leinster Rugby, the Irish national rugby team and numerous GAA sides.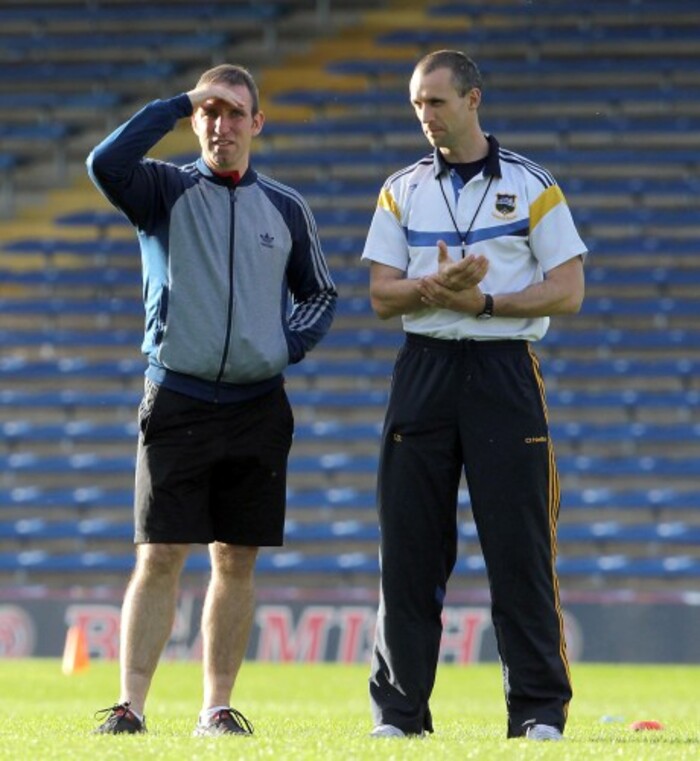 Source: Donall Farmer/INPHO
Organisation
Speaking to Fora ahead of ahead of the Bord Gáis Energy Cork Business Breakfast next week, McNulty was keen to emphasise the lessons that athletes could take from business leaders.
"90% of our revenue now is corporate, we've worked with companies like AIB, Intel and Kellogg's. Sports people could see how well you can manage a team from them," he said.
"Some of the chief executives that we work with lead a team of 7,000, with a rugby team you are leading a team of maybe 30 people. Even having coached a club where there are 65 teams, like I did with Ballyboden, the scale of difficulty in that versus the scale of difficulty in managing a global company is massive."
He added: "We often talk about the competition in an All-Ireland, but realistically there are only ten teams who can win it, yet we hero-worship teams like the one I played in.
"What about the company that is competing against hundreds of other companies all over the world? In the business world the opposition is on a global pitch."
He added that athletes should take time to sit down and map out a plan for the future, something which he says executives are often adept at doing.
"If you were to ask an athlete what their plan is in a year, or two years or three years time it would look completely amateur next to a chief executive's," he said.
Mental strength
On the flip side, McNulty said executives can learn a thing or two from the mental strength of sports stars and how they manage to stay cool under extreme pressure.
"One (lesson) definitely is around mental toughness. Being ice cool and in the moment, engaged in the task at hand and ultimately performing is something that elite athletes are very good at – their mental toughness is exceptional," he said.
McNulty says that the most important thing for those in both the business and sporting fields is to have a strong, positive mindset.
"Mindset is everything, it trumps everything else. If you have the right mindset you will grow as a striker or as a CEO but with the wrong mindset you will go nowhere fast," he said.
Source: Andrew Paton/INPHO
He said that this is achieved differently for different people, adding that there is no 'one-size-fits-all' method to help someone with a negative frame of mind.
"A custom approach is needed with each individual, you need to be almost like a detective and find out what mindset they are in right now," he said.
"When we identify what it is we then collaborate with them to design a training programme that will switch their mindset from a losing one to a winning one.
"For example, for a young mother with three kids leading a division in (Guinness maker) Diageo, a holistic programme could include getting her in the best shape of her life, setting her a number of motivational books to read or watching video clips of debates at Stanford University."
As well as putting them through their paces mentally, McNulty also likes to push his clients physically. One of his favourite methods is to send them up a mountain.
"One of the things that we would do is bring clients out with (Irish mountain climber) Ian McKeever and send them up Glendalough mountains," he said.
"We would give them the challenge to get from the bottom of the mountain to the top and at the same time they would have to write a business strategy in their head for the next two years, it's a great challenge."
McNulty said that the single, most important factor for either a company or a sports team to succeed is to make sure that the right people are working with each other.
"Before you focus on your goals get the right people. If you don't have the right people on a sports or a business team, forget about the strategies and goals," he said. "You need to make sure you know what the vision is. Every day you should be trying to educate and inspire others, it's how leaders act every single day."
read more on