This company wants to bring American college football here every year
Some 20,000 tickets have already been sold for the 2016 College Classic.
THE COMPANY BEHIND the upcoming Aer Lingus College Classic in the Aviva Stadium wants to stage a college American football game in Ireland every year.
Boston College and Georgia Tech are set to clash at the stadium in September in a game put together by Irish American Events – a joint venture between Irish events company Corporate.ie and US-based travel agency Anthony Travel.
Corporate.ie CEO and College Classic promoter Padraic O'Kane today told a Trinity College reception that 20,000 tickets for the event had been sold so far.
Speaking to Fora, O'Kane said he hopes that the game can eventually become an annual fixture.
"We haven't made a commitment, but we are talking to other schools in the US and we would hope to buy the 2018 game," he said.
"It will depend on scheduling. Someone has to give up a home game, so we have to convince another school to give up a home game. The away team is easier as they would have been travelling anyway."
He added: "Ideally you need a two-year lead in to start planning. Over there (in the US) they build their schedules two, three, four years in advance, so we're working at schedules and looking at them now.
"It's probably easier for six years' time rather than two years' time. 2021 is our ambition (to play annual matches). If we could get to bi-annual for another two or three times, learn from that and potentially in 2021 (move to annual matches)."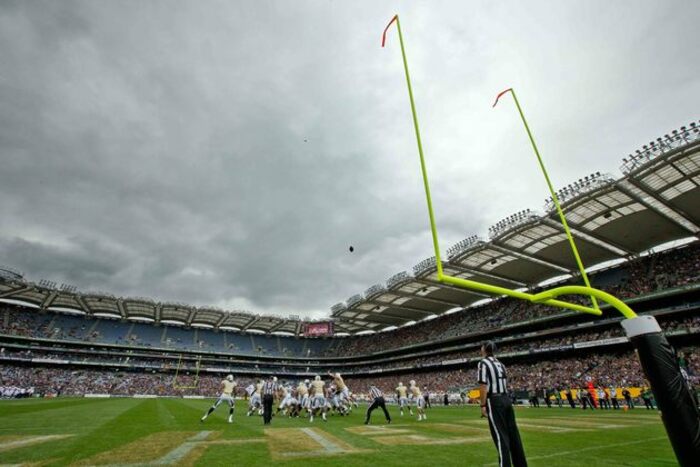 Ticket sales
O'Kane said he expects another 5,000 tickets to this year's event will be sold in the US while another 23,000 will be snapped up in Ireland.
Tickets went on pre-sale in the US when the event was announced in June, while they will go on general sale in Ireland next Wednesday. Prices range from €35 to €110 for premium tickets.
It will be the third college match played in Ireland in the last five years, with the Aviva Stadium and Croke Park hosting one each in 2012 and 2014 respectively.
Previous college football games played in Ireland have provided a large boost for the local economy with estimates for the direct benefit varying from €25 million to €85 million.
Funding
O'Kane said the match will cost about €1.3 million to stage with Tourism Ireland, Failte Ireland and Dublin City Council contributing a combined €300,000 towards that figure. Aer Lingus is the title sponsor.
"For a game like this, without either government subvention or sponsorship it wouldn't happen, it doesn't add up," O'Kane said. He said the balance will be made up "sponsorship and the game revenues itself".
The game will kick-off at 12.30pm Irish time and will be broadcast on ESPN. Organisers said that they are in talks with ESPN to broadcast their flagship sports show, SportsCentre, live from Dublin on the day.
read more on