'Now's the best time to start a company because everyone else is scared s**tless'
Irish founder Dylan Collins thinks Brexit will be a godsend for any entrepreneur with guts.
DOOM AND GLOOM is the typical outlook in business circles when it comes to Brexit, but Irish serial entrepreneur Dylan Collins thinks the move will be a good thing for startups – because it will thin the competition.
Collins made his name as the founder of DemonWare, which was bought by leading US games publisher Activision for a reported $15 million. He also set up Jolt Online, which was acquired by retailer Gamestop.
More recently he launched SuperAwesome, a UK-based startup that develops tech to help advertisers comply with strict regulations around advertising to kids.
Earlier this year it was reported the company, which raised $7 million in Series A funding in 2015, was plotting a £200 million initial public offering on the London Stock Exchange.
Collins, who is also partner at UK-based investment firm Hoxton Ventures, told an audience at Dublin BIC's FutureScope conference yesterday that he thinks Brexit will prove a golden opportunity for any entrepreneur with guts.
"As bad as it gets, and it will get worse, it is the best time to be starting companies because everyone else is going to be scared shitless. That means you will have less competition," he said.
"If you actually read history and look at the investment opportunities and the greatest returns (on investment) … they tend to start in times like these. So people, instead of being scared, should look for the opportunities."
Despite the bullish comments, Collins added that there would be a lot of short-term problems for UK startups – particularly with recruiting staff as EU-based free movement disappeared.
"The real concern that is magnified over the last six months relates to hiring. Anyone with an operation in the UK is being asked weekly by staff, "What's the deal?" or "Can I stay here?" And no one can give them a straight answer."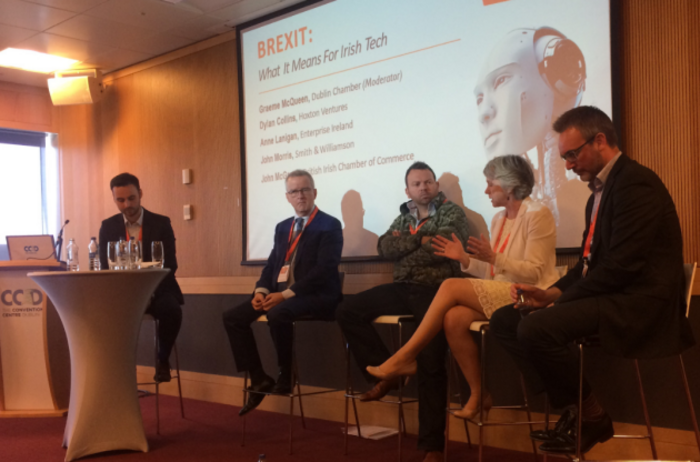 Source: Killian Woods
Collins said the problem was one he was dealing with directly at SuperAwesome.
"Around 50% or 60% of our headcount is European and people don't know what's going on. So with all the management teams we're saying have weekly updates, even if you're not saying anything different, let people and teams know that you're thinking about it.
"Let them know that if and when things change, you will be prepared to react. I think we've spent more time with lawyers on the HR side specifically on that."
Show startups the money
But Collins told the panel, which focused on what Brexit would mean for the Irish tech scene, that he believed the Republic was unlikely to become a "relocation hub" for British startups.
He said, in spite of the political climate in the US, startups are more likely to go straight across the Atlantic because that was where the capital was for early-stage companies.
"The nature of tech startups in their early days is they usually need a bunch of capital and end up having to relocate somewhat closer to that capital.
"Ireland (has) seen the emergence of companies that start here but then move to the UK or Silicon Valley or New York as they follow the capital.
"I think the challenge for tech startups in early stage is the need for capital and the need to be in proximity to funding is going to outweigh politics.
"Startups will go to where the money is even if it means putting themselves at somewhat of a disadvantage."
Sign up to our newsletter to receive a regular digest of Fora's top articles delivered to your inbox.
read more on