Inside Dublin Airport's 'secret third terminal' - the one where selfies are banned
DAA is targeting deep-pocketed executives and honeymooners with its 'platinum services' facility.
DUBLIN AIRPORT'S RAPID growth isn't just putting pressure on the hub's public-facing facilities – it has led to increased demand for its 'secret' third terminal too.
Roughly 30,000 of the near-30 million passengers who travel through Dublin each year use its 'platinum services' facility, a little-known private terminal that offers luxuries like chauffeur transfers to the plane door and champagne on arrival.
Rates start at €204 a visit, making the service a luxury largely reserved for deep-pocketed businesspeople – who make up about 80% of all customers – touring musicians, and, increasingly, honeymooning couples.
Before renovations in 2015, the VIP terminal handled as few as 10 bookings on an average day.
That figure has since increased to 30, says Philip Bolger, who manages the facility for airport operator DAA and oversees a team of 27 porters, booking agents, drivers and front-of-house staff.
The airport operator doesn't disclose how much platinum services contributed to its €855 million turnover in 2017, but it says sales have increased fivefold since 2015.
The spike in demand has coincided with the arrival of new international carriers at Dublin, including China's Hainan Airlines and Hong Kong-based Cathay Pacific.
Bolger tells Fora that platinum services is beginning to attract interest from wealthy Chinese visitors, who typically come to Ireland for three to four days and like the private terminal because it guarantees quick passage through the airport.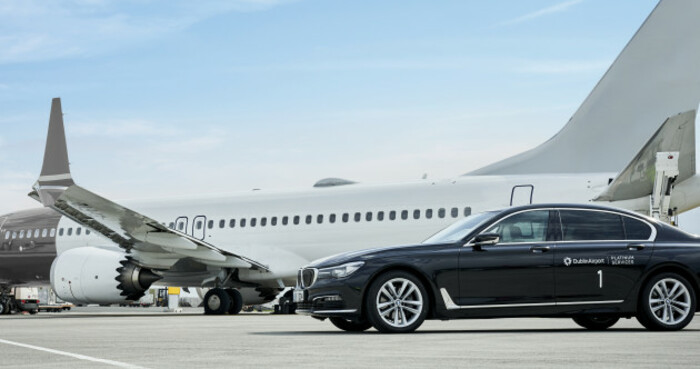 Source: Simon Burch/DAA
Although the facility comes with high-end perks, many passengers avail of the one-on-one service purely for convenience – while some don't use the luxury suite at all.
"Our core market is the business traveller. That's predominantly around time-saving. We can get them to their aircraft very, very quickly," Bolger says, noting that the terminal's private security screening is located about two minutes away from any aircraft stand.
"They can come here, and we can bring them over almost straight away if the timing is right. If not, they go into the suite and might have a cup of coffee or do an hour's work before they go.
"The more seamless we can make the experience and the more memorable, the better chance we have of getting you back here."
Promotion
Relying on word-of-mouth, one of the biggest challenges with running the service has been promoting it without ruining the 'exclusive' feel.
"It's a difficult one in that we want there to be a certain amount of exclusivity to it – it's not the norm. People who use it tend to think of it almost as their own personal service; we like that about it," Bolger says.
"It's a difficult market. We want to grow, but we still want it to have that kind of platinum feel about it."
To help boost the service's profile, DAA quietly rolled out an internal advertising campaign and has plugged the service in Aer Lingus's in-flight magazine, Cara, so it could "raise awareness without being in your face about what we have".
Part of the reason for keeping things low-key is to protect the airport's more-famous guests.
"As you can imagine, anybody of any high profile normally comes through ourselves, especially during the months of music festivals," Bolger says.
"The main thing is, they're using us for privacy and confidentiality. We don't discuss who our guests are, not even with the airport. We don't allow photographers to come in.
"Our staff are trained to be professionals – in these days of selfies and things like that, that's absolutely prohibited."
Other services
With high-flying executives making up the bulk of the platinum services customer base, DAA has plugged the private terminal's designated meeting room as a space for "fly-in, fly-out" conferences – with rates starting at €285.
"If somebody is flying into Dublin for a meeting, they usually go across town and they're trying to get back for their flight," Bolger says.
"What happens a lot now is they get people to come here. They have their meeting here, and they know they're only 15 minutes away from getting through security and on their aircraft."
The airport operator has also tried tapping further into the leisure travel market by offering a discounted package for honeymooning couples.
"It's a nice way to start or finish your honeymoon. But also, people tend to buy it as a gift (for newlyweds) because it's probably a bit difficult to get something that's a bit different these days," Bolger says.
Having given the main suite a makeover earlier in the year and rolled out a home-to-airport chauffeur service, DAA is now considering opportunities with new airline partners, such as Aeroflot, the Russian state-controlled carrier that recently launched Dublin-Moscow flights.
"We're going to look at some areas like an express service," Bolger adds. "You cut out some of the frills and it's mainly about getting through really, really quickly to your aircraft."
Get our NEW daily digest of the morning's most important headlines for innovative Irish businesses.