A record number of passengers used Dublin Airport last year
Traffic at Ireland's main air hub hit nearly 28 million people in 2016.
NEARLY 28 MILLION passengers passed through Dublin Airport last year – over 2.8 million more than for the previous peak recorded in 2015.
Annual figures released this morning for the DAA-owned transport hub showed passenger numbers were up 11% last year to 27.9 million for the 12-month period.
The vast bulk of the travellers were short-haul passengers, with the contingent growing 11% to 24.3 million in 2016. Long-haul traffic grew 12% to 3.6 million passengers.
Dublin Airport has been the fastest-growing major airport in Europe over the past year, with 19 new routes added during 2016.
The airport's managing director, Vincent Harrison, said a 29% increase in passengers over the past two years had led to an estimated 5,200 extra jobs in the Dublin Airport campus.
"Significant additional connectivity at the airport also helps to boost business between Ireland and its trading partners and underpins increased foreign direct investment in Ireland," he said.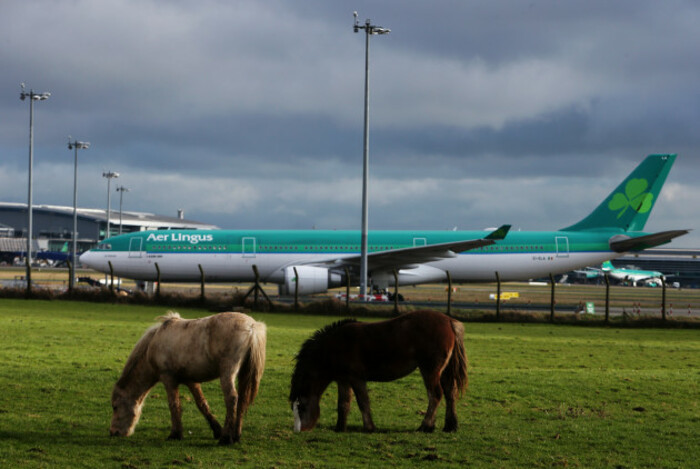 Source: Brian Lawless/PA Wire
The DAA last year announced it planned to start work on a second runway at the airport to cope with the increased demand. It is expected to be completed by 2020 at a cost of €320 million.
The Department of Transport has also issued a request for tenders to look at the possible construction of a third terminal at Dublin Airport.
UK passengers
European destinations accounted for more than half of all passengers passing through the airport, with UK traffic alone representing more than one-third of all passengers.
Transatlantic traffic was the fastest-growing segment, up 16% to 2.9 million passengers last year.
However there was a 3% drop in traffic to other destinations, mainly made up of flights to the Middle East and Africa, due to a fall in capacity.
The 11% growth in passengers last year at Dublin Airport outstripped the 8% increase in traffic through the DAA-owned Cork Airport for 2016.
Increases in passengers through the country's major air hubs has come as Ireland's tourism sector continues a major growth phase.
While some operators fear a likely drop in visitors from the country's key market, the UK, with the weak pound, a significant decrease is yet to materialise.
read more on