A new report claims Dublin Airport needs a third terminal - but DAA is having none of it
The State-owned operator says there are more pressing issues at the hub.
DAA HAS SAID that a third terminal is not needed at the moment at Dublin Airport, and criticised the timing of a new report that has been "selectively leaked" to the media.
The report suggesting a third terminal at Dublin Airport is set to be brought to cabinet today by Minister for Transport Shane Ross, RTÉ reported this morning.
The study suggests that the terminal will be needed at the airport by 2031 to cater for more than 50 million passengers annually. In 2017, 29.6 million passengers travelled through Dublin Airport.
Other options include expanding the existing terminals or building a satellite terminal.
The review is set to be published this week and will be followed by a public consultation process.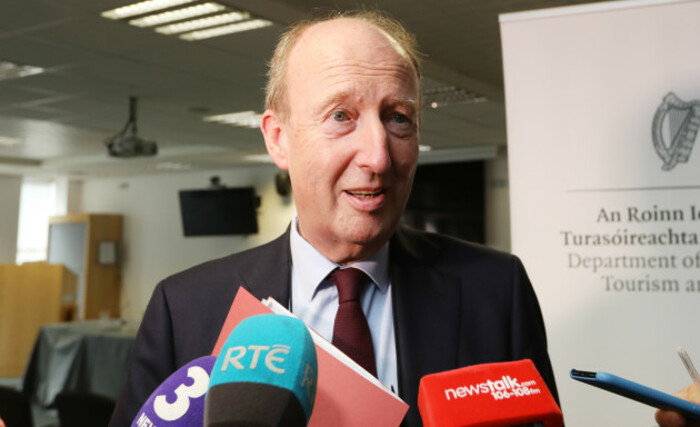 Source: Leah Farrell/RollingNews.ie
In a statement, a DAA spokesperson was dismissive of the suggestion that a third terminal should be built.
They said there are more pressing issues at Dublin Airport including "a new runway, aircraft parking stands, boarding gates and other facilities".
"It also urgently needs new legislation in relation to the management of aircraft-related noise," the spokesperson said, adding that DAA hadn't yet seen this capacity report.
"We are about to begin consultation on a major investment programme that will include more than €900m worth of capacity investment to build the required infrastructure at the airport.
"This report also seems to fly in the face of the State's National Aviation Policy, which was only adopted three years ago."
Support
Aer Lingus and other carriers have long campaigned for improved infrastructure at the country's busiest airport, complaining that the existing facilities are close to maximum capacity.
Gulf carrier Emirates earlier this year revealed that it shelved plans for a third daily flight from Dublin to Dubai because of infrastructural issues at the airport.
Emirates Ireland manager Enda Corneille has previously said that the airline is in support of a third terminal at Dublin Airport.
"We've always believed that a third terminal is a natural consequence of the second runway," he said in May.
Ryanair chief executive Michael O'Leary has also spoken out in favour of a third terminal, as long as it is privately-owned.
He claimed last year that the low-cost carrier already has a draft design for a terminal on Dublin Airport's north apron. The blueprint dates back to before construction started on the second terminal, which was opened in 2010.
O'Leary said at the time that the Ryanair-designed terminal would cost €230 million to build and would be capable of handing up to 20 million passengers.
Written by Sean Murray and posted on TheJournal.ie. Additional reporting by Conor McMahon
Sign up to our newsletter to receive a regular digest of Fora's top articles delivered to your inbox.