Michael O'Leary wants a 'beauty parade' to decide who builds Dublin Airport's third terminal
The Ryanair chief is strongly in favour of a privately-owned facility.
RYANAIR CHIEF EXECUTIVE Michael O'Leary says he is "hugely in favour" of a privately-owned third terminal at Dublin Airport – but stopped short of committing that the carrier would build the facility itself.
The Department of Transport will soon commission a report into whether a third terminal is required to deal with growing passenger numbers at Dublin Airport.
The review, due to be completed by year-end, will also look at whether such a development would be better operated by airport operator DAA or a private company.
Speaking at a press conference in Dublin today, Michael O'Leary suggested that a privately-operated terminal would be healthy for the state-backed airport authority.
He said a competing terminal would "put pressure" on DAA and make it more efficient.
"DAA will tell you this has never been done before," O'Leary said. "Actually in JFK, there are five terminals. Airlines run and operate three of them and then two of them are for general usage."
Draft design
He said Ryanair already has a draft design for a terminal on Dublin Airport's north apron. The blueprint dates back to before construction started on the second terminal, which was opened in 2010.
O'Leary said the Ryanair-designed terminal would cost €230 million to build and would be capable of handing up to 20 million passengers.
However, when asked whether Ryanair would construct a potential third terminal at Dublin Airport, O'Leary suggested he wouldn't if DAA was in charge of the tendering process.
He said he would only commit to such a project if construction was carried out according to Ryanair's design.
"We would have a beauty parade," he said. "I wouldn't be surprised if at least 10, if not 20, terminal and airport operators would be interested in partnering with us to build a third terminal at a fraction of the cost."
Unsurprising, given previous comments from the outspoken Ryanair boss, O'Leary was highly critical of DAA and its handling of terminal two. The cheeky chief executive famously turned up at the opening of the hub in 2010 with a coffin and funeral wreath that said: "Irish tourism RIP".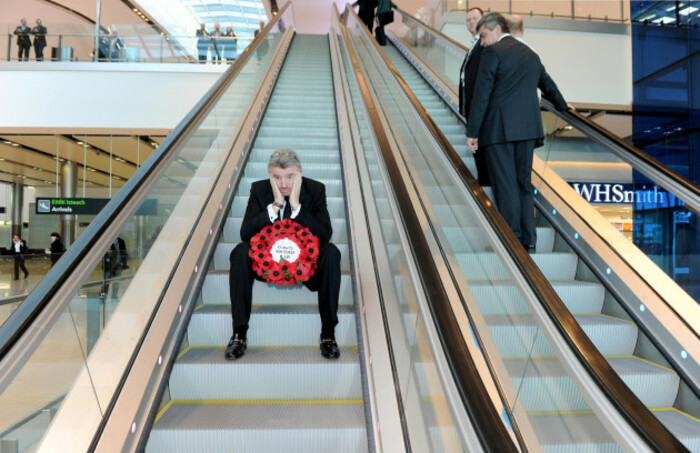 Source: Barry Cronin/PA Archive/PA Images
In typically colourful language, O'Leary said today that a case could be made for a privately run third terminal "if you look at the balls DAA made of the second terminal".
"They blew €1.2 billion building that bloody monstrosity and it is probably the worst-designed terminal in the Western world," he said, complaining that too much was spent on the retail side of the building and not on piers, or parking spaces for aircraft.
ECJ ruling
Meanwhile, Fora recently reported that a pending European Court of Justice (ECJ) ruling could have major implications for how the airline is forced to handle disputes with its international workforce.
An opinion delivered last month by the ECJ's advocate-general increased the likelihood that the airline will not be able to apply Irish labour laws to disputes with workers based in other jurisdictions.
When asked by this website what he thought about the case, O'Leary said Ryanair is expecting a final decision to be delivered in the next two or three months. He admitted that the ECJ is likely to rule against the airline.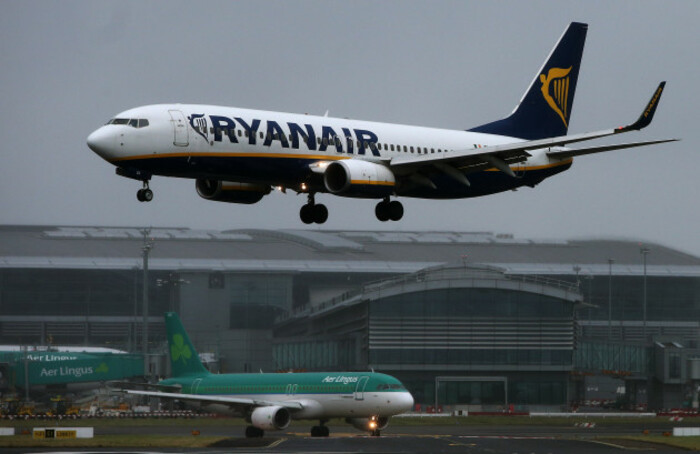 Source: Brian Lawless/PA Archive/PA Images
"We'll respect the ruling. We'll appeal it, but we have to respect the ruling," he said. "It may well be that people at our bases across Europe may have local employment contracts."
He said the airline has had local employment contracts with workers in the UK for many years and it "hasn't led to unionisation" of cabin crew or pilots.
"We don't believe it will lead to unionisation because the first people up over the barricade looking for unions will find their base either frozen or closed," he said.
"As we did in Copenhagen when we were blockaded by the SAS unions, we will move the aircraft out of there."
Brexit has been high on Ryanair agenda since the UK voted to leave the European Union last June.
Today, O'Leary echoed warnings from previous months that he would re-house many of the airline's 85 UK-based aircraft in other European airports if Britain didn't recognise the 'open skies' agreement with the EU.
"If there's a hard Brexit, it will no way affect an Irish person going to Europe, but you may not be allowed to fly between Ireland and the UK," O'Leary said. "There's a real possibility that there may not be a framework for flights between the European Union and the UK."
He said the cut-off time for making a decision on pulling UK flights would be at the end of 2018 because Ryanair would need to give crew and passengers three months' notice if it was pulling its UK bases.
Backing Varadkar
Asked who he would like to see winning the Fine Gael leadership contest and ultimately become the next Taoiseach, O'Leary said he would "strongly endorse" front runner Leo Varadkar over Simon Coveney.
O'Leary stressed that it was his personal opinion – joking that Ryanair is "non-political and doesn't express any opinions" – as Varadkar had been more accomplished in his ministerial portfolios.
"He was in transport, health and currently social welfare, which is a little bit more challenging than Simon's portolios: marine, defence – God help us – and agriculture," he said.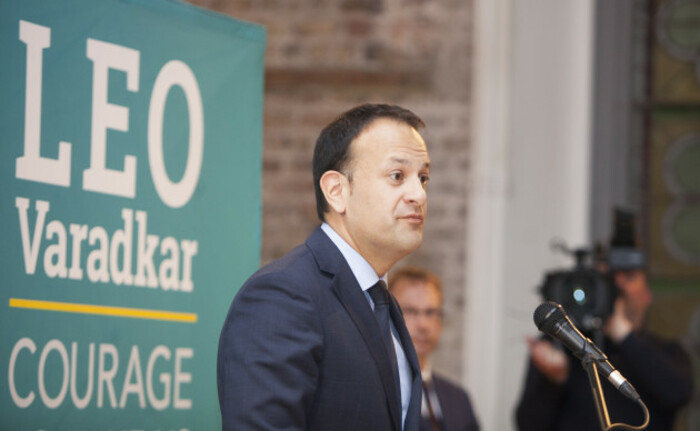 Source: Leah Farrell/Rollingnews.ie
O'Leary said he was also impressed by Varadkar's aggressive campaign launch.
"They've both had 12 months' notice that there's a leadership campaign coming down the road," he said. "Frankly, I think the way Leo has organised his campaign, he seems to have it sewn up almost straight out of the blocks.
"I think the country needs change. I think Leo Varadkar represents probably a slightly more risky candidate. Simon is probably a bit more of the old-guard blueshirts."
Sign up to our newsletter to receive a regular digest of Fora's top articles delivered to your inbox.
read more on