Deliveroo is giving all its staff shares in the company, but only a few Irish workers will benefit
The stock options scheme is not available to its thousands of delivery riders.
DELIVEROO IS HANDING out millions in stock to staff, but only a handful of Irish staff will benefit from the share options scheme.
The food delivery firm, which was founded in 2013 and has raised over $957 million in venture capital investment, launched its online food-ordering service in Dublin three years ago.
The service has since expanded its operation to Cork, Limerick, Galway and Belfast.
Deliveroo has just announced its plans to make all full-time staff shareholders in the company through a stock options scheme.
The scheme will affect all present and future permanent staff at the multinational, which currently has more than 2,000 employees in offices around the globe.
A spokesman for Deliveroo's Irish wing confirmed that all 15 permanent staff in Ireland are part of the shares scheme. However, delivery workers cannot avail of the programme.
According to the most recent figures released by the Irish operation, Deliveroo has more than 800 riders providing delivery services in Ireland. Worldwide, the firm has roughly 15,000 delivery riders.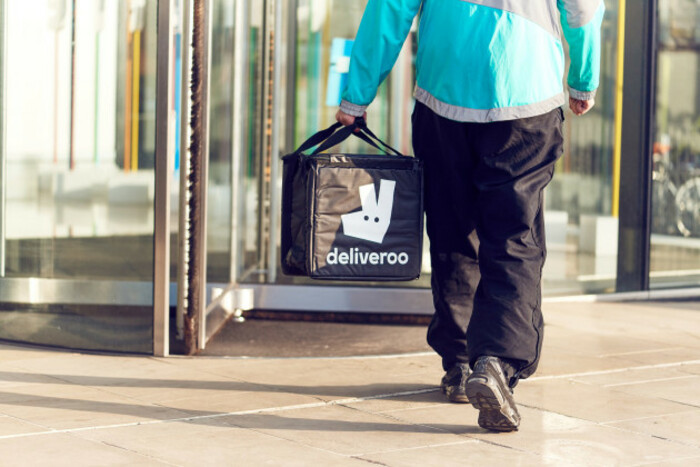 Source: Deliveroo
Overall, the shares programme will involve the firm, valued at $2 billion, handing out nearly £10 million worth of stock options to staff globally.
Deliveroo founder and chief executive Will Shu said he wanted all of the staff "to be owners" and that the scheme was "his way of thanking staff at the company (and) a way of making sure this truly is our company in every way".
Irish wing
The most recently filed accounts for the firm showed that revenue spiked at the Irish arm of food delivery company in 2016, but annual losses shot past the €2 million mark.
The figures showed that Deliveroo Ireland made a loss of €2.4 million, which pushed its accumulated losses to nearly €3.5 million so far.
However revenue at the firm reached nearly €2.9 million in the same period – a more than six-fold increase on the 2015 figure.
There was also a spike in the number of new Deliveroo delivery drivers on the roads in during the 2016 financial year.
These riders are all hired as self-employed contractors, rather than being put on Deliveroo's payroll, a source of controversy in some of its key markets. The setup means the riders are not entitled to benefits such as sick pay or holidays.
The company previously noted that riders working on a 'fee-per-delivery' basis earn an average €11.50 per hour in Ireland.
Last week, Deliveroo announced a free insurance package for its Irish riders. The scheme will allow delivery workers to claim costs if they are unable to work as a result of an injury while working.
Sign up to our newsletter to receive a regular digest of Fora's top articles delivered to your inbox.