Despite a spike in revenue, losses are mounting at Deliveroo's Irish arm
The company has more than 800 self-employed riders here but just eight staff on its books.
ANNUAL LOSSES AT the Irish arm of food delivery company Deliveroo shot past the €2 million mark last year despite a significant spike in the firm's revenue.
New accounts for Deliveroo Ireland show the firm made a loss of €2.4 million in 2016, which pushed its accumulated losses to nearly €3.5 million so far.
However revenue at the firm reached nearly €2.9 million in the same period – a more than six-fold increase on the 2015 figure.
Deliveroo, which was founded in 2013 and has raised over $472 million in venture capital investment, launched its online food-ordering service in Dublin over two years ago. It has since expanded to Cork, Limerick, Galway and Belfast.
Unlike its rival JustEat, Deliveroo has its own drivers, which opens up the food delivery option to restaurants that have no in-house delivery services.
The company charges a 30% commission on orders and also charges a €2.50 delivery fee to customers.
A director's note in the accounts noted that the parent company of Deliveroo Ireland Limited – the UK-based Roofoods Limited – has committed to financing the firm for at least another 12 months.
Deliveroo's spokeswoman said Ireland had been "a major success story" for the company and it would "continue to invest in this important and exciting market".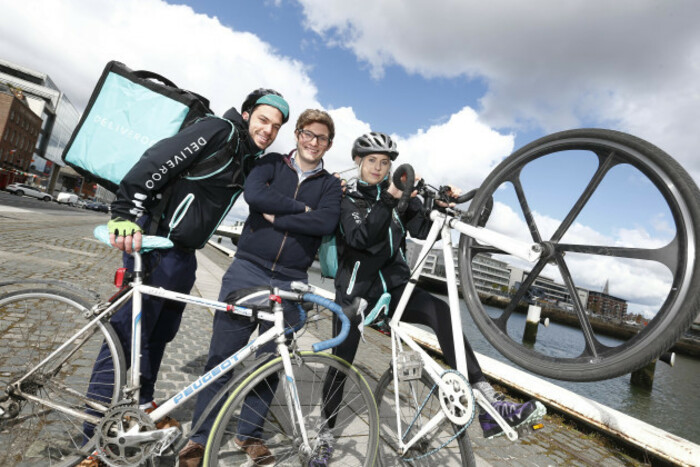 Source: Conor McCabe
She added that the firm will seek to expand its 'Editions' delivery-only kitchens – already up and running in the UK – to Ireland early next year.
The scheme, first trialled in London, involves the company buying up its own kitchen space to offer to existing restaurant partners so they can prepare their food fresh in under-served areas.
There are currently 567 restaurants on the Deliveroo platform, an increase of 54% on this time last year.
Riders
Last year, there was also a spike in the number of new Deliveroo delivery drivers on the roads.
[embed id="embed_2"]
According to the company, there are 861 riders providing delivery services for the Irish firm – a third more than this time last year.
These riders are all hired as self-employed contractors, rather than being put on Deliveroo's payroll, a source of controversy in some of its key markets. The setup means the riders are not entitled to benefits such as sick pay or holidays.
Earlier this year, the company bowed to UK parliamentary pressure to remove a clause in its contracts that barred couriers from challenging their self-employed status at a tribunal.
In its directors' report for Ireland, Deliveroo noted that changes to regulation and legislation change could impact its business "at any time" and the firm has an in-house legal team to monitor such issues.
Riders working on a 'fee-per-delivery' basis earn an average €11.50 per hour in Ireland, the company said.
In total, eight people are directly employed by Deliveroo Ireland – up from five in 2015 – with their average salary coming in at just over €58,000 per year.
Sign up to our newsletter to receive a regular digest of Fora's top articles delivered to your inbox.