The founder of Java Republic says people are sick of the 'dreadful' coffee chains
David McKernan also weighs in on 'bulls**t' coffee trends and a few controversial business contacts.
SITTING IN JAVA Republic's Ballycoolin roastery, it's clear that coffee is a topic the company's founder, David McKernan, has plenty to say about.
However, he warns that "32 years in the business does not make you an expert – it makes you opinionated gobshite".
As if to prove his own point, McKernan serves up that the big coffee retailers, name-checking Starbucks, Costa, Nero and Insomnia, are "all dreadful".
"Chains are nice sometimes because they're handy, but I think it's boring coffee and people are getting sick of them," he says.
It's a hot topic the week after Coca-Cola announced it was buying UK-based coffee chain Costa for £3.9 billion from its current owner, hospitality firm Whitbread. McKernan rolls his eyes as the topic comes up.
"They've bought the worst of the brands. They've done well but it's a tired, boring brand – even just look at the colours and the style.
"They've got some scale and piles of money, but if I was buying shares tomorrow I'd be looking at Starbucks. I'm not really a big fan of them either, but at least they're a coffee company. Costa is just a brand being run by a PLC."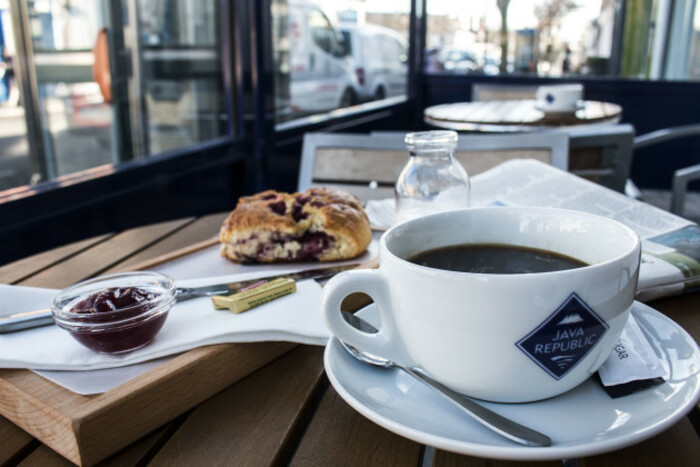 Source: Keith Moran
While McKernan may not run a string of cafés, his business is one of the largest roasters in the country, with its coffee being served in more than 1,200 venues, such as pubs, cafés, restaurants, hotels, and offices.
As a result, he pays close attention to what's going on in the country with competitors both big and small.
"There's new coffee shops in Dublin every few weeks. The recession was probably the best seven years for the independents, because so many people have opened fabulous cool cafés and little roasters," he says.
"The independents have made good inroads. They're still competitors of ours, but I love to meet a barista with a big beard, full of tattoos, who gives a shit about the coffee they give you. That's special."
McKernan built a café in Ballycoolin in 2008 as part Java Republic's new roastery and head office. The company also has a small café in Dublin city centre, located on Molesworth Street – but he decided "long ago" not to focus on the coffee shop business.
"We don't want to compete with our wholesale customers, and the retail food business is tough. We do very well between here and town … but really they're just great showpieces for the Java Republic brand."
'Never give up'
In an abrupt shift of topic, McKernan reveals that he just got his first tattoo – "first and last", he adds – to celebrate his 50th birthday, which is coming up this week.
On his right shoulder, there are a series of Chinese characters that he says mean 'never give up'. The phrase seems to be something of a mantra to keep McKernan going over the last two decades.
The Dublin man left school in 1987 and went straight into a job at Bewleys, where got his first taste of the coffee industry. However, in 1998 he decided to leave after getting the idea to start his own coffee roastery.
"It was a massive risk – I had a new house and a mortgage that I was putting on the line. It took me a year to plan the business, set up the company, raise the money," he says.
"I woke up at five o'clock every morning in hot sweats that first year – it was hell. But I was passionate and competitive and kept pushing through."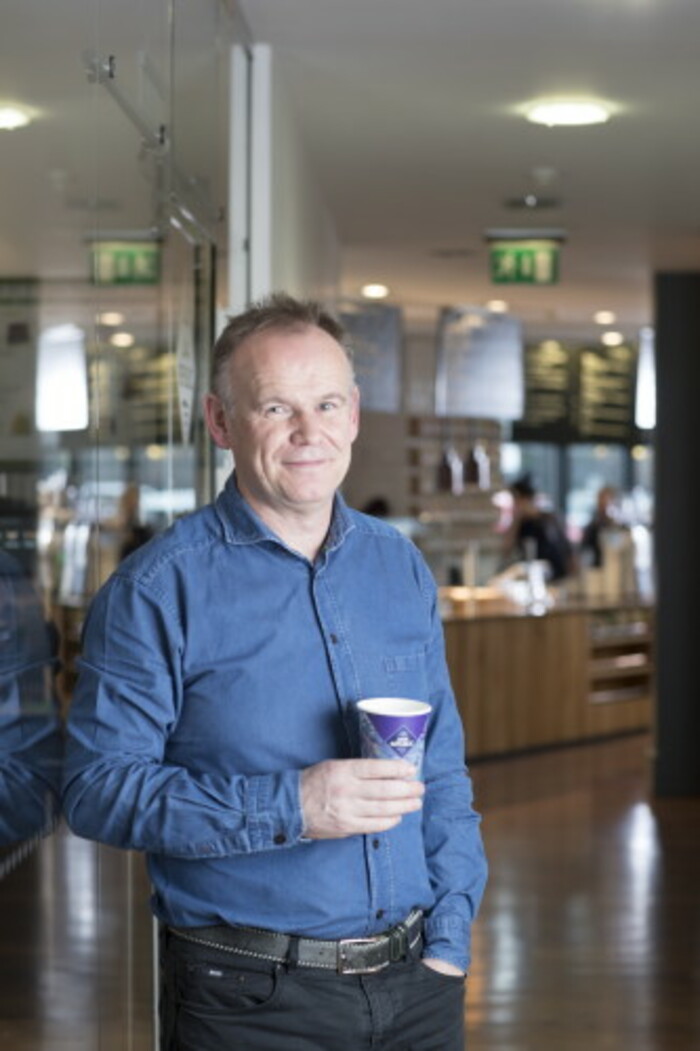 Source: Jason Clarke Photography
After a turbulent start, McKernan got the business off the ground and it continued to grow for the next few years.
However, he found himself in trouble again when the recession hit – around the same time he had just decided to invest €7 million in his new facility in Ballycoolin.
"It was reckless the amount of money I spent in 2007, absolutely crazy, I blame myself. You wouldn't believe the levels of debt we were in," he says.
"The company flatlined for quite a while. Businesses were collapsing around us. The one thing that saved us was that everyone was addicted to coffee at that stage, so sales kept going."
He says that he "got away with a lot of stupid mistakes" in those years, but he doesn't regret pumping money into the roastery because it was a long-term bet.
"It was my dream to have the roastery, but we also needed the extra capacity to keep growing. If we hadn't have done it I don't think we'd be doing this interview today. We had the balls to drive it and open it and got through it."
Moving on
While sales were around €7 million during the recession, McKernan says the company "might get to €15 million" this year. The latest public accounts for its two main operations show both firms delivered a profit in 2016.
He says he's been able to focus on bringing things back because he's got a strong team behind him. But along the way he's also received guidance from some of Ireland's most prominent – and polarising – business people.
"Denis O'Brien gave us some advice – he said I was the most unemployable guy he'd ever met but still gave us time and gave us huge belief internally.
"Then I had an hour with Michael O'Leary, and it was staggering – the most shocking hour of all time. He came into the room and I told him he looked much older in real life, and he called me a little bollocks.
"But he shared some stuff with me about my cash flows and dealing with the bank. Whatever you think about them and how they do business, those are two guys that I would have huge admiration for."
While he has enlisted help at times dealing with the financial side of the business, McKernan knows the coffee trade virtually inside out.
He's just back from Rwanda and says that he tries to go on multiple coffee trips each year as they help him get a better idea of his product.
"I'd say there's very few coffee roasters in Ireland who've ever been on a coffee trip. Their excuse is they can't afford it, but the reality is they don't even know where they're buying their coffee.
"Consumers have lost interest in Fairtrade and don't realise how hard it is out there for coffee farmers. It's worse than slave labour because these farmers are trapped in this cash crop."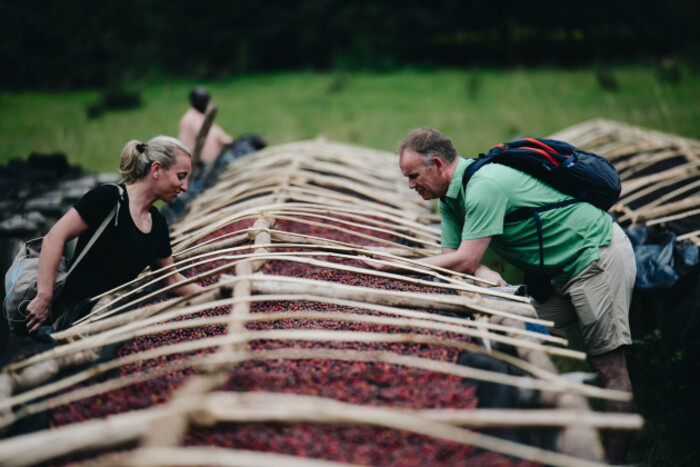 Source: Joe Were
Showing me pictures from a recent visit to Africa with his team, he jokes that these trips are nearly better than holidays with his wife and four kids. But he also stresses that transparency is one of the most important things for him in the coffee business.
Back to basics
Java Republic has just invested in a €500,000 rebrand, as McKernan says it was "time for a refresh", however behind the scenes the focus is on much more than new cups and packaging.
That includes deals with IAG-owned carriers Aer Lingus and British Airways to have the company's coffee on board.
"My main focus is to get that part of the business right. I'd love to be on more airlines – the likes of Qantas, Etihad, Emirates," he says.
The company does a small amount of exports at the moment, but it's something that McKernan is keen to increase in the coming years.
"Java Republic was built to be an international brand, that's why we gave it anything other than an Irish name. You've got to have an international aspect.
"Ireland is a brilliant place to grow but it's a very expensive place to manufacture and a very difficult place to scale.
"One of the biggest mistakes I've made in 20 years is I forgot how small this country is. I should have gone after exports earlier, but I couldn't get the balance right between trying to grow domestically and internationally."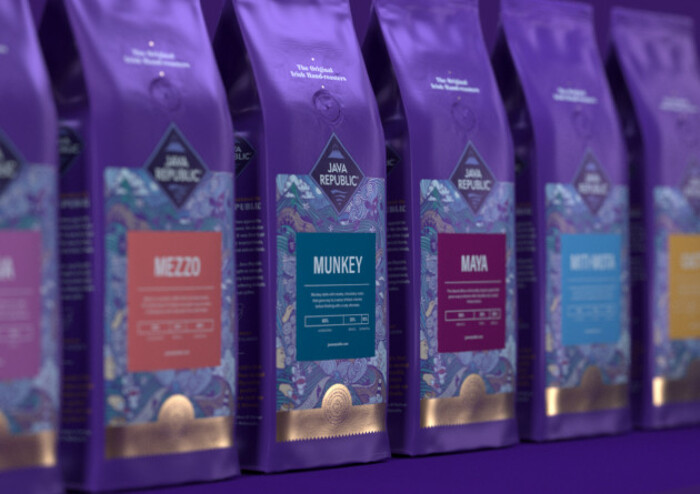 When asked about the future, McKernan is full of ideas for things that he's looked at – from coffee pods to cold brews – but he keeps coming back to simply roasting coffee.
"They call me the magpie in here because I look around and I say we should be doing this and that. But the business here is coffee – we roast coffee and nobody else in Ireland roasts coffee like us.
"There's so much bullshit talked in coffee circles and I just want to go back to basics."
Looking ahead, he's more coy about his personal plans and where he sees himself a few years down the line.
"To sell the business I'd want one hell of an offer – we probably get one every three months but my expectations are extraordinarily high.
"I don't think I could watch somebody else run my business. But then again you might read that I'm doing something else in three or four years time," he laughs.
Sign up to our newsletter to receive a regular digest of Fora's top articles delivered to your inbox.