A well-known Dublin sweet shop is about to make way for a new city centre hotel
Mr Simms Olde Sweet Shoppe has closed its Dame Street store.
A WELL-KNOWN SWEET shop in Dublin city centre is about to make way for a brand new six-storey hotel.
Bridlegrand Shamrock Chambers Limited submitted an application last year to develop a new 39-bedroom hotel on the site that faces onto Dame Street and Eustace Street.
The building was placed on the market at a guide price of €1.9 million in 2016. It was acquired by developer Gerry Conlan who also purchased a nearby five-storey building at 37 Dame Street for €1.6 million last year.
The current site is home to well-known UK confectionery chain Mr Simms Olde Sweet Shoppe and also pizza joint Skinflint – a sister restaurant of other popular Dublin eateries JoBurger and Crackbird.
The developer has just secured permission from the local council to change the use of the existing building from a restaurant, shop and office building to develop a new hotel.
As part of the project, an additional floor will be added to the building. The new glazed structure atop the development will also contain hotel bedrooms.
External works will also be carried out at the site to create a new facade onto Dame Street that will extend across the ground and first floors.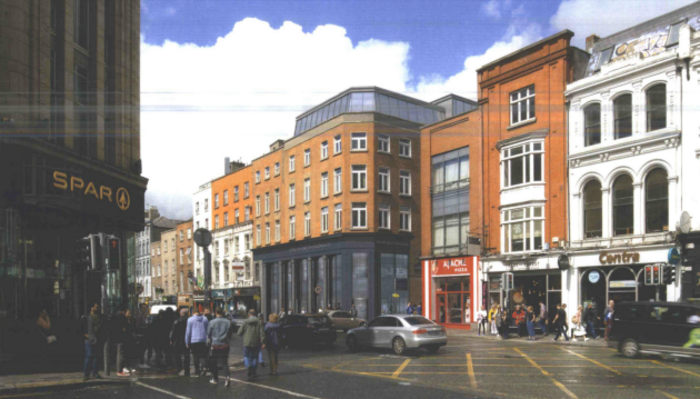 Source: DCC
A notice posted in the window of Mr Simms Olde Sweet Shoppe's Dame Street store stated that the business will be moving premises soon. The business has several other stores across Ireland.
"Due to circumstances beyond our control, we will have to close down our Mr Simms Olde Sweet Shoppe," the statement read. "Good news is we are moving to Ilac Shopping Centre. Thank you to all our loyal customers for the support throughout the years."
Objection
Local businessman Kevin Macken, the owner of JoBurger, Crackbird and Skinflint, lodged an objection to the development in October last year.
In his submission to the council, Macken claimed the proposed development infringed on the lease he had agreed with the landlord for the premises.
According to documents filed with the council, Macken's firm has a contract to lease the premises up until November 2021 for €70,000 a year.
Macken's restaurant Crackbird was located in the premises where the hotel is due to be developed. Last year, he moved his pizza restaurant Skinflint onto the premises when Crackbird moved to a new location on South William Street.
Fora contacted Macken to comment if Skinflint will move out of its Dame Street location. He said he was not in a position to comment on the situation.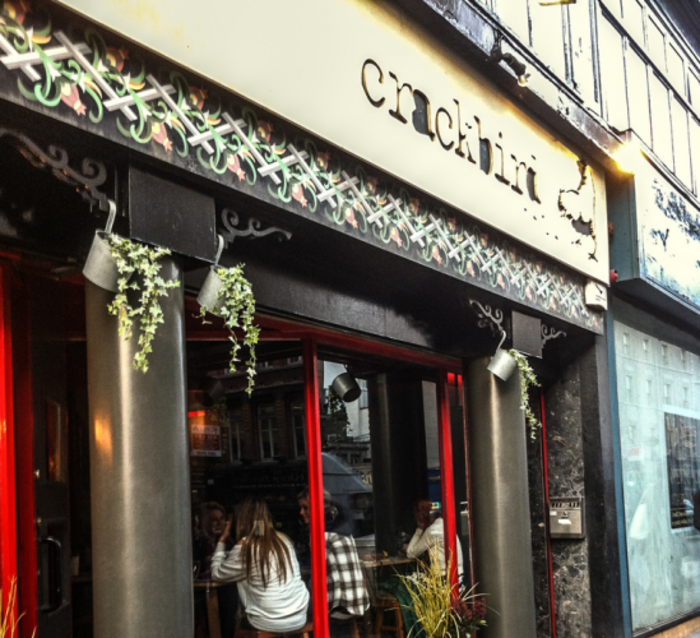 Decision
In its ruling, Dublin council stated that the developer will have to pay just over €16,000 to the planning authority as a contribution towards public infrastructure and facilities benefitting the development
It was also noted that Bridlegrand Shamrock should pay an €8,000 sum to the planning authority which will be put towards maintenance of the Luas Cross City Scheme.
The developer said the new hotel will make use of an "underused" office building and also boost the number of hotel bedrooms in the Irish capital at a time when the city is experiencing a chronic shortage.
A survey by hotel industry analysts STR has shown that work to address the shortage is underway and that Dublin is building more hotel rooms than any other major European city, relative to the size of its market.
Last year, heritage body An Taisce warned that Dublin is about to suffer from an "oversaturation" of hotels due to the excessive development of tourist accommodation.
Sign up to our newsletter to receive a regular digest of Fora's top articles delivered to your inbox.