Dublin beats the rest of Europe - when it comes to building hotel rooms
Thousands of bedrooms are under construction in the Irish capital.
DUBLIN IS BUILDING more hotel rooms than any other major European city, relative to the size of its market.
New figures published by hotel industry analysts STR show that the Irish capital currently has more than 3,150 rooms in construction, which represents just over 14% of the existing stock.
While London is building more hotels rooms than any other destination featured in the report, the number of new rooms in construction in the UK capital is equal to just 5% of the current supply in the English capital.
STR's data shows that as of October there were more than 96,500 rooms in construction across Europe. Five key markets, including Dublin, reported more than 3,000 rooms in construction.
It's widely accepted that Dublin's existing hotel stock isn't sufficient to meet rising demand from tourists.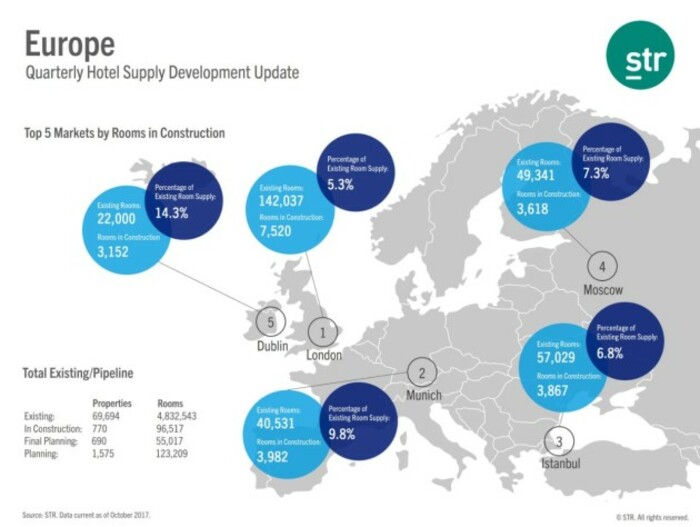 Source: STR
Click here to view a larger version.
According to a study published in August by business advisory firm Crowe Horwath, occupancy levels in the capital's hotels topped 82% last year, a 2% increase on the figure for 2015.
The crunch on accommodation drove up the average price for a room to €128, surpassing the pre-crash peak price of €120.
A separate report commissioned by state agency Fáilte Ireland warned that higher rooms rates in recent years have led to "the overall perception of Dublin as an expensive destination", which is hurting the local tourism trade.
It's expected the accommodation crunch will continue until 2019, when the bulk of extra hotel beds will become available.
Cork figures
Separate figures published today by real estate agency Savills showed that some 1,355 new hotel bedrooms are expected to come on stream in Ireland's second-largest city, Cork.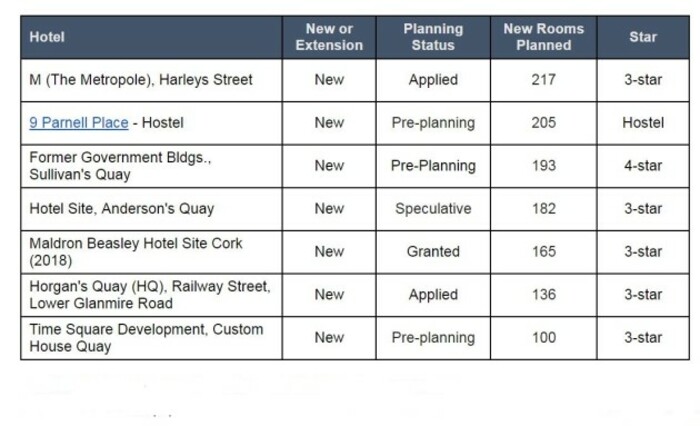 Source: Savills
Click here to view a larger version.
Seven new builds and four extensions to existing hotels are at various stages of planning.
According to Savills, if half were seen through to completion, it would represent a near-30% increase on the current hotel stock in the rebel city.
Sign up to our newsletter to receive a regular digest of Fora's top articles delivered to your inbox.