'We could put 300 rooms in our new Dublin hotel - but planning is an absolute joke'
Height restrictions are making the accommodation squeeze worse, according to Ireland's largest hotelier.
A TOP EXECUTIVE at Ireland's largest hotel operator has said that height restrictions imposed by Dublin City Council planners are stopping a lot of new hotels from being built.
Dalata deputy chief executive Stephen McNally said "planning is an absolute joke" in the capital, adding that there are sites available for new hotels builds but "the yield on the sites is not high enough to do it".
"The number of hotels that have gone for planning and can't get yield on the site is phenomenal … they can't build until they get the optimal number of bedrooms on a site," he said.
Recent data from hotel industry analysts STR showed that Dublin's chronic lack of hotel rooms is getting worse with occupancy in the capital reaching 93.6% in September.
Dalata, the company behind the Clayton and Maldron brands in Ireland and the UK, is building a 180-room hotel at Charlemont Place, Dublin, which is slated for completion in mid-2018.
McNally said: "We could put 300 rooms in the place, but the planners say you can't. Dublin doesn't like height and Dublin doesn't like innovation."
Source: Dalata
The group will also open a 135-room hotel on Kevin Street under the Maldron moniker.
Dublin City Council recently drew criticism for reducing the maximum height for 'low-rise' residential buildings in the city centre from 28m, or around eight storeys, to 24m, or seven storeys, under its draft development plan. Commercial buildings will still enjoy the greater height limit.
VAT rate
McNally, who was speaking at the Annual Tourism Workshop in Dromoland Castle, also lashed out at Siptu, whose boss Jack O'Connor suggested that the 9% VAT rate for Ireland's tourism sector should be abolished to fund public sector pay increases.
"It doesn't add up … If we let Siptu run the country, we would die," he said. "Siptu have been having a go at hotels since 2011."
He acknowledged that the hotel crunch is taking its toll on hotel prices in the capital: recent data shows that as occupancy reached almost 94%, Dublin hoteliers made an average €143 on each room in September, almost 20% more than they did in August.
However, McNally said the recovery in the sector is disproportionate and hotels in other parts of the country still depend on 9% VAT rate.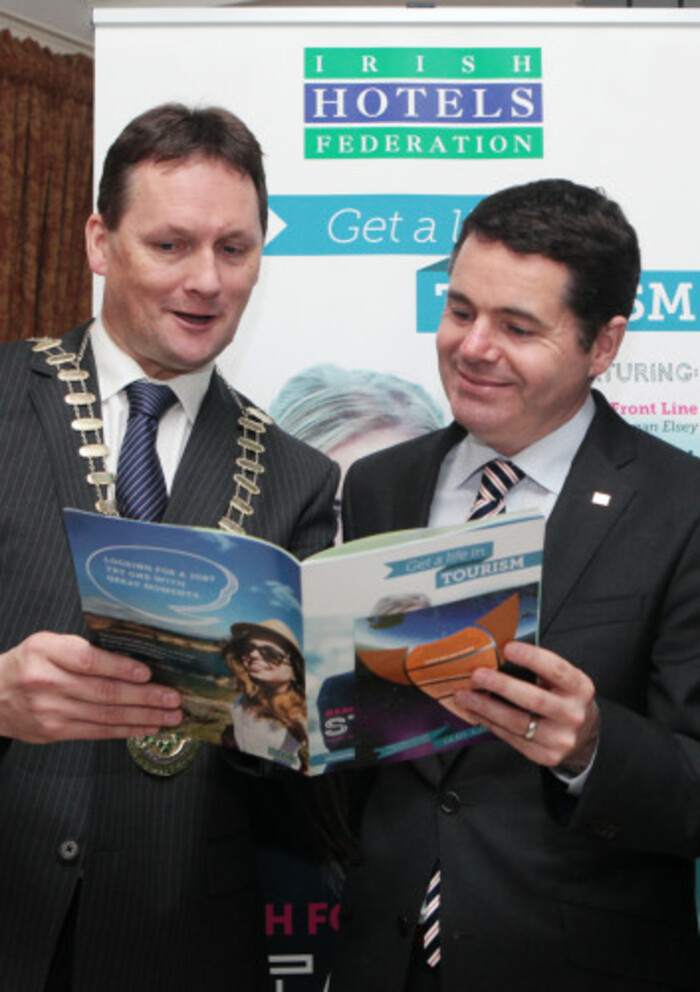 Source: Leah Farrell/Rollingnews.ie
Tourism minister
McNally also expressed his disappointment in Minister for Tourism Shane Ross, who he said didn't "get" the industry like his predecessors, Paschal Donohoe and Leo Varadkar.
[embed id="embed_2"]
He said he wasn't sure how much the current minister, part of the Independent Alliance, and his advisers are "able to fight for tourism".
Ross, who is also responsible for transport and sport, previously described tourism as the "third leg" of his portofilio – "the only leg where there's a certain amount of peace and quiet" in light of the Dublin Bus strikes and Pat Hickey controversy during the summer.
Source: Sam Boal/Rollingnews.ie
McNally added that getting a main listing on the Irish and London stock exchanges in June has "made a huge difference" to Dalata's profile with more pension fund managers willing to invest in the company.
The group will open a hotel in Belfast and Beasley Street, Cork in mid-2018. On Thursday, the company announced that it will expand its operations in the UK with a 226-room hotel in Newcastle due to open the same year.
Dalata currently owns 4,770 hotel bedrooms in Ireland and the UK and leases an further 2,334 rooms.