Despite pumping millions into his latest idea, Colm Lyon is in no hurry to take over the world
The fintech founder who sold his first business for €115 million is slowly growing his next project.
COLM LYON IS not a man in a hurry.
The founder of Realex Payments, an online payments firm he set up in 2000 and sold for €115 million three years ago, is in the middle of building what he hopes will be his next financial giant.
After the sale, he turned his attentions to spin-out company Fire, another fintech firm that allows users to open accounts online and do bank transfers between any bank in the UK or the eurozone.
He retained the idea for Fire, and a number of his team from his first firm, during the sale of Realex to New York-listed firm Global Payments.
Lyon is certain he's onto another big idea with Fire, pumping some €8.5 million of his own funds into the business since he started focusing on it full-time.
He says he could have raised external investment, but he wants to build the company at his own pace without VC pressure to chase rapid expansion.
"I'm not a massive fan of the big focus on raising as much money as you can, as soon as you can way to do things.
"I know that it's easy for me to say that, but for some businesses when I meet them, I would say, 'Why are you raising that amount of money? You've got a fine business and you can continue to grow it in a controlled way and not go cash mad'.
"We're working with a lot of SMEs. By and large, I'm encouraging people not to raise as much as they can. Capital providers by their nature will say to raise the biggest amount you can, but you need to be certain that's what you want to do."
Source: Mark Stedman/RollingNews.ie
Lyon also believes that Ireland shouldn't be set on replicating the billion-dollar behemoths of Silicon Valley but instead on fostering a network of thousands of innovative smaller firms.
"(Unicorn) is a term I wouldn't like either. You should look at businesses and ask them: where are you today, where do you hope to get to and where were you six months ago? That way you can tell if people are making headway and getting traction.
"The answers to those questions are the story of the business and not that you've raised millions and will take over the world."
Second album
Lyon's 23-person company only established a sales team last year and is currently in the process of forming a marketing operation.
"Again, it's about doing things nice and slowly rather than rushing in. Obviously chief executives get frustrated because they would like to go faster, it's a normal feeling. But you've got to weigh up the control," he says.
"I would never be in any rush and I don't mind if lots of people are in the same industry or the same business as me.
"As long as we can continue to a good job and be good in terms of what we offer, people will want to do business with us."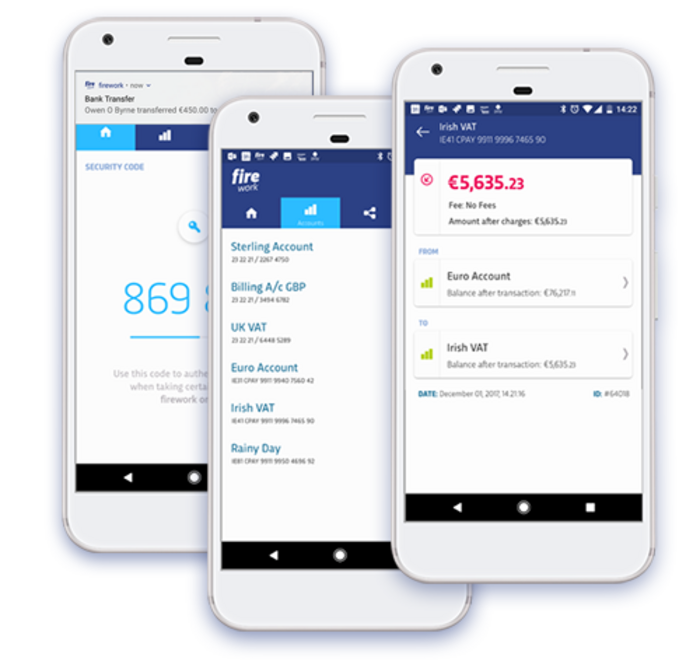 Lyon adds that there is "a lot of noise" in fintech at the moment, with investment $31 billion pumped into the sector globally last year, according to KPMG.
"Undoubtedly the biggest crisis still to hit is Brexit and from a financial services perspective is an enormous issue where we have only begun to understand the implications of it," he says.
"If the banks become inhibited, this is where small firms like ourselves can step in and help trade continue to operate. It's why I like small firms, they can react to what's happening in the market.
"Over a billion euro is traded each week between Ireland and the UK and we need to be sure from every perspective that it doesn't inhibited by the fact Brexit occurs."
[embed id="embed_2"]
Partnering up
Since setting up a sales team in the UK last year, Fire has breached the 2,000-user mark . Lyon says the firm is primarily focused on securing more business customers in that market.
It has also signed up some big corporate clients, such as peer-to-peer loan platform Grid Finance, which uses the service for the disbursements of loans. A landmark deal with MasterCard also means the company can provide users with debit cards.
But despite the progress, Lyon says his firm still has "a couple of years to go" before it will stand on its own two feet. And he isn't completely ruling out the option of tapping investors for funding at a later date.
"The road map for us is very clear. We've got a lot of projects to do, a good list, and with the lads in London we have the foot on the ground. It's about spinning one plate, then this plate, then another.
"I don't mind having other people at the table if I thought I needed to. It could well be that will happen, we're certainly not against it. What we want to see is more traction with what we've got, let that grow up a bit and then we'll sit down and look at the options again."
Colm Lyon is speaking at the Startup Grind event in Huckletree's Dublin co-working space on 23 April.
Sign up to our newsletter to receive a regular digest of Fora's top articles delivered to your inbox.