Colm Lyon's new fintech outfit Fire has struck a 'landmark' deal to deliver debit cards
The company has also revealed plans to open a UK-based office.
IRISH PAYMENTS FIRM Fire has unveiled a deal with MasterCard that will see the company provide its users with debit cards – a first-of-its-kind offering for a fintech firm in Ireland and the UK.
The move has come as part of a wider rebrand of the company from Fire Financial Services to Fire and the launch of a new mobile app.
Fire is the latest project for Colm Lyon, the payments entrepreneur and investor whose last company, Realex Payments, was sold for €115 million.
The company, which has a staff of 20 people in Ireland, allows users to open payment accounts online and process bank transfers between any bank in euro or sterling – and will now supply debit cards to personal and business account users.
Lyon told Fora that Fire is the first Irish non-bank to become a principal member of MasterCard, which is a big step for his company.
"It's certainly unique between Ireland and the UK. There are a lot of people who issue pre-paid debit cards but are not the credit institution behind it. But we now issue our own cards," he said.
The card will act as a dual-currency debit card, according to Lyon. It will allow businesses and personal account users to pay in sterling or euro based on what country they are in.
He added that if a user takes money out of the ATM using the debit card, it will automatically take the funds from a sterling account if the user is in the UK and vice versa if the user is in Ireland.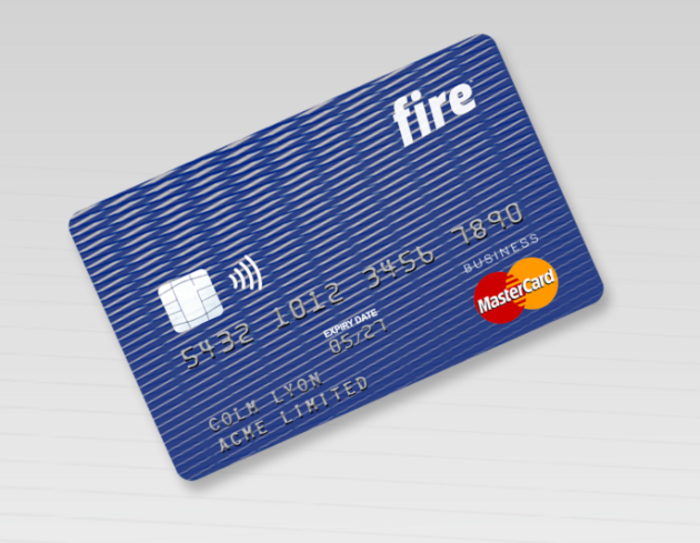 Source: Fire
Rebrand
The rebrand will see Fire Financial Services, which previously traded as Pay with Fire, now trade as Fire.
The name change has come 18 months after the company acquired the domain Fire.com from a US fire-safety firm. That involved the payments firm making the website's owner of the website "an offer they couldn't refuse".
"We acquired the domain name some time ago, and we were waiting for our product and brand to be at the stage where it was a match for such a great name – we believe that day has arrived," Lyon said.
Even though its business service is in beta, Fire already has over 900 SMEs using accounts to make payments in the UK and Ireland.
Lyon said he expected to get a "couple of thousand" new customers on board before the end of this year.
He added that the company is mainly going after the UK market and will establish its first office in the country this year. Right now, over 60% of business clients using Fire are based in the UK.