After years running the Science Gallery cafe, Cloud Picker's founders will open their own space
Frank Kavanagh and Peter Sztal have been manning the Trinity College outlet for nearly a decade.
THE FOUNDERS OF Dublin-based coffee firm Cloud Picker are a coffee shop under their own brand after nearly a decade of running the cafe at Trinity College's Science Gallery on Pearse Street.
Frank Kavanagh and Peter Sztal have since 2010 run the gallery cafe. In 2013, the couple set up Cloud Picker micro-coffee roastery as a separate business on Sheriff Street, which provided beans to the Science Gallery.
Now they are preparing to set up shop across the road at 42 Pearse Street in the old projector room of the historic Academy building, a landmark site that featured in James Joyce's works Ulysses and Dubliners when it was the Antient Concert Rooms.
The adjoined building is occupied by co-working office provider Huckletree and is the former European headquarters of Twitter.
"We've been operating the cafe in the Science Gallery for nine years now," Frank Kavanagh told Fora.
"We'd done three licence agreements. We're coming to the end of our third and we're not going to go for that tender again.
"We've always been operating on a white label; we've never been able to express our own brand under the Science Gallery brand, so it's just time for us to move on and bring Cloud Picker to the high street."
Although they plan to build more brand recognition, Kavanagh and Sztal don't intend to roll out any more cafes after the new Pearse Street shop, which is scheduled to open in April.
Instead they aim to continue developing the wholesale side of Cloud Picker's business, which provides coffee to independent shops as well as the offices of Google and Twitter in the capital.
"We don't want to cannibalise our own wholesale market. That's not our intention for the business. We don't want to be spreading our own cafes around the place if they're going to be competing with our customers," said Kavanagh. 
"We do need a high street presence and this cafe makes sense because it's on Pearse Street – we've always been on Pearse Street."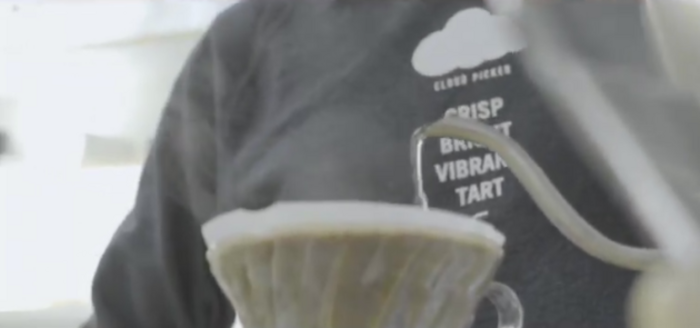 Source: Youtube
'Financial sense'
The new shop will operate on weekday mornings and afternoons and will sell eggs made to order at an "egg station" and will also feature a bakery and salad bar.
"Monday to Friday is much more confined hours than the Science Gallery," Kavanagh said.
"We had to operate under their rules and (regulations), which was to open at the weekends and open in the evening times and let's say that didn't make financial sense."
The new space is a lot smaller than the Science Gallery cafe and "wouldn't allow for a full on sit-in" service,  Kavanagh explained, so it will operate as a takeaway business for now.
"It's a projector room of a cinema so it's quite small, but it's a beautiful little space," he said, adding that Cloud Picker will "make a couple of nods" to the iconic property's rich history.
Once the new cafe is set up, the next big step for the company is to set up a larger roasting facility in Dublin, but Kavanagh is keeping his cards close to his chest and wouldn't disclose where exactly.
"We're looking to grow the business, looking to grow the wholesale market, and we will be getting a bigger roaster. We will be looking to invest in a lot more equipment," he said.
The firm aims to grow its wholesale business across Ireland first before focusing on mainland Europe – where it currently exports to 11 countries. It also exports to parts of South America and the UK.
Get our NEW Daily Briefing with the morning's most important headlines for innovative Irish businesses.