Dublin's CityJet is merging with a Spanish airline to form Europe's biggest regional carrier
The combined companies will have a fleet of nearly 100 aircraft.
DUBLIN-BASED CITYJET has agreed to merge with Spanish carrier Air Nostrum in a deal that will create the biggest pan-European regional carrier.
The two companies said they had struck a deal – subject to EU approval – to merge under the umbrella of a new holding company, although they are expected to largely continue operating as separate entities.
The airlines will use their combined weight to bid for more contracts to run regional routes for third-party carriers.
CityJet, which was founded by CEO Pat Byrne in 1993, operates 44 aircraft from nine European bases, primarily under so-called 'wet lease' arrangements for other airlines.
Under these agreements, the airline provides both the aircraft, maintenance and crew for another carrier. CityJet currently has deals with Air France and Scandinavian airline SAS to provide wet-lease services.
CityJet also flies between Dublin and London City Airport, among a handful of other routes, with its own brand. The company has 1,250 staff on its books.
Its partner, the larger, Valencia-based Air Nostrum, has 50 aircraft and 1,450 staff operating flights to over 50 airports in 15 countries in Europe and Africa.
Air Nostrum provides both wet lease and dry lease – when an aircraft is supplied without crew or ground staff – services to airlines such as Lufthansa and SAS. It also operates the regional network for Spanish flag carrier Iberia.
The companies said the combined entity would have annual revenues of around €700 million. No details of the ownership structure of the new umbrella company were released.
CityJet's recorded revenue of €198 million and a net loss of around €33 million loss in 2016, the most recent year for which accounts are publicly available, on the back of a series of losses in previous years.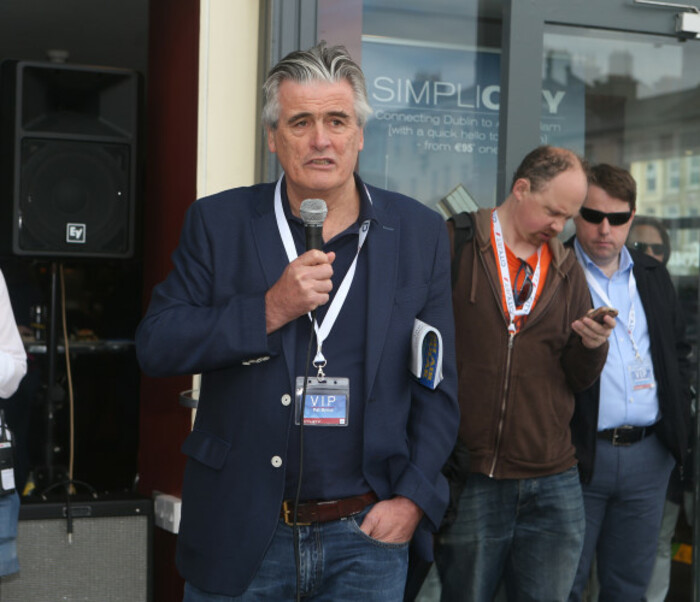 Source: Leon Farrell/RollingNews.ie
A lot in common
Byrne said the airlines had a lot in common, including their Bombardier CRJ-family fleets and focuses on wet-lease contracts.
The Irish carrier last year culled staff from its London City base to focus on its wet-lease business, axeing routes to Paris and Nantes and reducing flights to Amsterdam as part of the changes.
In a message to staff at the time, Byrne said the airline was on target for its "strategic aim" of operating at least 80% of its aircraft on a wet-lease basis.
CityJet earlier backed out of a long-awaited merger with Stobart Air, which operates Aer Lingus's network of regional flights.
Byrne rejoined CityJet in 2015 after stepping down as chief executive of the airline in 2000. It was sold to Air France in 2007, however it posted a series of deep losses and was sold to German investor Intro Aviation in 2014.
CityJet's founder and a consortium of private investors bought back the airline in a deal finalised in early 2016. According to the firm's 2016 filings, Byrne owned around 9% of the airline following the deal.
Sign up to our newsletter to receive a regular digest of Fora's top articles delivered to your inbox.