Ireland's biggest urban development has been given the green light for Cherrywood
More than 1,200 apartments will be built exclusively for the rental market.
DÚN LAOGHAIRE-RATHDOWN County Council has approved plans for a new town centre to be developed in Cherrywood.
The €1 billion south Dublin development will include 1,269 apartments and around 54,000 sq m of retail and office space, making it the largest single urban development project in the State.
It will be centred around the existing Luas stops of Cherrywood and Bride's Glen, which are located between Cabinteely and Loughlinstown.
The plans were submitted by US real estate firm Hines, which says that the "dynamic new urban quarter" will include a range of shops, bars and restaurants, as well as a 200-room hotel and other leisure facilities.
However, residential properties will only be offered under a 'build-to-rent' scheme, which means that individual apartments will not be up for sale.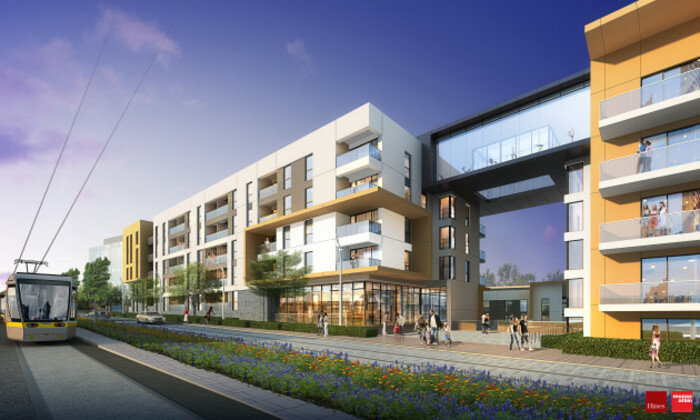 Source: Hines
Urban development
Hines submitted a planning application for the project last year as part of a wider development plan for the Cherrywood area.
The group expects construction on the three-year project to commence by the end of this year and says that it will provide housing for over 3,200 people and office accommodation for 2,300 when complete.
Hines has already undertaken €160 million worth of complementary development works in Cherrywood, recently completing the construction of three parks, sports facilities, roadways, footpaths and cycle paths.
[embed id="embed_2"]
Brian Moran, Hines senior managing director, said that having these elements in place will allow the firm to create a community for the "25,000 people who will make Cherrywood their home over the coming years".
The developer has also recently submitted a separate planning application for 146 apartments at nearby Tullyvale Road, as well as a primary school at Tully Park, which would accommodate 700 pupils.
Hines' portfolio in Ireland also includes Central Plaza and Liffey Valley shopping centre.
Sign up to our newsletter to receive a regular digest of Fora's top articles delivered to your inbox.