Ireland's biggest landlords could be the winners from a huge Cherrywood apartment project
More than 1,250 'built-to-rent' homes are being planned for the south Dublin site.
A MAJOR TOWN-CENTRE development in south county Dublin is likely to attract interest from Ireland's biggest private landlords.
US property giant Hines submitted a planning application to build more than 1,250 apartments for the first stage of the new Cherrywood project.
However, the properties will only be offered under a 'build-to-rent' scheme, meaning individual apartments won't be up for sale.
For that reason, Goodbody stockbrokers' analysts have suggested the project will appeal to so-called 'institutional buyers' like American firms Ires Reit and Kennedy Wilson, which already own thousands of apartments in the capital.
The concept of build-to-rent is already well-established in international markets, especially the US, but it is only starting to catch on in Ireland.
Institutional investors are attracted to such schemes because they tend to deliver steady returns over a long period of time.
Residents typically pay a premium price because maintenance and a range of amenities are usually included in the rent.
Both Ires and Kennedy Wilson have been setting new benchmarks with the going rates on their new developments, with one development in Sandyford featuring one-bedroom apartments from an eye-watering €1,925 per month.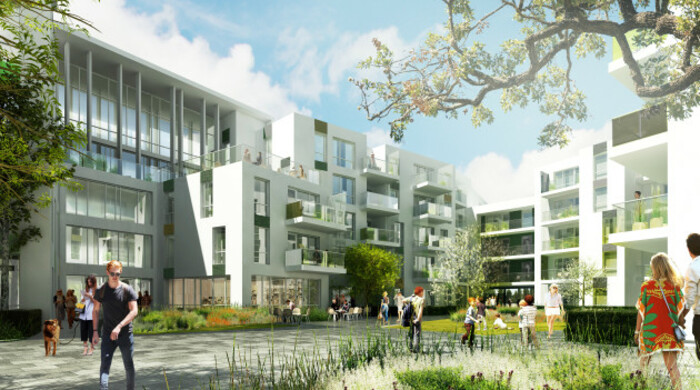 Source: Hines
Cherrywood works
Located in the Dún Laoghaire-Rathdown area, Cherrywood Town Centre will be built on an elevated site that includes the existing Cherrywood and Bride's Glen Luas stops.
If it's given planning approval by the local council, the development will also feature public spaces, shops, bars, restaurants, a hotel and other leisure facilities.
It will be served by new bus routes, including a service to Shankill Dart station, and it will include two large underground car parks, thousands of bicycle parking spaces and more than 150 charging points for electric cars.
Hines expects Cherrywood to become home to some 3,200 people by the time it's completed. It will have space for about 2,300 office workers as well.
Brian Moran, senior managing director of Hines Ireland, said the development "will make a significant impact in addressing the very high demand that currently exists in the Dublin residential market for one- and two-bedroom apartments".
[embed id="embed_2"]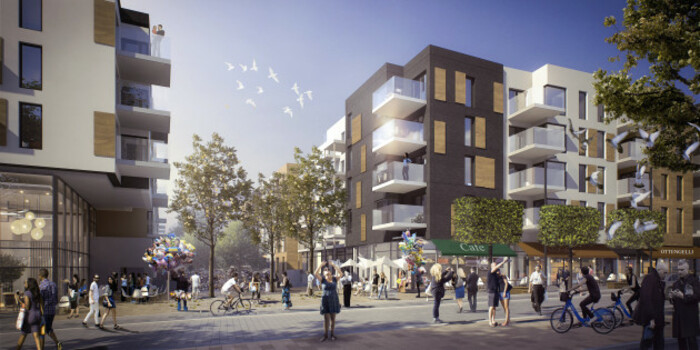 Source: Hines
Construction of Cherrywood Town Centre is expected to kick off in mid-2018, while complementary works nearby are already well underway, Hines said.
The property firm is currently building the newly created Tully Park – which is about the same size as St Stephen's Green – along with roadways, footpaths and bicycle routes.
That €160 million project is slated for completion early next year.
Sign up to our newsletter to receive a regular digest of Fora's top articles delivered to your inbox.