Chefs' pay is increasing - but it's still sub-par for junior roles
Industry officials say Irish food firms need 5,000 new chefs a year to meet demand.
AT A TIME when restaurants are struggling to fill kitchen vacancies, chefs' pay is improving – but earnings are still falling short of the average industrial wage for those in junior roles.
A survey by Dublin-based recruitment firm Excel found that many chefs in hotel, restaurant and catering businesses have had to work their way into management positions in order to earn the average industrial wage, which is roughly €36,900 a year.
Excel – which surveyed 180 client companies and hundreds of job candidates – found that the average chef de partie, or line chef, and pastry chef can expect to earn €30,000 a year, while a junior sous chef makes €35,000.
The average commis chef earns €10.50 per hour in their first year on the job, a €1 increase on 2017′s figure. As their career progresses, they can expect to earn €11 in their second year, €11.50 in their third and a salary of €25,000 by year four.
Waiting staff earn an average of €10 an hour, while bar staff get €12 an hour. Kitchen porters and catering assistants are on €9.80 an hour.
At the top of the career ladder, a senior sous chef earns €42,000 a year. A head chef working in a hotel kitchen takes home €65,000, while an executive hotel chef rakes in between €75,000 and €82,000, excluding bonuses.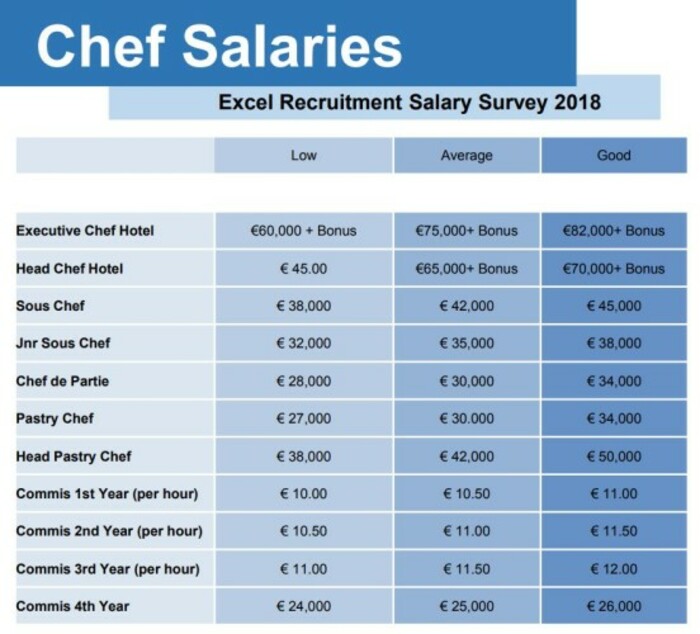 Click here to view a larger version
As previously reported by Fora, industry officials say Ireland will need 5,000 new chefs every year by 2020 to meet demands – but the shortage of chefs has continued to increase: data compiled for this website by jobs site Indeed showed a 17% increase in advertised chef roles but a 14% decline in interest from jobseekers.
Commenting on today's survey results, Excel general manager Shane McLave said the general consensus in the hospitality industry is that "the biggest challenge in 2018 will be to manage the increase in the minimum wage", which went from €9.25 an hour to €9.55 on 1 January.
"In previous years, employers could allow for an extra 10c or 15c above the minimum wage to create more attractive packages," he said.
"However this year, with a jump of 30c, this is not possible. We are seeing employers make the decision to raise the hourly pay rate to €10 per hour for entry-level positions.
"This is pushing up all the lower pay scales to a higher level, making it very difficult for businesses in a candidate-driven market."
Sign up to our newsletter to receive a regular digest of Fora's top articles delivered to your inbox.