Cake and chocolate maker Broderick's plans to hitch a ride on the 'healthy' snacks craze
The company is setting up a major new factory in Tallaght, which it hopes to throw open to public tours.
FAMILY-OWNED CONFECTIONERY firm Broderick's will launch a new line of snacks next month to capitalise on customers' ever-growing appetite for 'healthy' treats.
Bernard Broderick, who heads up the company with his brother Barry, said that a promotional campaign will kick off in the coming weeks to push a new range of fruit and nut bars.
The BC – 'before cake' – brand was in development for about 18 months and has already been soft-launched in select cafés and retail shops.
"Our core business is always going to be in the treat space," Broderick told Fora. "But we don't see any reason why we can't have a healthy range."
Broderick's sells handmade, sugary snacks under the Broderick's Brothers, Irish Flapjack Company and Ina's Handmade Foods brand names.
Broderick said the idea to launch the healthier line was partially sparked by the brothers' frustrations with the current offering in supermarkets.
"What annoyed us about protein bars and all that is the misconception consumers have about them, thinking they're healthy when they're really not," he said.
"We just wanted to put something in that (healthy food) space that I'd be happy to hand to my kids."
The company has already dipped its toe into more niche products lines with gluten-free alternatives, which were rolled out in 2015.
While gluten-free accounts for less than 10% of the firm's annual turnover, Broderick said the company has "seen a big shift" in demand for coeliac-friendly options in recent years.
"Our French distributors have switched over their 'rocky road' and caramel bars to only gluten-free," he said. "They're not even making that big a deal of it with their customers. It's the same in the UK."
Last week, the company announced a €6.3 million investment led by the state-backed BDO Development Capital Fund. The millions will be used to finance the company's migration from its current facilities in Walkinstown to a bigger factory in Tallaght.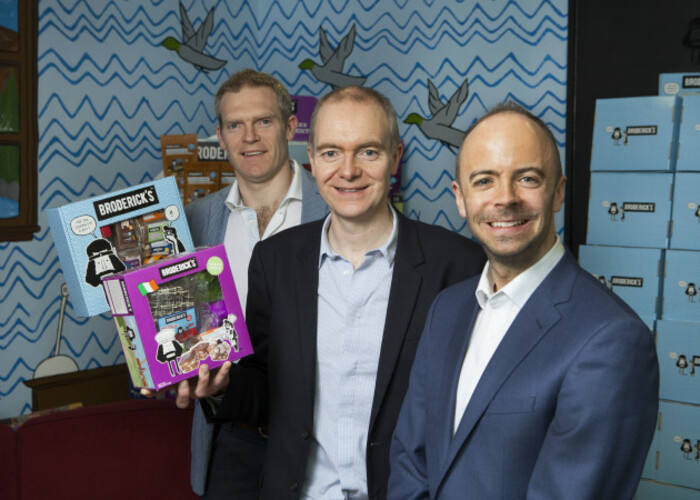 Source: Peter Houlihan
Right now, the company is "at kit-out stage" and hopes to move into the new plant by July at the latest.
The Tallaght factory is about half the size of a GAA pitch, space which Broderick said will allow the firm to "comfortably double turnover" when it is fully operational. Last year, the firm booked sales of roughly €8.4 million.
The factory will also create 40 new jobs. Broderick's currently employs 100 people in Walkinstown.
Broderick added that the company hopes to open up the new factory to public tours at some stage.
"People don't realise (our products are) properly handmade," he said. "We'd like to be bringing people in and showing them that."
The brothers will also open a café at the plant.
Exports
Broderick's currently exports to about 25 countries across Europe, the Middle East and parts of Asia.
This year, the company plans to secure more shelf space in the US, where it already has a small presence in about 40 fine-food stores in Manhattan.
Broderick said "a lot of the dog work" has already been done to source distributors across the Atlantic. The brothers hope to start signing contracts in June when they exhibit at the Fancy Food Show in New York.
The US expansion is a "two-pronged approach", Broderick said. The company is chasing both luxury food shops and so-called 'club stores', which are a type of members-only wholesalers.
Costco, the largest club-store chain in America, last year sold 300,000 boxes of Broderick's treats in its South Korean subsidiaries.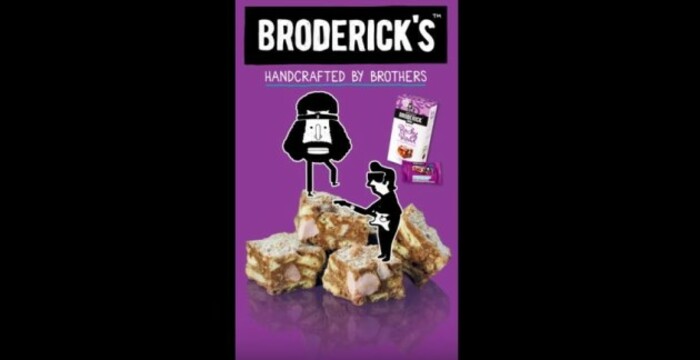 Broderick's main export market right now is the UK, followed by France. The brand has performed well in newer markets like Dubai, Holland and Germany too, Broderick said.
"We'd be very much in high-end cafés, fine-food stores," he said. "It's exactly where you want to be at the initial launch in a country. Then you probably do want to crank it up a bit more to be in the supermarkets."
Broderick said the company relies a lot on tastings to push its products but doesn't have the budget to give away thousands of free portions.
The brothers instead organise in-store tastings when they enter a new market.
"Generally when somebody tastes it they know it's better quality," Broderick said. "They know why it might be more expensive."
They also looks to get their products featured in food subscription services. Last month, a German outfit called Foodist carried one of the Broderick's branded peanut bars in its box of snacks.
Such services are helpful for boosting sales, but "you have to absolutely murder your price to get into a box like that", Broderick said.
In-flight market
As well as selling product in supermarkets and coffee shops, Broderick's has found its way onto airline snack menus.
Carriers such as Aer Lingus, Virgin, American Airlines and Ryanair have sold the firm's range of miniature treats on board.
Although those contracts tend to be quite lucrative, Broderick said the downside is that "you could be on for one month, off for three months" because airlines frequently change their in-flight offerings, especially on shorter routes.
"There's a couple of things with airlines," he said. "They're very cost-sensitive. They also have a load of paperwork. It takes a lot of work to become a supplier to airlines."
An 18-month contract with Virgin Airlines will soon come to a close and be up for tender again soon.
"When that finishes, that's a lot of business gone," Broderick said. "There was something like three million portions in that. That's a lot of business to replace."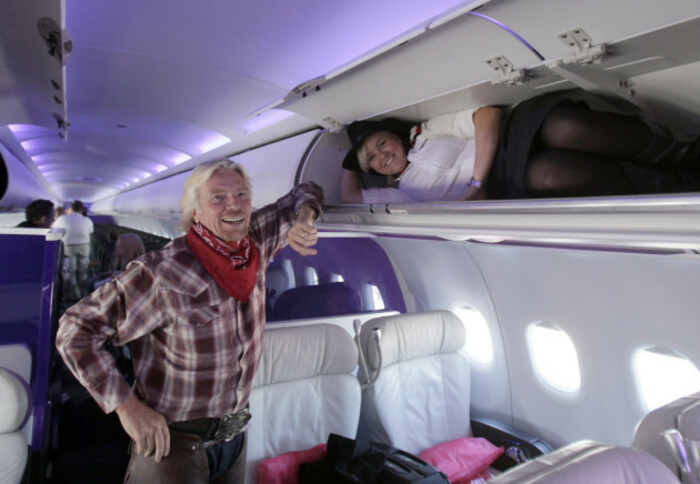 Source: LM Otero/AP/Press Association Images
Family business
The company is now in its second generation of family ownership. It was founded by Broderick's mother Ina in 1984.
Both parents are still involved in the company, which Broderick said gives the two brothers a lot of stability.
"It's a steadying influence and you have somebody to bounce ideas off," he said. "It's no harm having people around you that you trust."
When asked whether it's difficult to work with his brother, Broderick said: "We seem to have it nice enough. You could be knocking the heads off each other one day. You know yourself."
"Barry and I have the same ambition regarding the business and we know where we want to get it," he said. "All the disagreements would be over the small things. We'd have the exact same big picture goal."