After delays, Bleeperbike is refining its electric bikes for launch this summer
The company recently secured a further funding injection of €250k from Enterprise Ireland.
STATIONLESS BIKE-SHARE STARTUP Bleeperbike is preparing its electric bike launch for this summer after delays in refining the fleet.
As previously reported by Fora, the Dublin startup was planning to roll out e-bikes in its rental network in late 2019. Its app currently lets users rent a standard bike in Dublin.
Chief executive Hugh Cooney said that it is still working with a manufacturer on components such as batteries and motor to ensure they are fit for launch.
E-bikes are powered by a small electric battery and motor that assist the cyclist in pedalling with speeds typically capped at 25km/h.
"We're still refining the bike to use. Electric bikes are more complicated than standard bikes," Cooney said.
"There are two key aspects to it, the motor itself so the experience of how the bike is propelled and then the longevity and the environmental friendliness of the battery."
Bleeperbike has been tinkering with prototypes and test models of e-bikes at its Dublin workshop the past year.
He added that e-bikes are a much more cost-intensive product compared to standard pedal bikes and getting it wrong would be a "big financial penalty".
Cooney did not disclose who Bleeperbike's manufacturer is but said many parts in bike manufacturing come from China and that supply chains may suffer from coronavirus-related issues.
"Even if it's not the whole bike, (it's) grips, gears, tires, tubes, pedals. A bike is made up of so many parts that there are definitely parts in our supply chain that are manufactured in China so it does delay things."
The company plans to roll out 200 e-bikes around summer "subject to Dublin City Council being happy" and will add to the fleet after that depending on user uptake.
Funding
The company recently secured a further €250,000 from Enterprise Ireland, a top-up on its €750,000 investment last July from Business Venture Partners. Cooney added that the company is always open to raising further funds to finance its expansion plans.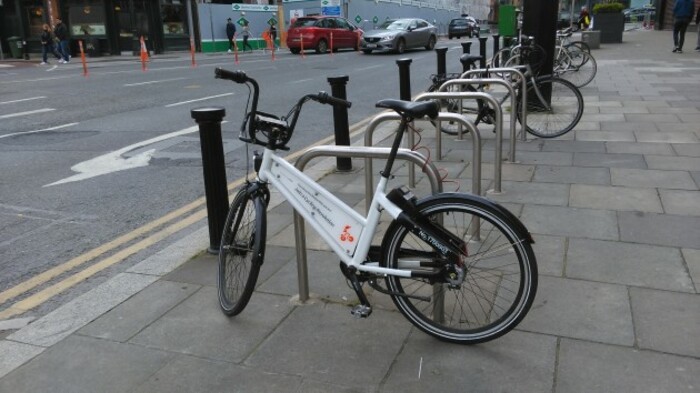 It recently added newer inventory to the existing fleet of pedal bikes late last year with an updated locking system to deter thieves.
"The other key change is the user experience is better. Before, you used to have to use two hands to lock the bike," Cooney said.
"(On) the new bike, the locking experience is one chain and at the end of it is the smart device that you have to connect into the smart lock. It's all done with one hand now."
Bleeperbike sees over a thousand journeys a day on its bikes, he said, adding that rainy days can impact on daily activity with journeys down 20-30%.
Get our Daily Briefing with the morning's most important headlines for innovative Irish businesses.