Electric bike companies are calling for subsidies to get more Irish people on e-bikes
Retailers don't want the government to focus solely on electric cars as an alternative mobility option.
WITH THE BUDGET around the corner, electric bike proponents are calling for the government to introduce more supports to help people buy the alternative form of transport.
Interest in electric bikes, or e-bikes, continues to grow, according to Olivier Vander Elst, the co-founder of Dublin e-bike shop Greenaer, but he said newcomers to the mode of transport still need education and subsidies to encourage purchases.
E-bikes are decked out with an electric motor and battery which assist with the pedalling and can be used by commuters for travelling longer distances and by people who may be physically less fit than other cyclists.
They run into much higher prices with models typically hovering around the €2,000 mark.
"If you look at the more mature European countries, you have a lot of incentive schemes and education days that are just there for the public to come across these solutions. There's still some more work to be done," Vander Elst said.
In Ireland, e-bikes are eligible under the Cycle to Work scheme, which provides a subsidy up to €1,000 to purchase a bicycle – well below the average price of an e-bike.
"The threshold for electric bikes should be increased under the cycle to work scheme. That would be, in our opinion, an easy way to look at it," Vander Elst said.
"Obviously politicians are keen to find solutions to the congestion and pollution problems," he added but said that the focus shouldn't lie too much on electric cars.
The lack of any mention of e-bikes in the government's Climate Action Plan earlier this year came in for criticism with the European Cyclists' Federation calling it a "major omission".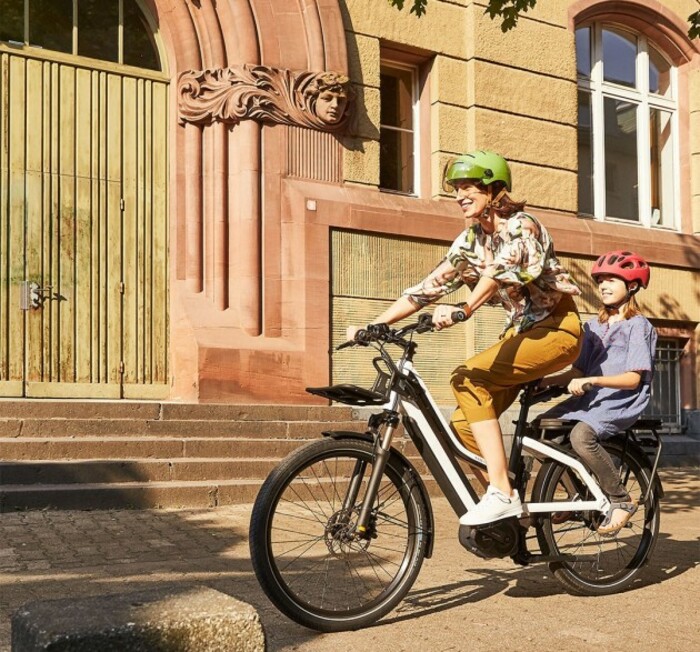 Source: Greenaer
Much of the views of retailers like Greenaer are echoed by Cyclist.ie, an advocacy group. In its pre-budget submission, it urged the Sustainable Energy Authority of Ireland to introduce allowances for e-bikes alongside those granted for electric cars.
It also made the case for an "extra generous allowance" for people who replace their car with an e-bike and urged greater use of e-cargo bikes for low-emissions freight delivery in cities.
Maturing interest
The profile of customer for e-bikes has expanded, Vander Elst explained, with more people showing interest in the bikes and the technology.
"The signs have been showing for a number of years now … We're getting to a point where it's more mainstream," he said.
Greater visibility of e-bikes has also been evidenced by on-demand bike sharing startup Bleeperbike adding e-bikes to its fleet for users to rent.
Late last month, transport software firm Voyego and Austria's Greenstorm Mobility jointly launched a new online marketplace in Ireland for electric bikes that allows merchants to sell their wares, whether new or secondhand.
Voyego general manager Marko Javornik called it an "Amazon for e-bikes" that can help consumers more easily access the form of transport.
"Electric vehicles of all sorts are coming. That's the future and we are convinced that e-bikes will be the first one to reach maturity and it's already happening," Javornik told Fora.
He said that Ireland is still a "little bit behind" when it comes to the adoption of e-bikes, especially when compared with very cycle-friendly countries like the Netherlands.
"Now we are seeing that people are recognising that this can be a really efficient way of mobility in the city," Javornik said.
"Maybe it is not for everybody, maybe it's not for every weather and so forth, but it can definitely grab a large piece of the mobility cake that we have in terms of commuting."
Get our Daily Briefing with the morning's most important headlines for innovative Irish businesses.