Blanchardstown centre has been cleared for a renovation to 'bring it in line' with rivals
The owners of the Dublin shopping mall want to remove its central fountain.
THE FIRM BEHIND Blanchardstown Shopping Centre has the all-clear to demolish parts of the internal mall – including the centre's large water fountain – to bring the facility "in line with modern requirements".
Earlier this year, Blanche Retail Nominee Limited asked Fingal County Council if its new plans to renovate the mall would be exempt from the normal development application process.
The proposed works included demolition of notable aspects of the shopping centre, including the large water fountain – which will make way for a new children's play area.
A bridge spanning the current void between the first and second levels would also be constructed.
Other works proposed include the replacement of the travelators with escalators and insertion of two new lift shafts between the first and second levels of the mall.
Fingal council gave the works the all-clear on the basis they did not increase the centre's floorspace or involve "material change" to the use of the building.
According to Blanchardstown Shopping Centre's operator, the latest renovation works were needed "in order to bring this important retail destination in line with modern requirements".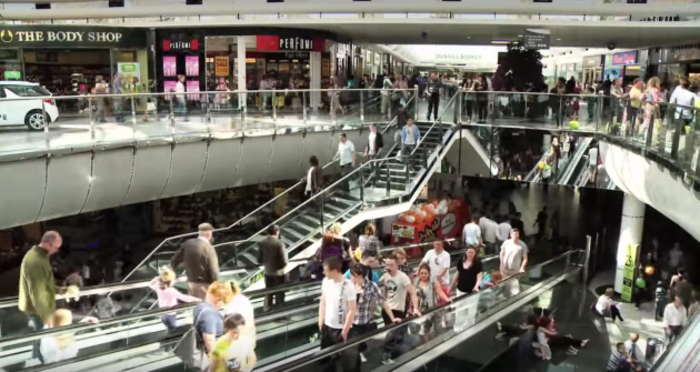 Source: YouTube
Blackstone
Since its takeover of the Dublin retail centre in 2016 for €945 million, US giant Blackstone Real Estate has made numerous moves to upgrade the building.
Last year, a subsidiary, Multi Corporation, applied for permission to build a new, 5,574 sq m development in order to create several large retail units on the lower and upper levels of the central mall.
A few months later, Blackstone also revealed plans to extend Blanchardstown centre's 'red mall' and add nearly 10% to the centre's existing retail space.
This year, the shopping centre has also received permission from the council to build up to 38 commercial kiosk stalls inside the shopping hub.
Blanchardstown centre's owners originally requested permission for 54 kiosks, but the plans were scaled back following objections by retailer Dunnes Stores.
Sign up to our newsletter to receive a regular digest of Fora's top articles delivered to your inbox.