'Our staff get targeted by the likes of Facebook and Google - you can't hide them'
As part of our How My Business Works series, we profile Monsoon Consulting.
BHARAT SHARMA WAS working as an IT project manager in London when he was offered a chance to work on the other side of the Irish Sea.
It turned out to be a life-changing step for him.
"I came to Ireland in 2000 and I loved it – the energy, the people. The IT sector was bursting at the seams here so I never left," he tells Fora.
After a stint working for Forfás, the now-defunct government agency that advised on tech and science policy, Sharma set up his own business, Monsoon Consulting, in 2002.
Initially, the company did "a bit of everything" in the realm of IT outsourcing, where he had always worked until that point.
"I realised it's not as easy as you think getting started and raising investment, so I kind of fell back on what I knew," Sharma says.
"But we were not very focused or organised. I wasn't really enjoying it and I thought we should focus on more niche services and products."
Source: Maxwells Dublin
In 2006, Sharma was joined by his current business partner Stephen Kenealy and Monsoon Consulting began to grow in earnest from there.
"We met in a cricket club in Dublin and talked over a pint of Guinness about how we could go about developing the company," Sharma says.
"Stephen comes from a business and marketing background so we made a good team."
Since then, Monsoon Consulting has refined its business model and no longer deals with tech outsourcing.
The company now designs, builds and maintains specialised websites for businesses in Ireland and the UK.
'We weren't working smart'
Monsoon Consulting provides e-commerce and content management services for clients such as DIY retailer Woodie's, Uniphar, the FAI and Dún Laoghaire-Rathdown County Council.
The outfit promises to "engage" with its clients at every stage of the process. After a consultation, Monsoon designs and builds the website and then follows up with maintenance and support.
A few years ago, Sharma decided to focus his attention more on business-to-business clients in the pharmacy, DIY and food sectors.
The idea behind this was that he would be able to offer a more specialised service and set his company apart from the competition, particularly in the British market.
"When we started in the UK, there were about 27 agencies doing e-commerce for the retail sector. We had to figure out how to stand out from them," he says.
"They were all chasing the same piece of the pie so we decided that we'd go the other way. Instead of going to high street brands like M&S, we went to football clubs, big warehouse distribution centres – huge industries with their own nuances."
Sharma says that these changes have paid off. He says up until 2013, the company had turnover of around €200,000 every year, but sales last year reached €2.5 million and are expected to swell to €5 million by 2020.
According to its most recent public accounts, the firm posted profits of nearly €140,000 in 2016.
"The reason we were slow until 2013 and then suddenly accelerated was that we were always working hard but we weren't working smart," Sharma says.
"We were saying yes to everything and everyone, spreading ourselves really thin. But now we're very selective, we're not trying to do too many things."
'You can't hide talented staff'
Monsoon Consulting started as a one-man operation but now has nearly 40 staff, most of which are based in the company's HQ in Clonskeagh.
The workforce includes both technology and business consultants, as well as software engineers, project managers and support staff, with the aim of being able to complete projects in-house.
Last year, the company opened a small sales office in London and three months ago added another office in Kiev, Ukraine.
"We need to grow to 50 staff very fast. We have work in the pipeline but we don't want to commit to too much unless we have the right people," Sharma says.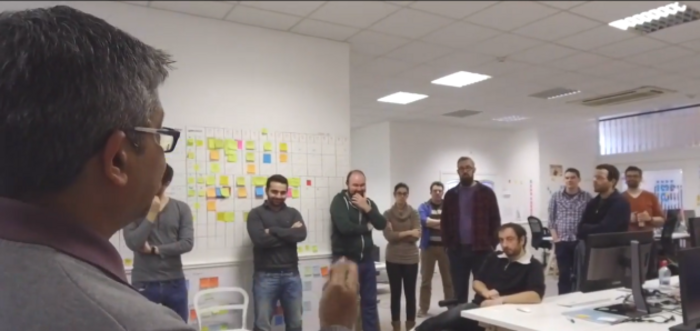 Source: Monsoon Consulting/YouTube
However, as with other growing tech firms in the capital, he has found that recruiting and retaining specialised staff such as engineers can be a constant challenge in Dublin.
"Some of these skills are so hard to find here that we go elsewhere. We have 12 or 13 different nationalities in our Dublin office – it's like the United Nations.
"I know the staff aren't available here so I'll go to Ukraine, Russia, wherever, and apply for a work permit to bring them over here. But by the time they have settled they've been targeted by the likes of Facebook, Google.
"It's a huge challenge to retain these guys against companies that have a bigger buying power than me. But you can't hide talented staff – this is the world of digital business."
The current housing crisis is also making it more difficult to convince staff to come to Ireland in the first place.
"One of the biggest challenges is how do you bring people to Dublin when they have to queue to find an apartment or a house? It's just so hard," Sharma adds.
"They'd say, 'Why would I come to Dublin when I could go to Berlin or other cities in the digital space?' I see that's becoming a regular concern bringing talented people to Dublin."
'Ireland is a small economy'
Recruitment challenges aside, Sharma says that he is focused on growing Monsoon Consulting further and expanding its presence outside of Ireland.
It entered the UK market about 18 months ago and has since picked up clients such as Liverpool Football Club.
"The way we saw it, Ireland is a small economy. So for our growth the UK seemed like the most obvious market – they're just next door, they speak English," Sharma says.
"The UK is fairly new so we're probably about 65% in the Irish market, 35% in the UK now. But the way things are going it's probably going to be the other way around very soon."
However, with the UK's departure from the EU on the horizon, Sharma is now trying to "balance the Brexit uncertainty" by entering another European market.
At the moment he is considering Germany due to the large automative and engineering industries there, and says the company could expand there in 2019.
While he is definitely looking internationally to gain new clients, Sharma says that Ireland will always be the company's base.
Sign up to our newsletter to receive a regular digest of Fora's top articles delivered to your inbox.