'Figure out if there's a need very quickly. If there is, persevere endlessly and don't give up'
The CEO of Bamboo talks Christmas trees, long hours and milkshakes.
LUKE MACKEY IS used to early mornings. The CEO and co-founder of food app Bamboo started out selling Christmas trees at the age of 12 – which involved some 4am starts. These days, he's usually in the Bamboo offices at a more civilised 8.30am. 
Bamboo, which has developed an app allows users to pre-order food at a local food business and pick it up when it's ready, is in the middle of a funding round – and has plans to expand to the UK, Asia and Europe.
The company, which raised €500,000 in a seed round last year, currently employs 11 people and has partnered with more than 100 food outlets including Blazing Salads, KC Peaches and Offbeat donuts. 
In our weekly question-and-answer series, we talked to Mackey about long hours and why he thinks the physical point of sale is on its way out. 
Here's what he had to say:  
On average, what time do you start work in the morning and what time do you clock off?
I probably get to the office at 8.30am most mornings. Most days I'm out of the office around 8pm – or later sometimes – which I'm trying to change. 
What's the worst job/task you've ever had to do?
I used to sell Christmas trees, from the age of 12 to around 16. One of my responsibilities would be bringing in the deliveries, and all the deliveries used to happen at around 4am or 5am.
I'd have to go and meet the guys who delivered the trees, take them off the crate and get them ready for the day. All I remember is my body just being destroyed after it and wrecked for the rest of the day. I loved the job, but that task was a tough one. Now, whenever I smell Christmas trees that's all I think about. 
What's the toughest work-related decision you've ever had to make?
One of the toughest decisions I've had to make is actually starting the company. I was just out of college, I could have gone and got a job or gone a traditional route, but it was kind of burning – and I was always thinking of reasons why it wouldn't work. 
We took on investment as well – something I've never done is actually take someone's money or have someone invest in me or my idea. That was a big responsibility and a lot of pressure. 
What's the next big thing in your industry?
We're seeing more of a shift to mobile order and pay – in Ireland and Europe anyway. Especially for professionals and people who are more time conscious, mobile order is going to be quite big.
The decline of the point of sale in quick service restaurants in particular is going to be more prevalent over the next five or 10 years. It's quite inefficient for people to line up, talk to someone, convey your order to them and for them to then put that order into a till.
You're going to see more stores where there's going to be tablets you can order from, or you can order ahead from your phone – that's going to be definitely a big change.
When it comes to deliveries I think obviously dark kitchens, where you have one kitchen that has numerous brands working out of it.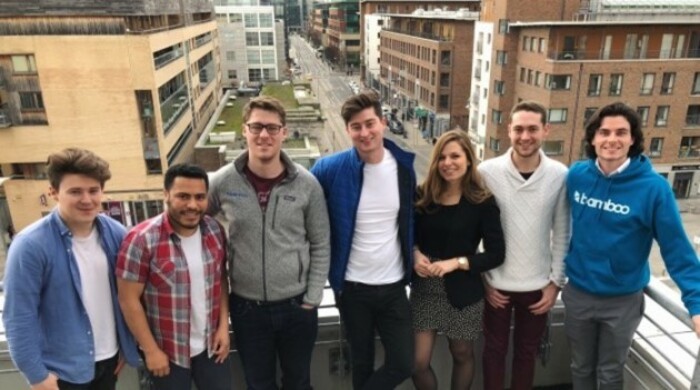 Source: Bamboo
What detail about yourself would surprise your staff?
One thing that I don't think anyone knows about me is that I gave up milk for lent – and I love milkshakes – and I slyly ordered a few milkshakes during lent. I'm the milkshake guy now. 
If you were stranded on a desert island with just one thing, what would you want it to be?
A really good knife, like a machete. Something I can defend myself with, feed myself, cut down different things, build shelter with – that kind of stuff. 
What's your favourite job interview question to ask and why?
I think the best one for a product company like ours is 'have you used the product?'
It shows initiative. You can tell if someone hasn't used it and has rehearsed it. Even if someone hasn't used it, it's better when they're honest.
We prefer when people are highly product focused and opinionated. 
What's the one piece of advice you would give to someone starting out in your industry?
If you're starting any sort of tech company – to try it and take a risk. Understand if you have a product, figure out if there's a need very, very quickly. If there is, persevere endlessly and don't give up. 
What's the biggest problem you've had to deal with in your business so far and how did you overcome it?
Hiring people and understanding if you have hired the right people. I think people are the biggest thing in any company. 
When you're considering partnering with another person or business, what factors are deal-breakers for you?
When people are very close-minded and when people are just saying what you want to hear. 
What bad work (or business) habit have you had to kick?
I do really intense three or four months stints or (I do) crazy hours. I'm sometimes in the office crazy late and trying to take on too much. I get sick and I burn out.
I've done it numerous times and I still always tell myself I've got to change and do things differently. I do maybe for a week and then I get back into the swing of things. 
Get our NEW Daily Briefing with the morning's most important headlines for innovative Irish businesses.