'It's a beautiful place to live and work': Doing business in Ireland's 'most vacant' town
Donegal's Ballybofey has recorded the state's highest rate of empty shops and offices.
LAST WEEK, DONEGAL'S Ballybofey was named the centre with the most commercial vacancies in Ireland – but locals say that doesn't paint a true picture of the town.
Located on the south side of the River Finn, Ballybofey is about a half-hour drive from Letterkenny and the Northern Ireland border.
It ranked bottom in an analysis of just over 100 locations around the country by GeoDirectory and DKM consultancy, which found that just over 28% of all the shops and offices in the town are empty.
That's double the national average, although vacancy rates have improved slightly since 2016 - when Edenderry topped the poll.
Unsurprisingly, people on the ground were irritated by the new title of 'most vacant' town in Ireland.
"It's very frustrating," said Leah Fairman, manager of the town's BASE business centre. "It gives the idea that we're a ghost town. The opposite is true, this is a really bustling market town."
Fairman said the figures may be accurate - there are a lot of vacant units in the town – but the statistics don't tell the full story.
"If I think about the screetscape, there are individual units that might be cafes and things like that which would generally have a high turnover (of occupants)," she told Fora. "Other than that, most of the units would be things that were never quite completed."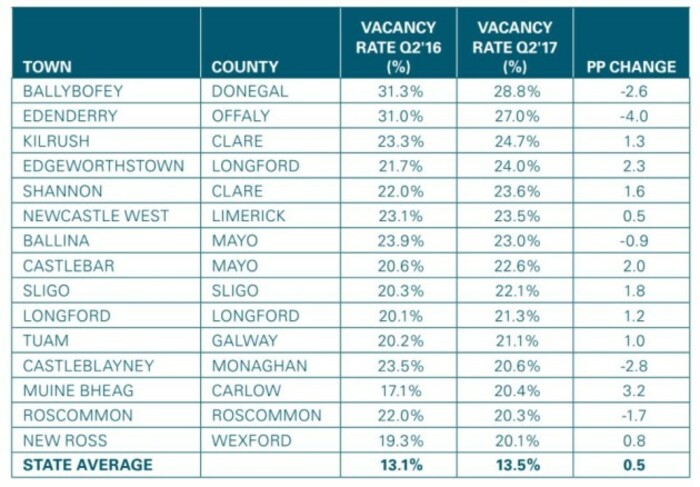 Source: GeoDirectory Database
Click here to view a larger version
This point was echoed by Fine Gael councillor and local publican Martin Harley, who said that a lot of commercial properties in Ballybofey are leftovers from the Celtic Tiger years.
Harley said that Ballybofey has experienced the same issues as any small town in the west of Ireland, namely that a lot of business migrated outside the town centre, making it difficult to attract main-street trade.
The region has also seen its population shrink in recent times – County Donegal was one of the four constituencies in Ireland to record a decline in the 2016 census.
Harley said the county council "has been talking to the people who own these properties" in Ballybofey in an effort to spruce up the vacant and unfinished units.
"The council has looked at buying up some of the houses in the town centre with the view to leasing them out to council tenants," he said, adding that this might help get things moving in the town centre.
Commercial rates
For Harley, the real problem facing Ballybofey business owners is a "crippling" commercial rates system, which he said should be based on a company's turnover and not the value of a property.
Martin McElhinney – general manager of Ballybofey's famous McElhinney's department store – agreed that commercial rates are a "large barrier" for businesses but said the problems there are on a national scale.
"Ireland is a very, very unfriendly environment for a young entrepreneur," he said. "I talk to people every day and there are some great ideas out there, but it's a not a business-friendly environment in Ireland."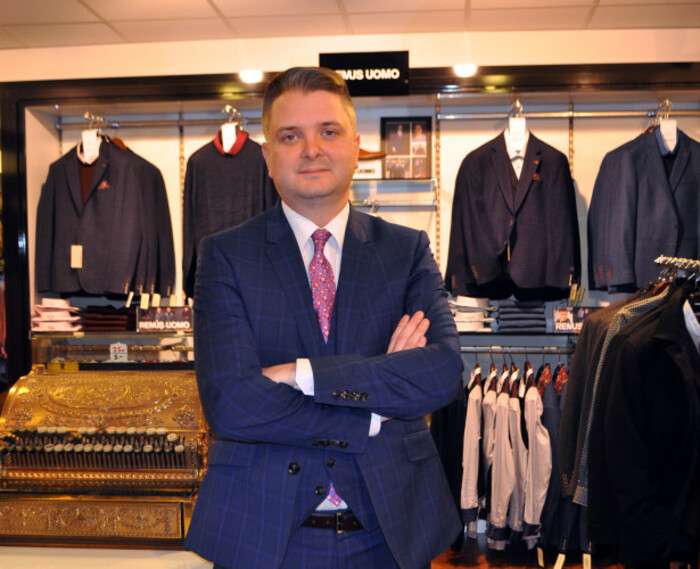 Source: McElhiinney's Department Store
McElhinney complained that there is little support for self-employed people and that there is too much "lip service" paid by the government in Dublin, particularly when it comes to the cost of doing business in the Republic.
"People who are in employment at the moment, if they take a self-employed position, that's a big risk," he said. "God forbid they take a chance and their business fails, there's no safety net.
"We employ the guts of 200 people up here. There's next to nothing in terms of support from government for anything … Everything's geared towards the fella who's a multinational."
Leah Fairman said it was unfortunate that it took a tragedy like the recent floods in Donegal to bring media and government attention to the area – although she was quick to praise Donegal County Council, which has helped fund the BASE business centre.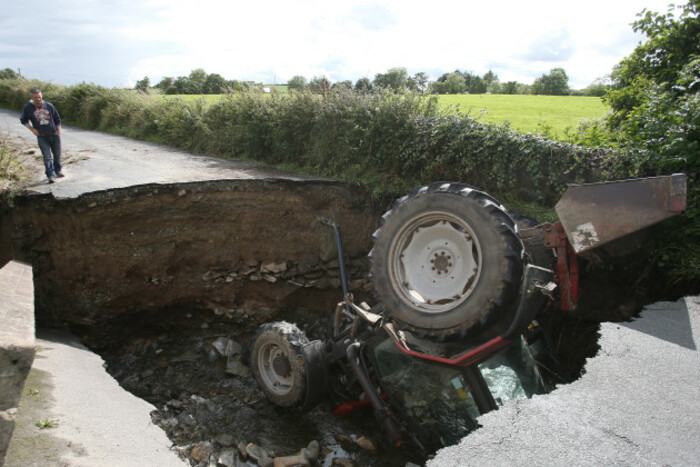 Source: Niall Carson/PA Wire/PA Images
Brexit
While many have predicted the recent plunge in sterling would hit Border towns like Ballybofey hard, McElhinney said the challenge of a fluctuating exchange rate is nothing new.
"The border has an amplifying effect," he said. "When things are very good, it's very good. When things are bad, it's very bad.
"Anybody that does business near the Border has to have a strong stomach. You have to be that bit tougher and that bit smarter."
When asked what business owners in the town were crying out for the most, Fairman said transport infrastructure is a major issue.
"We're still without trains," she said, an issue that was recently acknowledged by Donegal Airport. "That may seem small, but it does have an impact on how far people are willing to travel.
"We also need a motorway," Fairman added, echoing a call from the Sligo-based Revive Northwest campaign. "In the modern age, people aren't willing to sit on single-track roads."
McElhinney, whose family have been in business in the town for 50 years, said it was "a different environment today than when my father started – it's more difficult".
"That said, Ballybofey is a great town. Donegal is a beautiful place to live and work and I count myself lucky," he said.
Sign up to our newsletter to receive a regular digest of Fora's top articles delivered to your inbox.