'Scenic' Donegal Airport wants 'through connections' with the UK and Europe
The hub is a 'vital element of infrastructure' because of the county's poor transport links.
DONEGAL AIRPORT WANTS to see "through connections" with the UK and mainland Europe via its domestic flights to Dublin.
In a dossier submitted as part of a tender to operate the Donegal-Dublin service, the north-west hub said onward links with the two regions would "contribute substantially" to the domestic service.
'Through connections' are flights to main destinations that can be purchased in a single booking.
The twice-daily, state-subsidised flights to Dublin are currently operated by Stobart Air under franchise with Aer Lingus Regional.
"The Aer Lingus Regional branding is very beneficial and markets are now accessible through the Aer Lingus network that heretofore were not, such as the US and Canada," Donegal Airport wrote in the tender document.
"However, additional through connections to the UK and Europe would contribute substantially to the Donegal route and deliver on government tourism policy on regional access."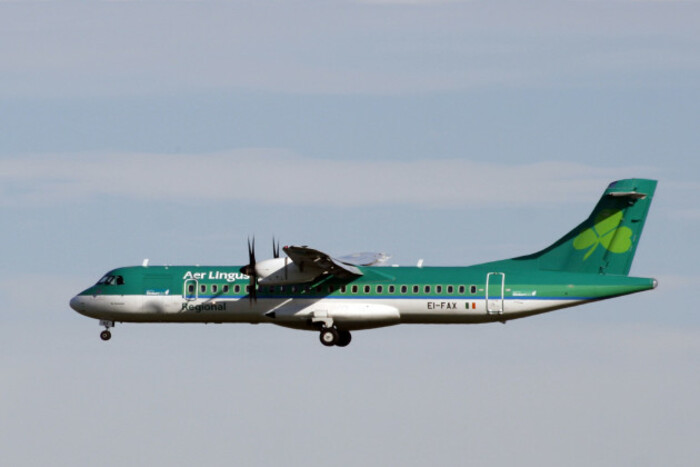 'Vital'
In the dossier, Donegal Airport is described as a "vital element of infrastructure" because the county has a poor road network, limited public bus services and has no rail service.
As well as the year-round flights to the capital, the airport has a service to Glasgow in Scotland.
Earlier this year, Donegal's landing strip was voted the second most scenic in the world in a poll by private jet book service PrivateFly.
The current service to Dublin is operated by Stobart using an ATR42 aircraft that can cater for up to 48 passengers.
The flights to the capital showed consistent year-on-year growth until 2007, but passenger numbers began to decline in 2008 with the onset of the global financial crisis.
Passenger numbers continued to shrink in the years after but returned to growth in 2013. Last year, more than 31,000 people flew between Donegal and Dublin, a 26.8% increase on 2015′s figure.
However, passenger numbers have not returned to pre-recession levels.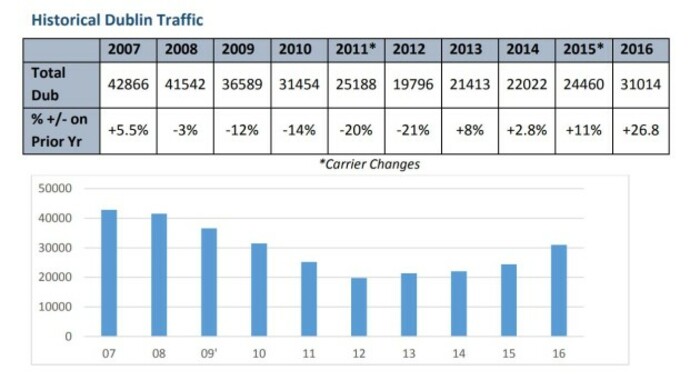 Source: Donegal Airport
Click here to view a larger version.
As well as tendering for the Donegal route, the Department of Transport has put out the contract for flights between Dublin and Kerry, which is also currently operated by Stobart Air under the Aer Lingus Regional brand name.
Both the Donegal-Dublin and Kerry-Dublin services are subsidised by the state under public service obligation (PSO) rules.
Last year, the government paid more than €3.6 million to Stobart to operate the Donegal service and over €3.9 million for the Kerry route.
Sign up to our newsletter to receive a regular digest of Fora's top articles delivered to your inbox.
read more on