This is the county with the most empty shops and offices in Ireland
More than one in 10 commercial sites in Ireland are vacant.
COUNTY SLIGO HAS the highest rate of empty commercial spaces in Ireland, according to a new study.
Based on analysis of 102 locations nationwide by GeoDirectory and DKM Economic Consultants, nearly a fifth of commercial property in the western county was vacant during the second quarter of this year.
Other counties with high levels of vacant commercial properties included Leitrim (16.2%), Limerick (15.9%), Galway (15.6%) and Mayo (15.5%).
At the other end of the spectrum, Kerry had the lowest vacancy rate in the country, with just over 10.6% of commercial property in the county unused – although this figure was an increase on its rate of 9.4% at this point last year.
Overall there are 212,717 commercial properties in Ireland and 28,784 were vacant in the second quarter of this year – a national vacancy rate of 13.5%.
Despite the ongoing lift in the economy, commercial vacancies nationwide have still been increasing, according to the survey. Some 22 counties out of the 26 surveyed have had a rise in empty commercial properties since last year.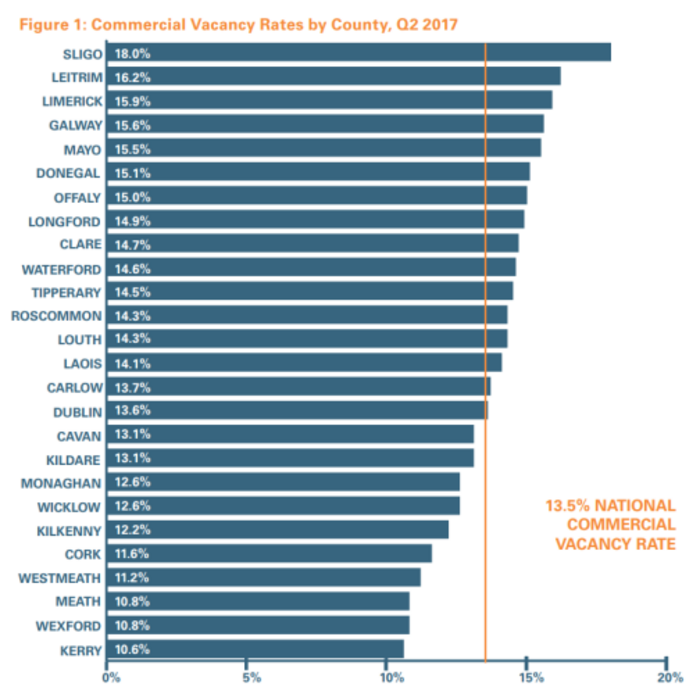 Source: GeoDirectory Database
Click here to see a larger version
The study also outlined the towns with the highest vacancy rates, a list topped by Ballybofey in Donegal, where 28.8% of commercial properties were empty.
It was followed by Edenderry in Offaly (27%), previously the town with the largest share of vacant shops and offices in the country.
GeoDirectory chief executive Dara Keogh said the figures show that towns in the west and midlands are struggling when it comes to filling commercial spaces.
"The vast majority of the 15 towns with the highest commercial vacancy rates were either based along the west coast of Ireland or were in the midlands. These 15 towns had commercial vacancy rates in excess of 20% and well above the national average."
Dublin scene
Last year a report from DTZ Sherry FitzGerald noted that the uplift in Irish employment figures has caused office vacancy rates in some areas of the country to hit rock bottom.
Since the UK's vote to leave the EU, there has also been a noted spike in interest from foreign multinationals about moving some operations to the Ireland.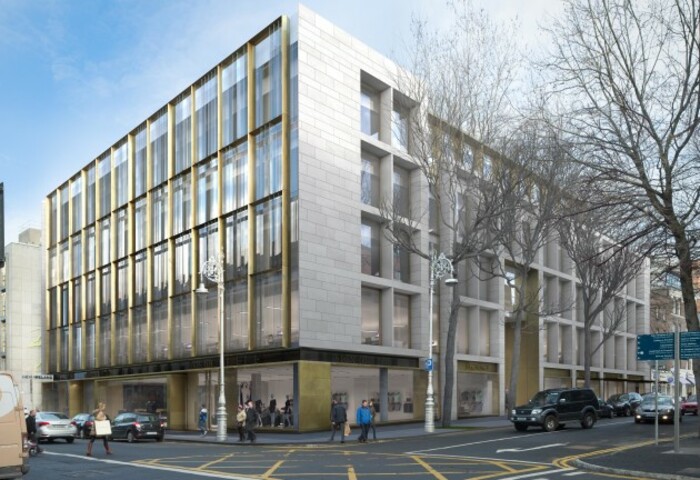 Despite improvements in the economy in recent years, Keogh said that commercial vacancy rates have remained "stubbornly high".
"In Dublin 2, where the economic recovery is obvious and demand for office space is apparently strong, we have recorded a vacancy rate of 18.3%. This suggests there is a serious mismatch between the stock that is available and what is being demanded."
A separate report by property specialists Cushman & Wakefield showed that a significant volume of new office space has just become available, with more than 65,000 sq m completed between April and June 2017.
It added that this is this more than double the level that was completed during all of 2016.
Sign up to our newsletter to receive a regular digest of Fora's top articles delivered to your inbox.