'I always take on too much, and that's a big mistake. You can let people down'
Arkphire's Paschal Naylor talks business plans, Bill Gates and starting a tech firm during the recession.
PASCHAL NAYLOR WORKED in printing, accounting and IT before founding Arkphire in 2010.
The company provides technology services, including both IT products and support, to businesses and organisations. It now employs around 90 people across its Dublin and London offices.
Over the past four years, Arkphire's turnover has grown from €20 million to more than €90 million, and it recently landed a multimillion-euro funding deal to further boost its growth.
This week, the firm was listed as one of Ireland's fastest-growing companies in the annual Deloitte Fast 50 ranks.
As part of our weekly question-and-answer series, we spoke to Naylor about changing careers, clearing his inbox and being mistaken for Bill Gates.
Here's what he had to say: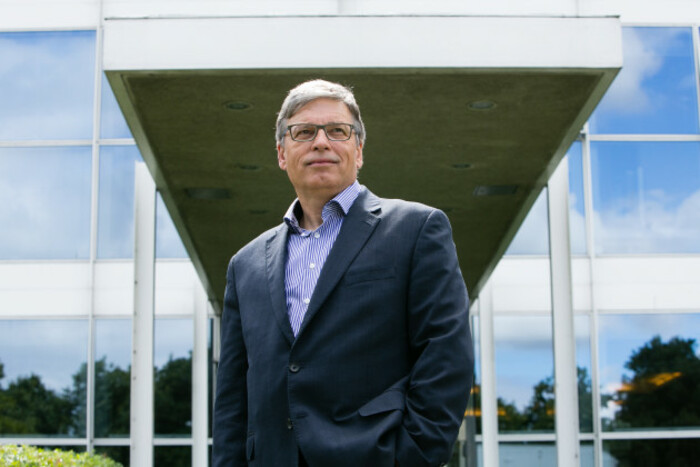 Source: Arkphire
What was your earliest or childhood ambition?
When I was growing up, my family had a printing and photography business, so I thought I'd go into that. I did an apprenticeship in printing, but by the time I was starting my career I could see that the industry was changing.
It became obvious to me that the printing business was going down a rabbit hole, the industry was becoming more digital. So I decided that I wanted a much more commercial, broad-based qualification.
I didn't want to just be in one sector, so I initially went into accountancy and spent some time in finance.
What's the biggest risk you've ever taken?
We started Arkphire in 2010 – that was the middle of the recession, so it was really high risk. Along with the shareholders, I was putting whatever savings I had into the business, reducing my salary.
At that time there was an awful lot of companies that didn't survive, you didn't know where the economy was going to go.
But you have to be a risk-taker to start a business, because there's risks every day. You just have to learn how to manage and evaluate those risks.
What has been your biggest mistake to date and what did you learn from it?
I think I just always take on too much, and that's a big mistake. If you have too many projects on the go you can let people down or miss a deadline.
So I've learned to be more strategic, thinking ahead. In the early days of the business we had 30 people in the company, but now we have 90, so we can build our strategy even further.
Of course if there's a fire you have to put it out, but you also need to be planning for the future.
What's the one work skill you wish you had?
I'm an accountant so I have a background in numbers, but I'd love to have more maths and programming skills. I don't think I ever really got a good foundation in maths, and it's very hard to build that later.
But that's the basis of a lot of good stuff now – data analytics, artificial intelligence. I see young guys today get an idea and be able to program it immediately, and I would like to be able to get a bit more involved in that.
What bad work habit have you had to kick?
Killing the inbox. I always procrastinate and leave emails there for a little bit. I say I'll go back and add something later, when I really need to reply straight away and move on.
What advice would you give to someone starting out in your industry?
Starting out you have to have a business plan and be careful to stick to it.
From my experience, I learned that sales tend to come in later, it takes longer to get that side of the business going. So you really need to understand your customer and how you're going to get them on board.
Once you get the customers, it's worthwhile looking after them, because when you're a startup you need to be looking for referrals. We built a lot of our business that way, particularly in the US.
And remember there's lots of challenges at the start – building a team, getting funding – but there are also tremendous opportunities in technology these days.
Who is your business hero?
It has to be Bill Gates. He did so much with Microsoft, made the money, and now he's allowed other people to come in and run the business so he can do other work with philanthropy and research. You have to admire him for that.
I actually get mistaken for him a lot when I'm in the States, but I don't have his accent – or his wallet.
Get our NEW daily digest of the morning's most important headlines for innovative Irish businesses.