'In the recession, we had to nearly give products away just to keep containers moving'
As part of our How My Business Works series, we profile Zeus Packaging.
BRIAN O'SULLIVAN HAD many jobs growing up in Cork – from working on local farms, to driving a forklift for Dairygold and even selling mobile phones on the side.
"I was always a worker. I worked in the morning before I went to school, I worked every summer, I worked every evening," he tells Fora.
After finishing school O'Sullivan went on to become a teacher, but he knew that it wasn't  the job for him.
"It wasn't that I didn't like teaching, but there was no job that you could've given me where I would have been content working for somebody else.
"Even if I got the chance to run Amazon in the morning I wouldn't do it, I'd rather have my own business."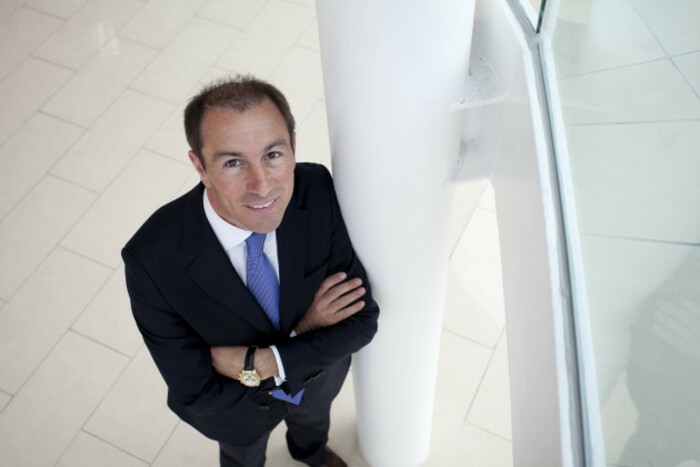 Source: Shane O Neill/Fennell Photography
During the summers when he wasn't teaching, O'Sullivan started doing part-time work for a business that was selling agricultural packaging.
That gave him the first taste of the packaging industry, which led to him eventually giving up his teaching career for his own business selling pallet wrapping.
"I decided that it was worth a crack to start out, go on my own. I didn't know whether I'd manage to get something off the ground myself because I had nobody to ask. There was no business background at all in my family.
"There certainly wasn't a financial attraction. But my plan was simple – if I could sell 10 containers a year, I could make enough money to survive. And if that didn't work I would have just tried something else.
"Long story short – it did work out, and it didn't stop until I got to where I am today."
Building a business
O'Sullivan started Zeus Packaging in 1998 and gradually built it from a 'one-man-in-a-van' operation to an international business that boasted revenue of €135 million last year.
While the company started with modest growth, its rapid expansion really began as the firm started targeting new niches.
"In 2002, the plastic bag tax came in and affected a lot of small retail packaging businesses that supplied bags, so I saw this as an opportunity for us," O'Sullivan says.
"I bought a packaging company in Dublin and another in Cork – small businesses, maybe half a million turnover each – but these gave me a start in another sector of the industry.
"That grew and then we maybe doubled our turnover up to eight or nine million. Then we starting acquiring other small businesses that we thought were niche and would fit into what we were doing."
O'Sullivan says that this combination of organic growth and acquisitions continued until the firm hit its first major stumbling block – the recession.
"We kept growing until 2008 and then, well we all know what happened. There was no more money and business became very difficult," he says.
In 2009, revenues dropped for the first time since the company started, and O'Sullivan had to "chase harder than before" to remain in business.
"Lots of companies were cutting staff, but we had no extra people to cut. All we could do was work harder and win business at any cost – we were in a position where we had to nearly give products away just to keep containers moving from our factories all over the world.
"If things had stopped moving that would have killed us. Even though business was dropping off everywhere, any business was better than no business at all."
Zeus's acquisition trail was put on hold during that period while O'Sullivan's main focus was simply keeping the company going.
"You couldn't plan ahead – you never knew who was going to go bust next, what customers won't be able to pay you next week. So there were no plans, it was just pure and utter survival.
"I worked 20 hours a day then. We just needed to keep at it and wait for things to turn – and eventually they did."
Industry changes
Once business was back on track again, O'Sullivan returned his attention to expansion. The company now provides packaging for a broad range of sectors, including agricultural, industrial, pharmaceutical, food, retail, hospitality and hygiene.
In recent years, the firm has also expanded operations into 13 different countries, including the UK, Germany, Poland, New Zealand, Canada, China and Australia.
In Ireland, where Zeus still has its largest operation, the company manufactures around 9,000 different packaging products for major clients such as Insomnia, Bulmers and SuperValu.
"In Ireland we touch every industry, we're extremely diversified," O'Sullivan says.
"In other countries we wouldn't have the same spread yet, but the intention is that overtime the Zeus model will be rolled out to those countries as well. So there's great possibilities for organic growth."
Source: Zeus Packaging
One of the big growth areas in packaging at the moment is for more environmentally friendly products.
With the Waste Reduction Bill making its way through the Dáil, many Irish companies have been switching to recyclable and compostable packaging options in recent months.
Last month, coffee chain Insomnia announced that it was introducing Zeus compostable cups and cutlery in all of its outlets across the country, while The Happy Pear introduced the company's new paper-free compostable cups in its cafés last week.
"This is now gaining massive momentum. We've been selling compostable cups and packaging for nine or 10 years, but we found it very difficult to get traction because they're more expensive," O'Sullivan says.
"I guarantee you if I had've brought out the paper-free cup 12 months ago, I wouldn't have been able to give it away. But now we have enquiries from all over Europe because consumer demand is changing."
Planning ahead
O'Sullivan says that Zeus is targeting turnover of €150 million this year, but he hopes the figure will be close to €200 million in the next two to three years.
"That would put us as one of the top European packaging companies and that's exactly where I'd like Zeus to be," he says.
"If I said we were content and not looking at growth, well then I shouldn't be doing my job – it would be time for me to step down."
With a lot of consolidation happening in the European packaging market in recent years, O'Sullivan says very firmly that Zeus is not up for sale and he is more interested in continuing to buy other companies.
"We have more to do so we're looking into acquisitions. Not in new markets but in the markets we're already in, adding to what we already have. There's still plenty of scope for growth," he adds.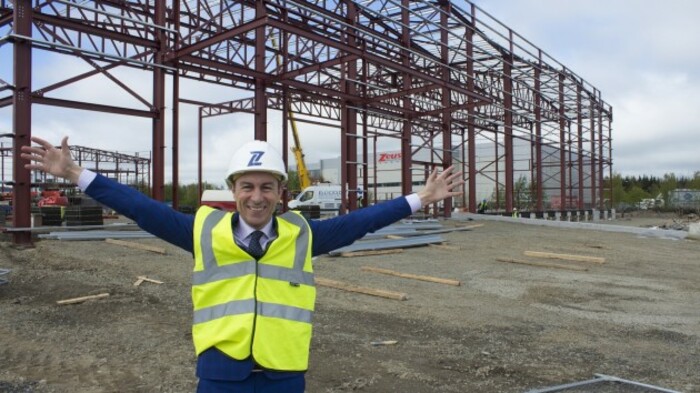 Source: Stephen McDonagh
Zeus recently announced that it is investing €27 million to build new premises in Ireland and the UK. It has around 150 staff here out of a worldwide headcount of 300.
The company's latest €15 million facility in Dublin, which will be located beside its existing headquarters in Rathcoole, will double the manufacturer's footprint in Ireland.
O'Sullivan says that this expansion will set Zeus up for further growth in the future and then he can figure out what the next step will be.
"We're growing every week, which requires space and people. There's always ways to make the business more efficient.
"We have a lot of projects to finish this year,so it'll be a while before we plan for what's next."
This article is part of our weekly series examining the nuts and bolts of businesses. If you would like to see your company featured please email news@fora.ie.
Sign up to our newsletter to receive a regular digest of Fora's top articles delivered to your inbox.