Booking app Zazu wants to solve the 'age-old' problem of awkward restaurant reservations
As part of our weekly Startup Spotlight series, we profile the Dublin company.
IVANO CAFOLLA KNOWS a thing or two about the pains hospitality businesses can face when it comes to bookings, reservations and getting more people in the door.
His family's background is in the trade and from a young age, he worked as a kitchen porter and waiter to gain an understanding of every role in the chain of command in running a restaurant or bar business.
Previously he headed up nightlife promotion brand Afterdark and was running his own bar, No.5 Vinoteca, in Dublin city centre.
Here he encountered a recurring problem with the limits of reservation software, which formed the idea for his latest endeavour Zazu, a venue search, booking and payments app.
"While there were good reservation diaries like ResDiary and OpenTable, there was no one bringing new business. That was very much a (business-to-business) model," he says.
"There were limitations with them, especially from a multi-functional space-type venue, which No. 5 was."
Zazu, founded in 2016, is an attempt to address his own frustrations and spread the solution around the industry.
"It's the age-old thing – we needed something, there wasn't something there, it wasn't something that was bringing us in business … so we developed it."
Through his contacts from running Afterdark, Cafolla had access to a large consumer database that he could use to kick-start what would become Zazu, but that presented a few hurdles around data protection.
"(Afterdark) was never incorporated so we simply incorporated Afterdark as Zazu because we came up with this idea so we were able to take the database cleanly into there," he explains.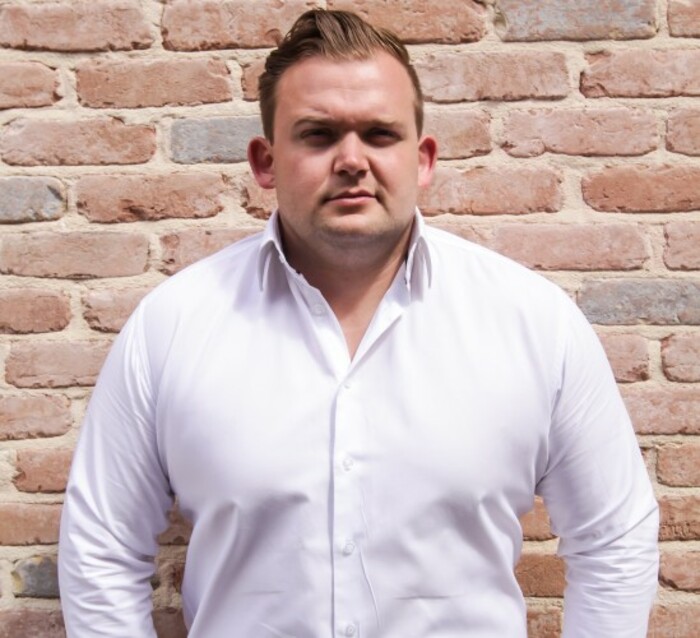 Source: Zazu
"We actually have quite a strong database for a startup, about 100,000 people. That's a blend of social media (profiles) and emails.
"It was a lot more, but we lost a lot obviously with GDPR (Europe's 2018 data protection laws) when we had to have people opt back in. It dropped down to just under 100,000 people."
How it works
The app registers all of the user's information like name and contact details. When a user wants to browse restaurants and bars in an area – the app geolocates them – they can select a venue and book there and then.
"When the consumer makes a booking with a venue, the venue has all the customer's details straight away," Cafolla says.
"You tap that, you see (the restaurant's) details, you select 'book now' and you can book instantly for however many people you want to book for."
He says this makes booking quicker, can help people find new venues around them and it also removes messes like staff taking down names wrong on a booking: "This was also a pet peeve for us in No. 5."
Zazu's business model is two-fold. It charges venues a monthly €100 fee to use the platform for booking and receiving payments.
It also includes a function for groups and work nights out to split the bill through the app. Zazu takes a 0.5% charge of that bill.
Cafolla says that this helps cut down on confusion for groups, especially work functions that may need to present receipts for various purchases to claim back expenses.
The subscription charges of €100 to restaurants, Cafolla says, is just at the right spot for restaurant managers, along with the payments function, but "if it gets any more it's not justifiable".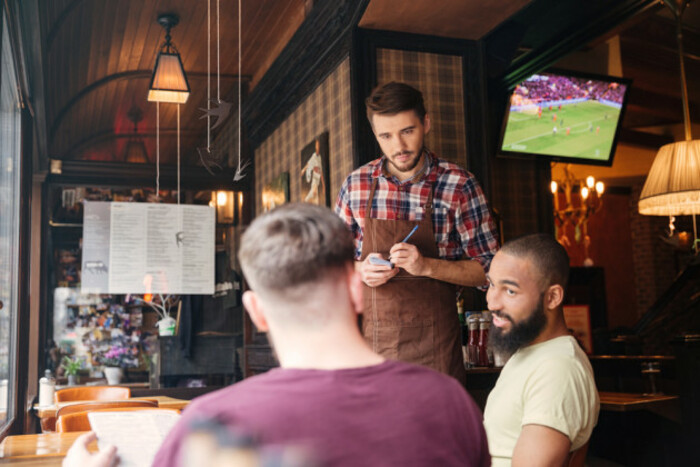 Source: Shutterstock/Dean Drobot
To date, Zazu has signed up 59 venues and the startup is gradually bringing restaurants live to the network.
It's working with Paddy McKillen Jnr's Press Up Entertainment group, which own several bars and restaurants in Dublin such as The Dean hotel and Captain America's.
Funding
While focused on Dublin initially, Zazu went to the UK to raise its first significant investment for its venture.
It secured £210,000, around €250,000, from one investor, Damian Cox, the chief executive of billboard advertising firm Wildstone.
Cafolla tells Fora that he went to the UK to raise money so it could avail of its Seed Enterprise Investment Scheme (SEIS), a tax incentive programme for small business.
"We registered ourselves as a permanent establishment up (in the) North. We effectively classify then for SEIS," Cafolla says.
The UK scheme, he says, is more favourable than the Irish equivalent Employment Incentive and Investment Scheme (EIIS) – a common complaint that has been made in Ireland's startup community.
"It's a fantastic scheme. I just don't know why we're not doing something like that here for startups. We used to be really good at that type of thing in this country and we're just so far behind now, it's not even funny."
Zazu previously raised a very early injection of €50,000 from investors that included John Moore, founder of medtech startup 3D4Medical.
While it's signing up mostly Dublin-based businesses at the moment, it's also looking further afield.
With funding in tow, Zazu will start hiring more people. Currently Cafolla has just one staffer in Northern Ireland who will be looking after sales for the market.
"We're in the middle of hiring a marketing executive and two sales, one for Munster and one for Leinster."
The UK is the next logical step, he adds, especially with its Britain-based investor's backing and network.
"I think Ireland is a great market for it but London and the UK is a bigger market. We all know that."
Get our NEW Daily Briefing with the morning's most important headlines for innovative Irish businesses.