These Wexford brewers are making video games and comics to stand out in the craft beer rat race
As part of our weekly Startup Spotlight series we profile YellowBelly Beer.
WHEN THE LAMBERT brothers started to experiment with brewing in 2009, the craft beer scene wasn't very noisy. A lot has changed since then.
In 2012, there were 15 microbreweries in Ireland. Last year, that figure was up to 62. The competition is even fiercer on the world stage, which makes standing out from the crowd a tall order.
Some new breweries resort to telling the personal story behind the company to stand out, but Nicky Lambert, co-founder of Wexford-based YellowBelly Beer, opted for something a bit different.
"What we're trying to do is build an international brand so we see our competitors as being global craft beer breweries like Sierra Nevada, Stone and Founders," he tells Fora.
"When we started out, people were telling us we needed to be telling a story, so we said we could tell a story about a pub and myself and my brother Simon.
"But you're not going to want to listen to what we're doing every other day. So from the start we created the YellowBelly character instead."
The creation of the character involved the original seven people working on the startup in a writer's room scenario, cooking up ways to present and use YellowBelly to tell the brewery's story, Lamberts.
The startup has used YellowBelly in a number of different ways to front the brand, all while the founders operate in the background.
He is the focal point of a three-part comic book series coming out in the next few weeks and is also the star of a video game the company made last year to promote the brand.
"He is an inter-dimensional time traveller, but he has a bit of all of our personalities in him," Lambert says.
"We can create concepts and storylines around the character and we can do lots of stuff with him. That was the whole idea of having a character to do it rather than the simple story."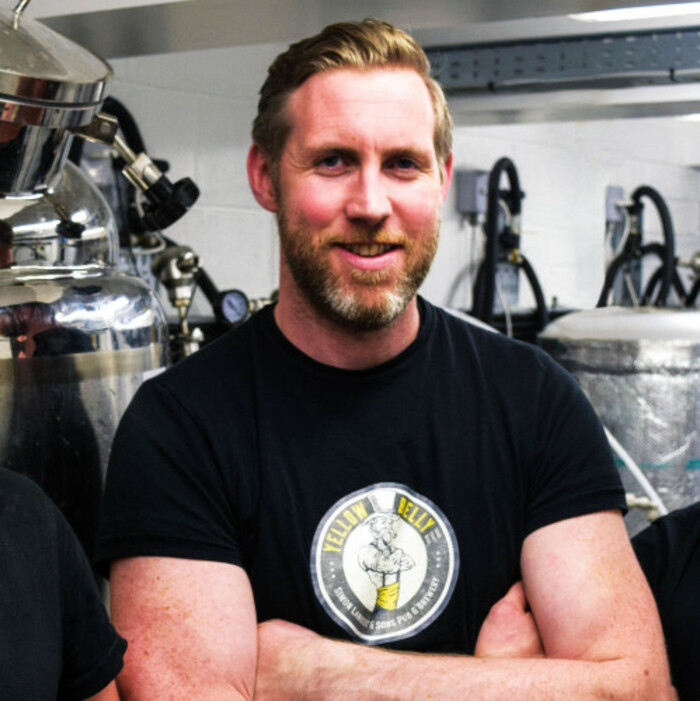 Source: YellowBelly Beer
Launched in the middle of last year, YellowBelly Beer isn't following a normal playbook for setting up a brewery.
Lambert says he was encouraged to use the startup's Irish roots as a selling point internationally, but it's not an approach he really wants to take.
"We're proud of being from Ireland, but we're not going to make a stout or red ale just because we're Irish," he says. "A lot of people expect us to, but that's what Guinness does. We're happy to try unique recipes.
"Rather than sticking to a stout or red ale or blonde, we want to try different recipes and keep people engaged in what we do. Being creative is what the craft beer industry is based on."
So far, the startup has produced three main beers – Citra Pale Ale, Bohemian Lager and Castaway Passionfruit Sour – but it also brews a monthly canned special every month and weekly keg special.
Family business
Although Lambert is relatively new to the brewing game, his family have decades of experience in the drinks business.
His family has owned a pub in the centre of Wexford Town since 1965, which Lambert and his brother took over when his father passed away in 2006.
It was at that point, when the brothers were trying to find ways to improve their pub's offering, that the idea to brew their own beers came about.
"We took the pub over at the end of the boom so getting money to do it up was very tough. We have had to work within our means. We wanted something to differentiate ourselves. There are 20 pubs in Wexford and every one of them sell the same seven beers.
"We looked at how we could stand out from the pub down the road. So we got into stocking a lot of different world beers. There weren't many craft breweries about, so we made the decision in and around 2009 to start brewing ourselves."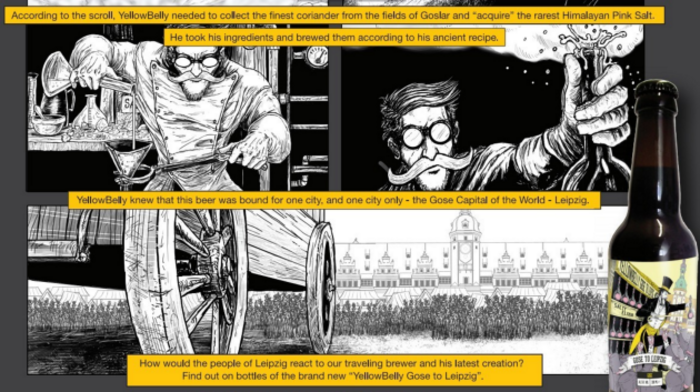 Source: YellowBelly Beer
Click here to view a larger version
After taking a few brewing courses, the brother started production in the basement of their pub on a small-scale.
"We started with what was literally a 200-litre brewery – a big home-brew kit basically.
"It got to a point where our brewer, Declan Nixon, was brewing twice a day, five days a week. We couldn't keep up with demand. So we built our second system in the basement that could produce 1,000 litres per batch.
"Since then we have outgrown that and gone into a new facility, which is an old recycling plant up on White Rock Hill and produce between 6,500 and 8,000 litres a week."
Plans
The company has nine staff working for the brewery, while 30 people work for the Wexford-based pub.
Lambert says the firm planned to open a new pub in Waterford during the summer, but the project was delayed until the new year due to the work required to move into the new brewery site.
The new brew house has the potential to house enough equipment to brew up to 108,000 litres a week, according to Lambert.
He added that the company plans to steadily grow into its new space in the old recycling plant as it branches out into new markets.
The company has a foothold in Ireland across a number of supermarkets and off licences, but also has a presence in the UK and Germany.
Lambert says the next plan is to make a move on the Italian market, while making more progress in the UK where it has "barely hit the tip of the iceberg".
Sign up to our newsletter to receive a regular digest of Fora's top articles delivered to your inbox.