The Joycean pharmacy and Writers' Tears: why a whiskey maker is helping keep Sweny's open
The company said the pairing is a natural link.
THE WHISKEY DISTILLERY behind the Writers' Tears brand has provided 'significant' financial support to Sweny's pharmacy – made famous in Joyce's Ulysses – on Dublin's Lincoln Place. 
Bernard Walsh, managing director and co-founder of Carlow-based Walsh Whiskey – maker of Writers' Tears and The Irishman whiskeys – said the company made a "significant contribution" to the pharmacy's rent, after finding out that it had recently doubled. 
"It links very nicely with our Writers' Tears brand. The inspiration for the brand has come from the 1800s – a golden era in Ireland in a literary sense but also a whiskey sense," he said. 
Writers' Tears has long been associated with the literary and arts world, said Walsh.
"We're a sponsor of the Writing and Ideas festival down here in Carlow, we sponsor the Shaw Festival in Ontario over in Canada, and the Carlow arts fringe festival," he said.
In addition to financial support, the company is also helping to "spread the word" of Sweny's across the globe, with an aim to raise awareness and donations. 
This coming Sunday – Bloomsday – Sweny's will also be giving out drams of Writers' Tears to visitors.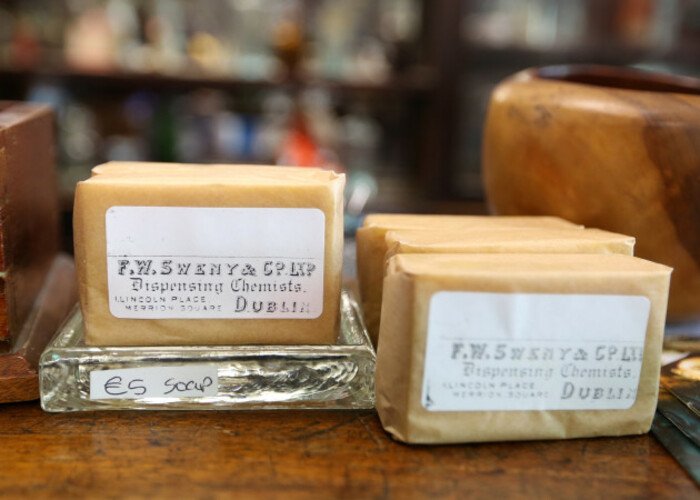 Source: Sam Boal
'Lemon soap'
Walsh had not been in Sweny's until recently, when he was on his way back from a meeting in Dublin. 
"It rang a bell with me – I'd known about Sweny's from Ulysses and I hadn't been down Lincoln place for years at that point. I popped in and when I went in there was a reading going on," he told Fora. 
"I started chatting with a volunteer and he explained the background in terms of why they were there. This was a trading pharmacy up until 2009," he said. 
The pharmacy opened in 1847 and was in business until 2009. When it closed in 2009, a group of volunteers "vowed to keep it open" and since then they have paid the rent through donations and by selling second-hand books and lemon soap. 
Sweny's is described in great detail within the novel when Leopold Bloom comes into the shop and admires its bottles of potions and compounds. While waiting for the pharmacist, Bloom smells the lemony soap on the counter and takes a bar with him. 
"What I found out on my visit was, the rent was being doubled, and this was going to put a huge strain on the volunteers to get the resources to keep the place open," said Walsh. 
The volunteers were not able to get any state funding, which Walsh said was "really curious considering Dublin is a UNESCO city of literature and it's not recognising Sweny's and the important role it has here".
He added: "In our small way we wanted to make a contribution to help keep the doors open, a significant contribution towards their rent, but also spreading the word of Sweny's and what they're trying to do."
Walsh Whiskey was founded in 1999 by Bernard and Rosemary Walsh. Writers' Tears and The Irishman are currently available in 50 countries. 
In 2013, the company entered into a €25 million joint venture with Italian drinks giant Illva Saronno. The two companies split in January of this year following a dispute about the future of the brand. 
Get our NEW Daily Briefing with the morning's most important headlines for innovative Irish businesses.