Most professionals feel 'obliged' to work overtime - but they don't get paid for it
A Morgan McKinley report also suggested there's a strong appetite for trendy flexible-work options.
THE VAST MAJORITY of Irish professionals feel obligated to work more than their contractual requirements – and an 'always-on' workplace culture could be to blame.
A report by recruitment agency Morgan McKinley has suggested that a significant proportion of Irish-based professionals work beyond their contracted hours on a weekly basis.
The survey of 2,500 people employed across various sectors – including financial services, technology, science and office support – found that nearly two in every three professionals work in excess of their weekly contracts.
Over half – some 62% – said they feel obligated to do so and most cited 'excessive workloads' and 'pressure from management' as the main reasons for burning the midnight oil.
Despite putting in overtime, three in four workers said they are not compensated for extra work.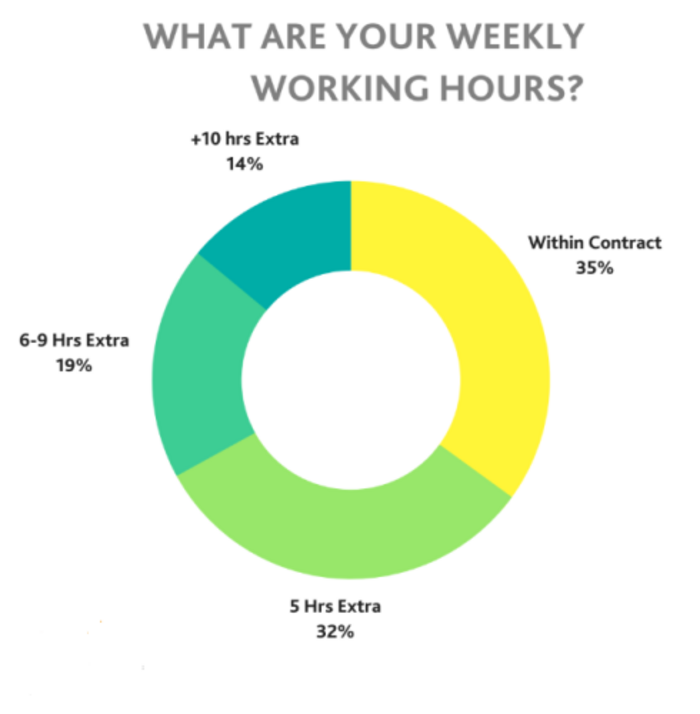 Source: Morgan McKinley
Click here to view a larger version
Morgan McKinley's commercial director, Bryan Hyland, suggested that technology is partly to blame for the issue.
"While technology offers professionals a greater freedom from their desks, it also shackles them more tightly to their jobs," he said.
"With so much communication now being technology-based, and so many companies now using cloud computing instead of traditional servers, it's harder than ever to leave the office. Because technology is always around, working professionals are always effectively working."
'Worrying trend'
Morgan McKinley's analysis also highlighted a "worrying trend" of professionals skipping or shortening their lunch breaks to complete tasks. The study looked at gender bias in the workplace, and found that 12% of female respondents said they don't take lunch breaks compared to 6% of their male colleagues.
The findings of the report also suggested there is a strong appetite for flexible work options like remote working, as previously highlighted by Fora, while nearly half of respondents believe they would be able to fulfil their current workload in a shortened week.
"Employees are pushing companies to break down time-and-place work barriers," Hyland said.
"Recognising that not everybody works in the same way and to the same schedule is fundamental to achieving real workplace diversity – and in driving innovation and entrepreneurship."
Hyland added that the labour market is pushing employers to provide "more creative working solutions" if they want to retain good staff.
"For businesses looking to grow and succeed in the future, offering work from home opportunities will be vital to their success," he said.
Get our Daily Briefing with the morning's most important headlines for innovative Irish businesses.