Aer Lingus's owner says Dublin Airport is struggling with infrastructure 'bottlenecks'
IAG chief Willie Walsh claims the hub had been 'caught out' with traffic growth.
THE CHIEF EXECUTIVE of IAG, the company that owns Aer Lingus and British Airways, has said the group is unhappy with how Dublin Airport has handled its "infrastructural bottlenecks".
Willie Walsh told RTÉ Radio's Morning Ireland that rising passenger numbers have put pressure on the hub's baggage systems, aircraft parking stands and taxiways.
Last month, Dublin Airport handled almost three million passengers, a 6% increase on June 2016.
Walsh told the programme: "There are challenges because the competition has increased. I think the success of Aer Lingus has attracted more airlines to Dublin.
"It's also putting a lot of pressure on Dublin Airport. As you know, we're unhappy with the performance of the airport, and I think it is an issue of serious concern going forward."
He said the success of IAG is "heavily dependent" on a strong operational performance at Dublin Airport.
Aer Lingus CEO Stephen Kavanagh has made similar comments in recent months, claiming that Dublin Airport is turning away business because it's existing infrastructure can't handle extra traffic.
Walsh said the group isn't as concerned about the progress of the second runway, which is currently being challenged in the courts by a series of planning appeals submitted by local residents.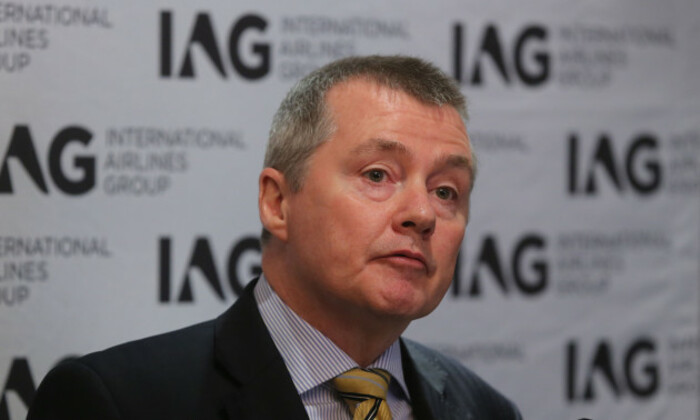 Source: Niall Carson/PA Wire/PA Images
"The runway is required in the longer term," he said, "but the short- to medium-term (issue) of the baggage system, the aircraft parking stands, the taxiways – these are infrastructural bottlenecks that really shouldn't be there.
"I think the airport has probably got caught out by the level of expansion and maybe didn't fully understand the ambition that we had in terms of expanding the airline."
However, in a 2014 submission to the Commission for Aviation Regulation on airport charges at Dublin Airport for the current period of 2015 to 2019, Aer Lingus said there was "no pressing need for further capacity expansion".
At the time – which was before Aer Lingus became an IAG subsidiary – it said that DAA's plan to spend hundreds of millions of euro on capital expenditure was "larger than is necessary".
In response to Walsh's comments, a Dublin Airport spokesman told Fora that the hub is "committed to working with all its customers to help them operate efficiently and to grow their business at Dublin".
"Dublin Airport is currently investing €100 million per year to upgrade and maintain its facilities for the benefit of airlines and passengers," he said.
Half-year results
Walsh was speaking to RTÉ Radio on the back of IAG's half-year financial results, which showed that the group reported an operating profit of €975 million for the first six months of 2017. That's an increase of nearly 40% compared to the same period last year.
The results showed that Aer Lingus made a profit of €59 million between January to June, up from €42 million for the same six-month period last year.
The only airline in IAG's portfolio to report a loss was Spanish low-cost carrier Vueling, which was €6 million in the red, a dramatic improvement on the €54 million loss it made in the first six months of 2016.
Sign up to our newsletter to receive a regular digest of Fora's top articles delivered to your inbox.
read more on