The firm behind the controversy magnet White Moose Cafe has raked in nearly €100,000
Manager Paul Stenson is currently in the midst of a spat with a blogger.
THE COMPANY BEHIND the Charleville Lodge, which is fronted by noted outrage merchant Paul Stenson, has pulled in a profit of almost €100,000.
New accounts for Celestine Ltd show that the firm made a profit of €91,273 in the year to the end of 2016.
However, the firm still has accumulated losses of more than €1.2 million built up over a number of years.
Celestine is the company behind the Charleville Lodge hotel in Dublin, which also houses the White Moose Cafe. Celestine's owners are listed as Anne and Val Stenson, who are both aged in their 70s.
The businesses are best-known for the antics of manager Paul Stenson, who has stirred social media outrage on a number of occasions over the last few years.
The controversies are numerous; from telling customers who couldn't afford to stay in his hotel to find a homeless shelter, to launching a 'war' on vegans, to publishing CCTV footage of a customer.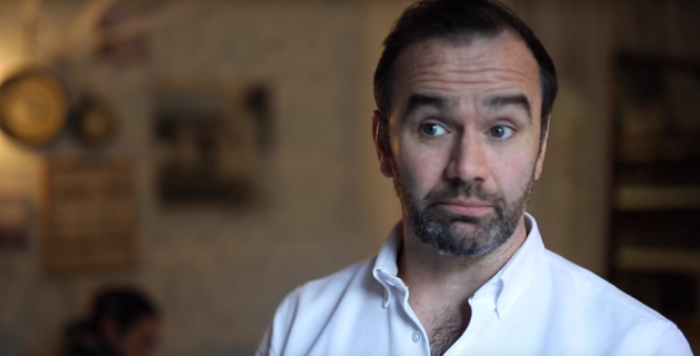 Source: White Moose Media/Youtube
Blogger row
The most recent hullabaloo concerns a blogger who sent an email to the Charleville Lodge for free accommodation in exchange for exposure on her social media channels.
The White Moose Cafe Facebook page then posted the request, with personal details blacked out, online. The blogger made a video responding to the incident, which was then picked up by media around the world.
[embed id="embed_2"]
The attention-grabbing strategy appears to be working for Stenson and Co. While the Charleville Lodge's losses climbed steadily during the recession, the €91,273 profit in its most recent financial year is roughly in line with the €106,000 profit it recorded in 2015.
Celestine employed 19 people during 2016, up from 14 in 2015. Staff costs rose from €350,000 to €424,000.
The company valued its assets at €2.1 million, virtually unchanged from the year before. It owed €1.3 million in bank loans.
Sign up to our newsletter to receive a regular digest of Fora's top articles delivered to your inbox.