'We didn't realise that you should never ship anything during monsoon season'
As part of our How My Business Works series, we profile organic linen company White & Green.
REBECCA WINCKWORTH MAY still only be in her 20s, but she already boasts a resume that spans from the glamour of the stage to the cut-throat world of business.
The Dublin native has travelled the globe as a professional singer, performing with groups such as Anúna, Celtic Nights and Celtic Woman.
"I toured around the world for a few years with different shows, going all across Europe, North America and Asia, in particular," she tells Fora.
This experience opened her eyes to new cultures and gave her a different perspective on the world.
"During that time I became fascinated with how people interact with each other all around the world," she says.
"I started researching how people in developing countries like India and China are treated in terms of labour rights – it's a big issue. After that, I knew that I wanted to have a job working in the area."
Winckworth decided not to pursue singing as a full-time career and instead did a master's in development studies at the London School of Economics, specialising in labour rights and women's empowerment.
However, like many graduates, she struggled to find work when she finished her degree, and returned home to Ireland.
"It was all 'you need 10 years more experience', or 'you need to go and work for free as a volunteer for a couple of years and then we'll consider you', so that was really difficult," she says.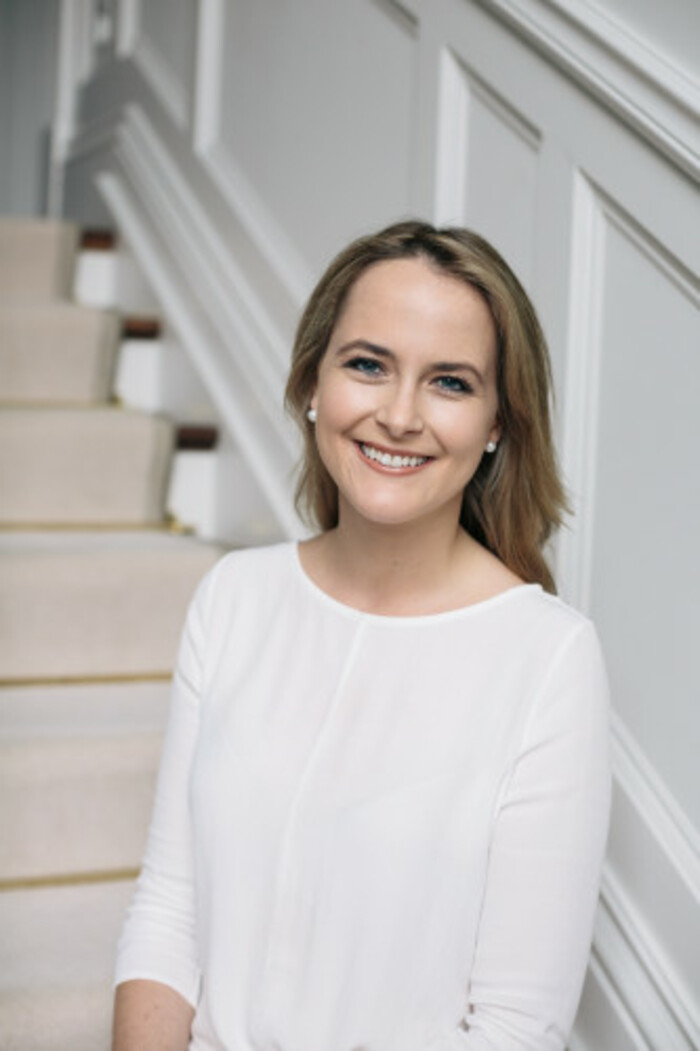 Source: Doreen Kilfeather
With few job opportunities on the horizon, Winckworth began helping her mother Sari with her interior design business and a potential new venture after identifying a gap in the market.
"She found it difficult to find a quality brand of bedding for people who don't have huge amounts of money," Winckworth says.
"Like, you can go into Harrods in London and spend £5,000 on a set of bed sheets, but that's mad. So she wanted to create a line of bed linen that was really luxurious but also affordable."
With Winckworth's interest in developing countries and her mother's experience with design, they saw an opportunity to create a brand that was high-quality but also ethically made.
"I realised I didn't need to look for work when I can actually create my own dream job and my own company that I am really passionate about," she says.
Family affair
The mother-and-daughter pair launched White & Green in May 2016 with Winckworth's sister Danielle, who had been working as a model, making up a trio in the family business.
Based out of their home in Rathmichael, on the border between Dublin and Wicklow, Sari and Danielle have been focusing on product design and merchandising, while Winckworth looked at marketing and customer service.
The aim was to create a brand of high-end bed linen that was also organic and fair-trade.
"It's not a revolutionary product," Winckworth says. "But we recognised that there was a need to have a brand that was good quality, good for the environment, good for the farmers, and doesn't cost a fortune."
With that idea in mind, the three women travelled to India to find the right suppliers to start their business.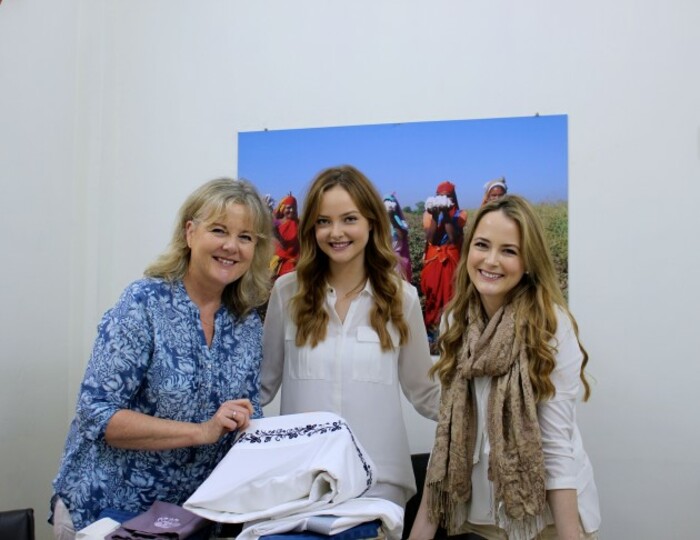 Source: Rebecca Winckworth
"We wanted to find partners that were trustworthy and that we could growth with," Winckworth says. "India is renowned for cotton and weaving, and we managed to find the perfect suppliers that were also certified organic and Fairtrade."
Now, they travel to the country twice a year to keep building their business relationships.
"When you are working with suppliers that are on the other side of the world, inevitably things go wrong or get lost in translation, so sometimes we have to be there on the ground and just sit down around a table with a pen and paper."
Retail strategy
Initially, White & Green was launched as an online company, but the Winckworth family began to see the limits of that strategy.
"We were really naive," Winckworth says, laughing. "We thought that we could just put a website up with nice photos and everyone will buy from us because it's a beautiful product with a good story behind it.
"But it's a tactile product, so lots of people feel the need to see it in person, and many Irish people are still not very comfortable with online shopping. You actually have to pump so much money into marketing just to get your product seen and to get people to trust you."
Nevertheless, the business received a boost after the White & Green team appeared on RTÉ's Dragons' Den last year.
Even though they weren't successful in securing investment, Winckworth says they learned a lot from the experience.
"It was nerve-wracking," she says. "On the TV they edit it to make it look really quick, but we were actually in there talking to the dragons for over an hour. I think they were very impressed with us but felt like they wouldn't match what we needed in terms of expertise."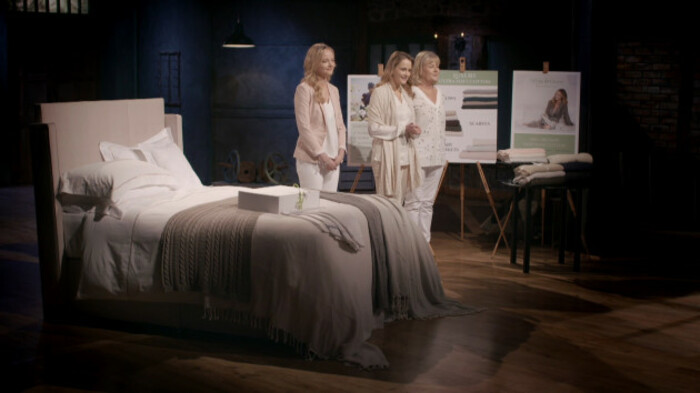 Source: RTÉ
The dragons' advice proved to be very useful, and the team made some changes to their business after receiving a grilling from technology investor and Altocloud founder Barry O'Sullivan.
"Barry was probably right saying I didn't know enough about digital marketing," Winckworth says.
"We were doing our best at the time, but you really do need an expert for some things, so we ended up working with an agency."
Meanwhile, Eleanor McEvoy, founder and CEO of Budget Energy Northern Ireland, suggested that the company should start selling its products to other retailers.
"She asked why we weren't wholesaling, and it was a fair point," Winckworth says. "She was right and that's why we've starting aiming at the UK retail market."
Earlier this month, the company announced a new partnership with House of Fraser and is now selling its products in five UK stores, with a view to expand in the future.
Hitting targets
The White & Green team were looking for funding of €80,000 on Dragons' Den to expand their business but managed to push forward on their own.
"We scraped together everything that we had," Winckworth says. "Definitely if we'd have gotten funding, the company would've grown more quickly, but you have to do things within your own capability."
She admits that there have been financial challenges starting the business but says that the company has not experienced any huge losses so far.
"We've done really well and we've hit our targets every year," she says. "We're very nearly profitable – we're talking about just a few thousand off – which is great for a two-year-old startup."
Although the aim with the business was to create affordable luxury, White & Green linens are still more premium than average, with the price of a flat sheet set ranging from €65 to €90.
Is this something that Irish shoppers are willing to spend a bit extra on?
"It's strange," Winckworth says. "People will go out for a fancy dinner and spend €80 on a couple of drinks and a main course. But then when people go to buy bed linen they seem to think that they should be able to get it for nothing.
"But you sleep on your bed sheets every single night. If you buy a good set you'll have that for 10 years, so if you do the maths it's worth it."
Source: Doreen Kilfeather
Moving forward
The transition from professional singer to entrepreneur has led to an exciting few years for Winckworth, but it hasn't been without its challenges.
"Startups are fun because they're agile," she says. "If you want to do something you can make it happen very quickly, but you can also make mistakes."
The White & Green team learned a big lesson last year when they urgently wanted an order of gift boxes to come in from India.
"We didn't realise that you should never ship anything during monsoon season, so when they arrived, thousands of our beautiful gift boxes were completely destroyed from damp," Winckworth says.
"Had I been in a bigger organisation I might have taken the time to ask opinions, do more research, get insurance, but when you're managing so many different things at once you can make little mistakes."
Source: Rebecca Winckworth
In spite of the small setbacks, Winckworth and her family plan to keep growing White & Green. The company has just hired two new employees to help with its UK expansion, which, including a bookkeeper, brings the total team to six.
"I think we want to move at high speed now," Rebecca says. "We're planning to expand with House of Fraser, and look at other big retailers in the UK, Canada and Germany."
She adds that she has also started learning Chinese with the hope of doing business there in the future.
"It's so difficult," she says. "But China is a huge market and we want to ride that wave."
Looking further ahead, Rebecca is less certain about what the future holds and doesn't rule out the possibility that another career change could be on the cards.
"We'd like to keep building the company," she says. "But myself and Danielle are only young and we still want to experience different things."
Fora's How My Business Works series is supported by Bord Gais Energy.