Paddy Cosgrave says homelessness is being exploited as a 'great business opportunity'
Web Summit has been housing workers in a 'crash pad' because of Dublin's rent crisis.
WEB SUMMIT HAS set up a "permanent crash pad" for workers relocating to its Dublin headquarters because of a shortage of accommodation in the capital.
Speaking at a media briefing today, founder and chief executive Paddy Cosgrave said the events company has had to house employees while they looked for a place to rent.
"We have a six-bedroom house that's a permanent crash pad for people when they arrive in Dublin," he said. "It at least gives them four weeks where they don't have to worry about trying to negotiate somewhere to rent.
"I've no doubt that other larger and comparative companies are doing something similar."
Web Summit, which currently employs 160 staff, announced today that it will add another 40 people to its Dartry Road office in south Dublin over the next six months.
The news comes the same day that property website Daft.ie published a report showing that rent prices in Ireland increased 11.8% in the 12 months to June, with rents in Dublin increasing faster than any other major Irish city.
Commenting on the accommodation shortage, Cosgrave said that one his housemates works for "one of the wonderful hedge funds".
"I think he's quite clear on the (accommodation) challenge," he said. "When a problem is just so profitable, it's unlikely that it's going to be solved with any great haste."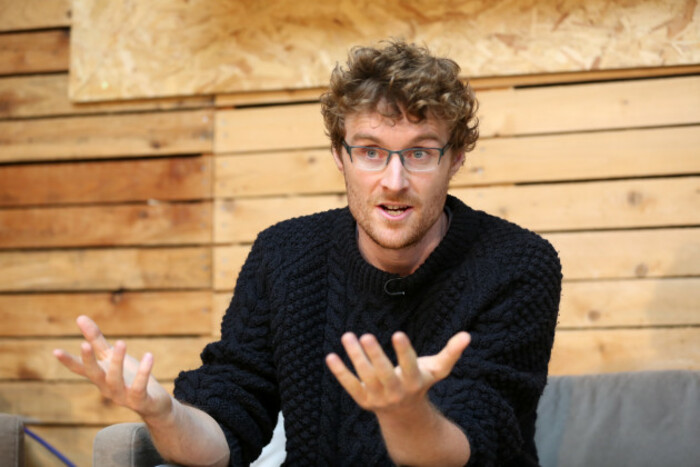 Source: Sam Boal/Rollingnews.ie
Homelessness
Cosgrave made explosive comments about how the state has handled the homelessness crisis, suggesting that the main political parties aren't doing enough to alleviate the problem because their supporters profit from it.
"Homelessness is out of control," Cosgrave said, "but the immediate solution for that problem is very, very profitable for people that I don't think vote for Sinn Féin. They tend to own hotels and hostels.
"I think the homeless problem is a human tragedy but also a great business opportunity and it's being exploited by people who are probably very favourable to more traditional parties."
That said, Cosgrave insisted that he has a "great working relationship" with Taoiseach and Fine Gael leader Leo Varadkar.
"I was at the U2 concert with Leo and spent a good deal of time chatting to him," Cosgrave said. "There's a lot of very positive dialogue going on and we're working in lots of different ways."
'Religious pilgrimage'
As well as announcing 40 new roles for its Dublin office, Web Summit said today that it will offer 50 free tickets to every secondary school in Ireland to attend any of its events, including fintech gathering Moneyconf, which takes place in Dublin's RDS next year.
Cosgrave said he came up with the idea to offer free tickets to schools when he sat beside a group of transition year students who were on a school trip to pilgrimage town Fatima in Portugal.
"I talked to their teacher and realised that for decades, and still to this day, a tremendous amount of transition year students are taken to Fatima," he said. "It's not unusual for secondary schools to travel abroad."
He joked that coming to Web Summit "won't be a religious pilgrimage, but it will be something approximating that if you ask me or tech CEOs".
Sign up to our newsletter to receive a regular digest of Fora's top articles delivered to your inbox.